Surge Cupboard Food Pantry
The Surge Cupboard is in the Main Building on Clifton Campus. Currently-registered Cincinnati State students may visit the Surge Cupboard once a month to receive up to a 3-day supply of food and toiletries at no cost, by showing their Surge Card (student ID card).
Hours:
Hours for Spring semester, January 18, 2022 – April 28, 2022:
Tuesdays 11:00 a.m.- 1:00 p.m.
Wednesdays 12:00 p.m.- 2:00 p.m.
Thursdays 1:00 p.m. – 3:00 p.m.
Please make sure you have your username and password to your MyCState account when you visit the Food Pantry, as login is required.
Students with food insecurity concerns may also contact the FreeStore FoodBank or FoodPantries.org.
Farmer's Market
During Fall and Spring semesters, the Food Pantry offers a Farmer's Market, with fruits and vegetables distributed to currently-registered students at no cost. The produce is provided through a partnership with the FreeStore FoodBank, from 11:00 a.m. until all the food is gone. Look for posters with the location prior to each Farmer's Market Day.

Spring 2022 Farmer's Market Dates:
February 17, 2022
March 17, 2022
April 21, 2022
SNAP Benefits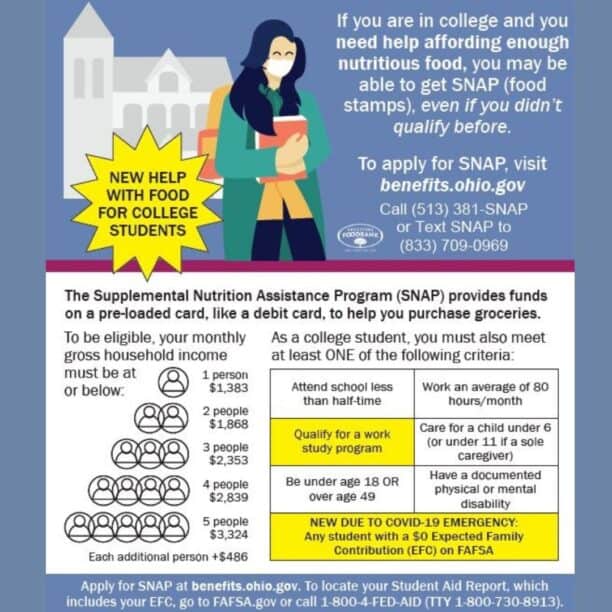 Surge Cupboard Mission
Address food insecurity within our student community by establishing and operating an on-campus food pantry to provide food, toiletry items, and related consumer programming.
Surge Cupboard Vision
We envision a community where student success is not hindered by lack of food or access to consumer education.
Surge Cupboard Values
We value service, inclusion, opportunity, and human dignity.
We provide opportunity for service by students, for students.
We provide ethnic and culturally relevant foods.
We deliver services in a discreet and accessible location.
Contact
For questions or donations contact Angela Haensel, Food Pantry Club Advisor
angela.haensel@cincinnatistate.edu or (513) 569-4845