BLOCK Fest events on campus promoted family learning experiences
June 26, 2019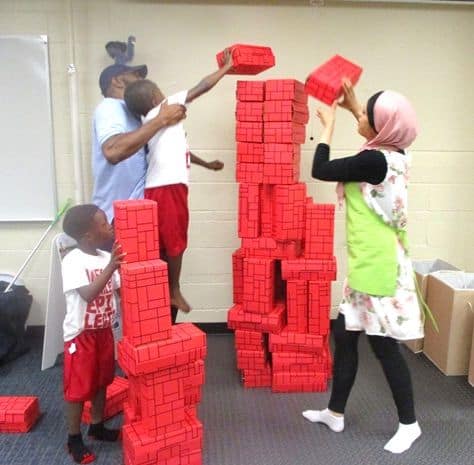 The Early Childhood Education Department sponsored several BLOCK Fest® events from June 24-26, 2019, providing math and science learning experiences (seen in photos above and below) for Cincinnati State students and their children.
Some of the events provided learning activities for children and teachers at the William L. Mallory Early Learning Center located on Cincinnati State's Clifton Campus.
Practicum students in the Early Childhood Education program modeled ways that parents can encourage mathematical literacy through play, using a series of hands-on block stations.
High school students participating in the Upward Bound Leadership Summit also enjoyed BLOCK Fest as part of a career exploration experience.
BLOCK Fest is a research-based activity that helps raise awareness of early math and science learning. Through verbal observation, open-ended questioning, and "I wonder…" statements, children are encouraged to foster curiosity and exploration.
BLOCK Fest was developed and piloted by a University of Idaho Parents as Teachers Demonstration Project in 2005. In 2009, the University of Idaho awarded licensing rights for BLOCK Fest to Twiga Foundation, Inc.