Cincinnati State faculty members recognized for excellence
November 14, 2018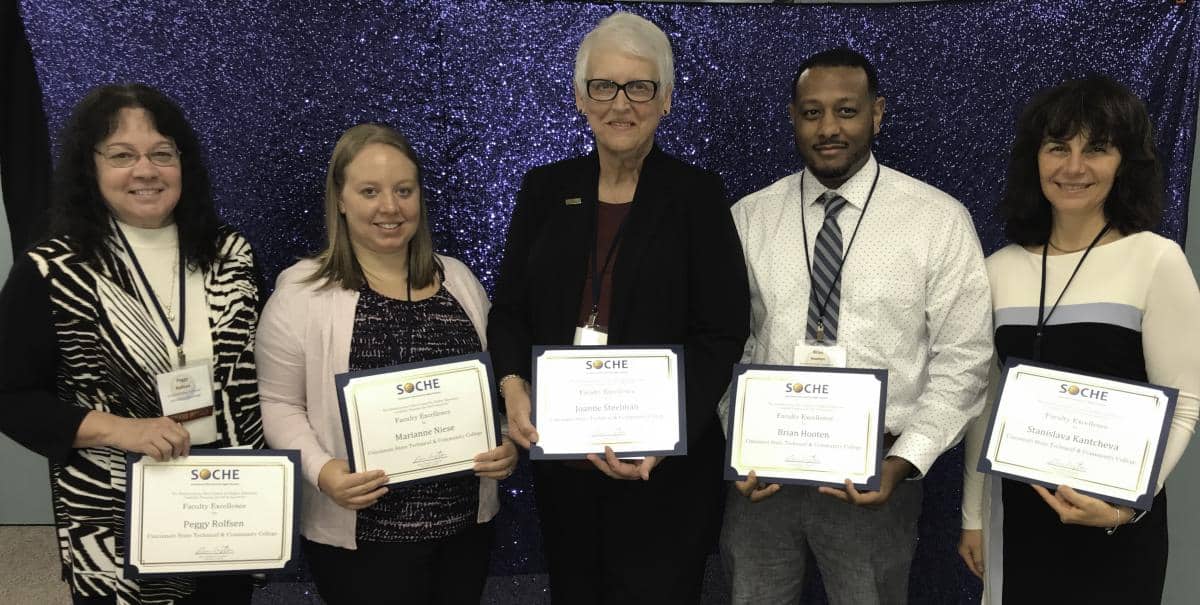 Faculty members who received SOCHE excellence awards are (from left) Peggy Rolfsen, Marianne Niese, Joanne Steelman, Brian Hooten, and Stani Kantcheva. Not in photo: Tom Burns.
Six Cincinnati State faculty members were recognized at the 2018 Southwest Ohio Council for Higher Education (SOCHE) Faculty Excellence Awards Banquet.
The awards event was held at the University of Dayton on Nov. 2, 2018.
Faculty members from 18 colleges and universities in the region received awards.
Academic administrators at each college or university selected faculty for SOCHE awards based on each institution's criteria, with special consideration for demonstrated excellence in teaching, service, and/or scholarship throughout the past academic year.
Cincinnati State nominees for the SOCHE awards included the most recent recipients of the House-Bruckmann Faculty Excellence Award, Tom Burns and Stani Kantcheva. These award recipients are selected through voting by faculty members and academic administrators.
Others recognized included:
Academic Program Advising – Marianne Niese
Cooperative Education Coordination – Brian Hooten
Middletown Campus Teaching – Joanne Steelman
Online Teaching – Peggy Rolfsen
SOCHE promotes collaboration among 23 institutions to "transform their communities and economies through the education, employment, and engagement of nearly 200,000 students in southwest Ohio."