Cincy State Aviation program begins new partnership with Kenton Co. Schools
September 17, 2021
On Sep. 13, 2021, Cincinnati State announced the beginning of a new partnership with Kenton County (Kentucky) Schools that is giving 15 high school juniors a start toward an Aviation Maintenance Technology degree.
During their junior and senior years, the high school students will take daily trips across the river to spend half of each school day at the College's Harrison (Cincinnati West) Campus.
When they finish the two-year program, the high school students will have earned up to 29 hours of college credits and completed 3 national certifications, including a drone operator's certificate.
At the kick-off event on Sep. 13, Kenton County Schools Superintendent Dr. Henry Webb joined Cincinnati State President Dr. Monica Posey at the Harrison Campus to present students in the program with their drone kits (which students are holding in the photo above).
"The Kenton County School District has been a wonderful partner in developing this program, which is an extraordinary example that education has no boundaries when it comes to preparing students for our regional workforce," said Dr. Posey.
Kenton County Schools is the fourth-largest district in the region and second-largest in Northern Kentucky.
Dr. Webb thanked Cincinnati State, the Kenton County School Board Members, Team Kenton Foundation, the Greater Cincinnati Foundation, and the KCSD Transportation Department for assistance in "making this world-class educational opportunity happen for students, which will ensure our scholars are college and career ready."
Kenton County Schools and Cincinnati State, including the Cincinnati State Foundation, are collaborating to make the program a success, including working together with regional aviation employers on curriculum, experiential learning opportunities, and financial support for the program.
The kick-off event was attended by four local TV stations (Channels 5, 9, 12 and 19) along with the Cincinnati Enquirer, the Cincinnati Business Courier, and the Northern Kentucky Tribune.
Greater Cincinnati is seeing rapidly increasing demand for aviation maintenance technicians due to growth in the region's air cargo industry and the need to replace workers who retire or transfer to a different job.
Aviation Maintenance Technology Program Chair Jeff Wright said the College also has partnerships with Great Oaks and the Three Rivers School District that are bringing additional high school students to the Cincinnati West campus for a portion of their school days.
Jeff said more than 40 high school students are taking classes at Cincinnati West this fall and will earn certifications as a result of their college courses.
Cincinnati State's Aviation Maintenance Technology degree and certificate programs are FAA-certified, and lead to many educational and career pathways.
Below, Kenton County students examine some of the aircraft they will learn about in their aviation maintenance technology courses.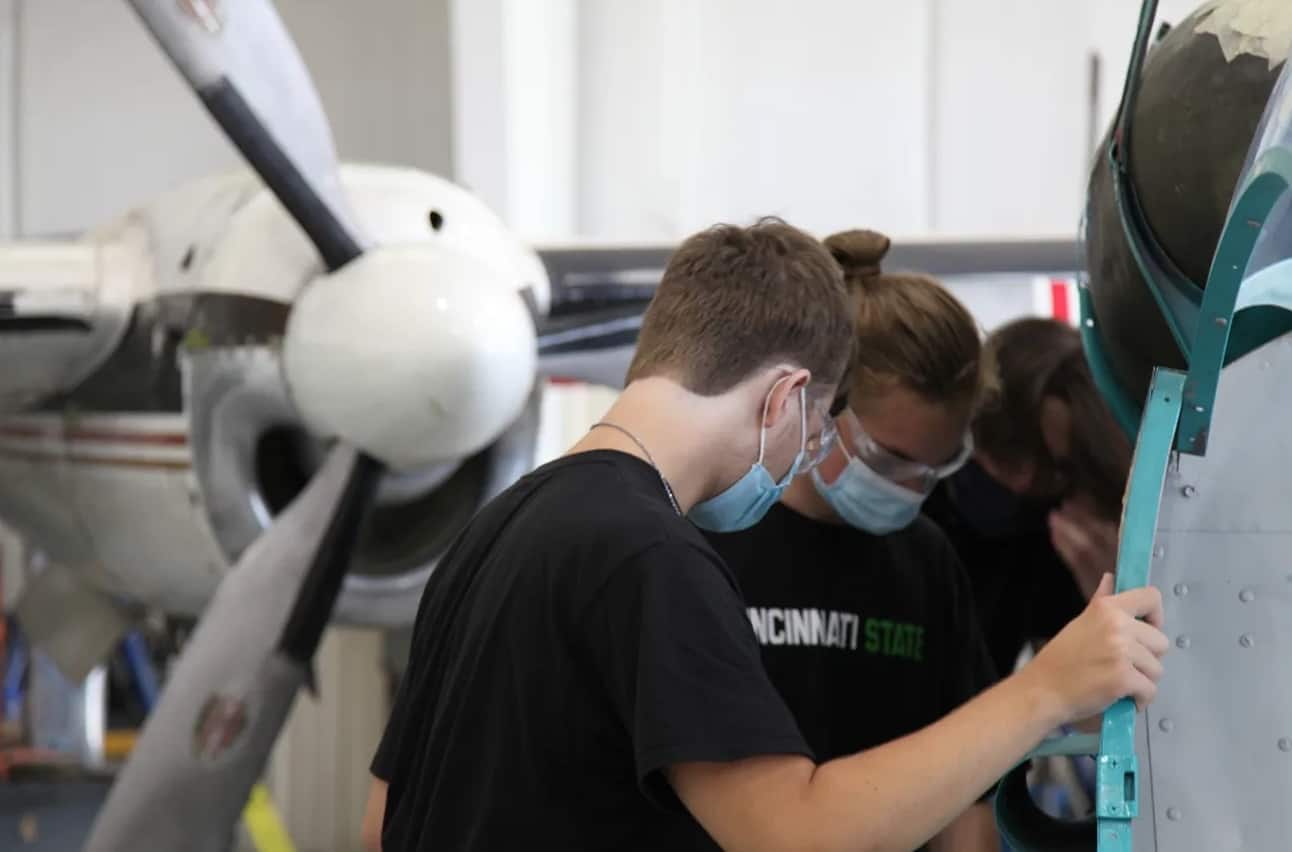 (Information provided by Richard Curtis, Interim Media/Communications Coordinator, Cincinnati State)