Cincy State Culinary & Food Science bachelor's degree launches upper-level classes
September 8, 2021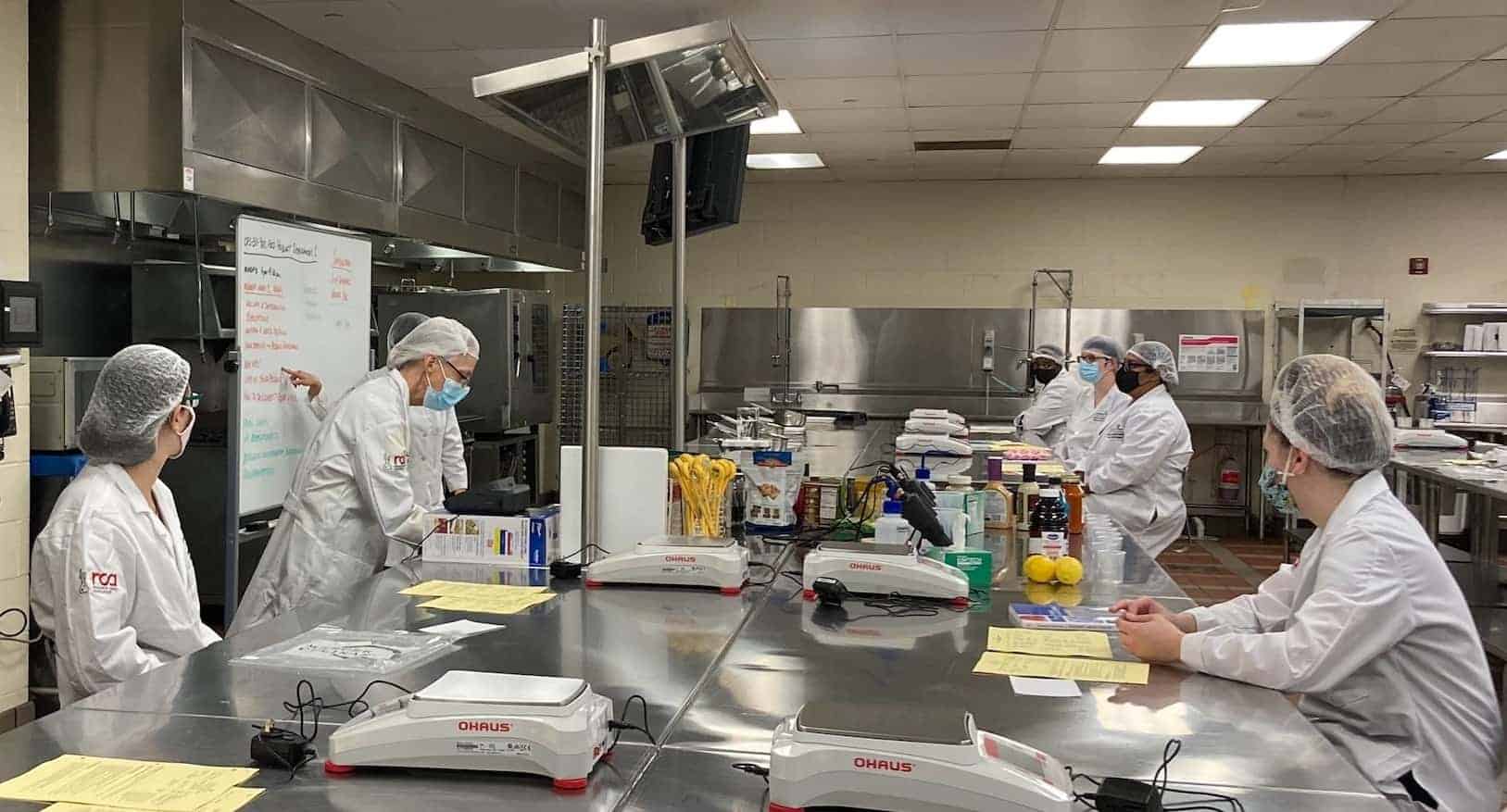 Fall 2021 is the inaugural semester for the first-ever junior-level classes in the Culinary and Food Science (CFS) Bachelor of Applied Science degree at Cincinnati State.
Nearly 40 students are enrolled in the CFS bachelor's program and the first graduates will earn their degrees in 2023.
August 30, 2021, was the first day of class for CFS 311, Food Product Development, which is co-taught by Lisa Sanders, a Product Development/Culinary Applications Manager in industry and CFS Program Chair Grace Yek. At the first meeting of CFS 311, students learned how to mark ingredient product numbers and dates. (Photos above)
The Culinary and Food Science program blends the creativity of culinary arts with the technical discipline of applied food science.
During the first two years of the program, students develop the skills needed to work in a commercial kitchen.

In the junior and senior years, students build additional skills in math, chemistry, science, and food product development, to expand their career opportunities.
Photos above and below show instructors and students in the new food product development lab, ATLC 014.
CFS instructors and students wear lab coats rather than traditional culinary uniforms.
Chef Yek said, "This is an exciting time for Cincinnati State. We are honored to be able to help meet the high demand in our region for food science specialists and to provide an incredible opportunity for our students."
Two other Culinary and Food Science junior-level courses are offered for the first time this semester:
CFS 320, Food Formulation and Ingredient Functionality, started on Sep. 1.

CFS 340, a Colloquium on Current Food Topics, started on Sep. 3. This course features presentations by food industry experts on current concerns such as sustainability, plant-based foods, and areas of specialization within the food industry.
Chef Yek said graduates of the Culinary and Food Science program will have a broad range of career opportunities, such as food product development, quality assurance, sensory science, specialty ingredients sales and distribution, manufacturing, innovation, and even food regulation.
Graduates can expect to work at companies such as Archer Daniels Midland, Givaudan, Kroger, or Wornick Foods.
(Photos by Yvonne Baker and Grace Yek)