Co-op 50th Anniversary Celebration recognized past and future of experiential education
November 4, 2019
Co-op coordinators present and past celebrated at the 50th Anniversary event.
More than 100 cooperative education, clinical experience, and internship employers, along with College faculty and staff members and other guests, attended the 50th Anniversary Co-op Celebration on Oct. 29, 2019.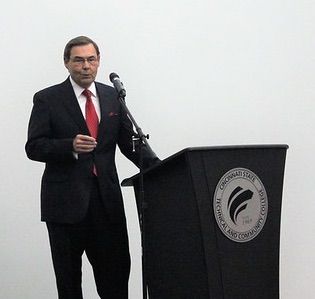 The event's keynote speaker was Dan Cayse (right), a retired College faculty member and administrator, as well as past president of regional and national co-op organizations.
Dan described some of the early history of co-op at the College, and shared examples of the dedication and creativity of College employees who helped co-op and the College thrive.
He also praised the employers who have supported the College's co-op program for the past 50 years.
Co-op Student of the Year Scholarships of $1,000 each were presented to Sydney Lewis, a Medical Administrative Assistant major at Middletown Campus with a 3.75 GPA, and to Skyler Shepherd, who is majoring in Business Management, and has a 3.5 GPA. (Both are seen below with Provost Hoopes and President Posey. Skyler is next to Provost Hoopes.)
Sydney's Co-op Coordinator is Linda Romero-Smith, and her co-op employer is Premier Orthopedics.
 
Skyler's Co-op Coordinator is Adam Waits and her co-op employer is Digital Visions Security Technologies.
 
Both students will graduate in May 2020. They both extended thanks to their co-op employers and faculty advisors, and they encouraged other students to take advantage of co-op opportunities.
 
Employers who contributed to the Co-op Scholarship fund include Site WORX, Abercrombie and Associates, Balluff, Inc., The Kleingers Group, Cardinal Engineering Corporation and Metcut Research.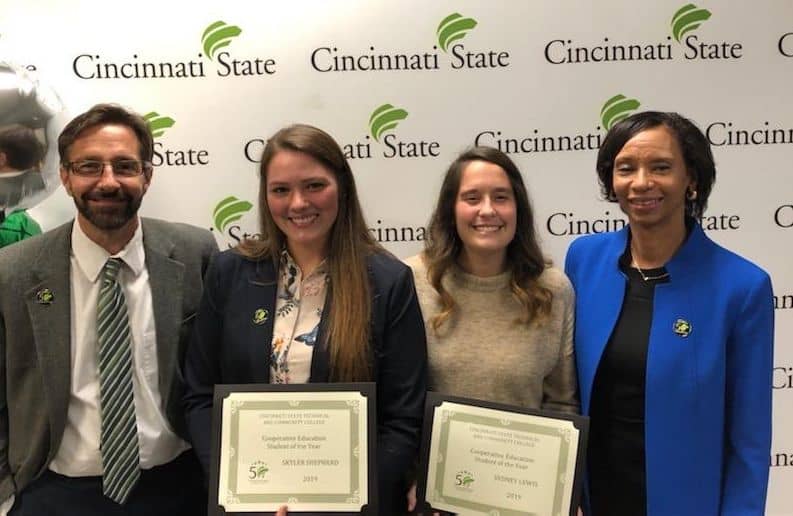 Provost Robbin Hoopes described experiential education as "an amazing gift" to students, and noted that it is "part of the DNA" of the College.
Provost Hoopes also said that close interactions between College faculty and co-op employers provide "real-time feedback" on community workforce needs.
President Monica Posey spoke about the College's legacy of co-op and "the fantastic future ahead of us" in the College's 50th year.
She noted the College's significant economic impact in the region, which is partly due to the large number of Cincinnati State graduates who remain in the region and are employed locally, sometimes by the same organizations where they worked as co-op students.
President Posey said co-op is a unique way to "enrich student experiences while also engaging the community."
A 50th Anniversary of Co-op documentary video prepared by Cincinnati State Audio/Video Production majors Kyle Ballman and Rae'ven Reed (photo below) had its "world premiere" at the event. The video can be viewed on the Cincinnati State Co-op YouTube page at https://www.youtube.com/watch?v=14v0CbzBMuA&t=17s.