Commencement 2022 included words of wisdom and inspiration
May 9, 2022
Graduates and their family members and friends enjoyed Cincinnati State's first in-person Commencement ceremony since 2019 on May 7, 2022.
Click to download the 2022 Commencement Program.
This year, 1,344 Cincinnati State students received associate's degrees or certificates during the event at Cintas Center.
The 2022 graduating class included 30 area high school students who earned associate's degrees while still high school through the College Credit Plus program.
The ceremony included a brief address from honorary degree recipient George H. Vincent (above), Managing Partner and Chairman of the law firm Dinsmore & Shohl LLP. Mr. Vincent also serves as Chairperson of Cincinnati State's Board of Trustees.
Mr. Vincent's honorary degree recognized his contributions to Cincinnati State and the Greater Cincinnati community.
President Monica Posey said Mr. Vincent "inspires others through your dedication to making Cincinnati stronger and more vibrant."
In his remarks Mr. Vincent noted, "Life is not determined by what you want; it's determined by the choices you make."
He congratulated graduating students for "making the choices that allowed you to achieve what you wanted" and advised students to "thank someone who helped you get to this spot today."

Mr. Vincent also advised graduates to "find a passion beyond yourself" and to provide service that "makes someone else's life better."

In addition, Mr. Vincent shared that on the day after his own graduation from law school, he got married. He recommended to graduates, "don't get married tomorrow."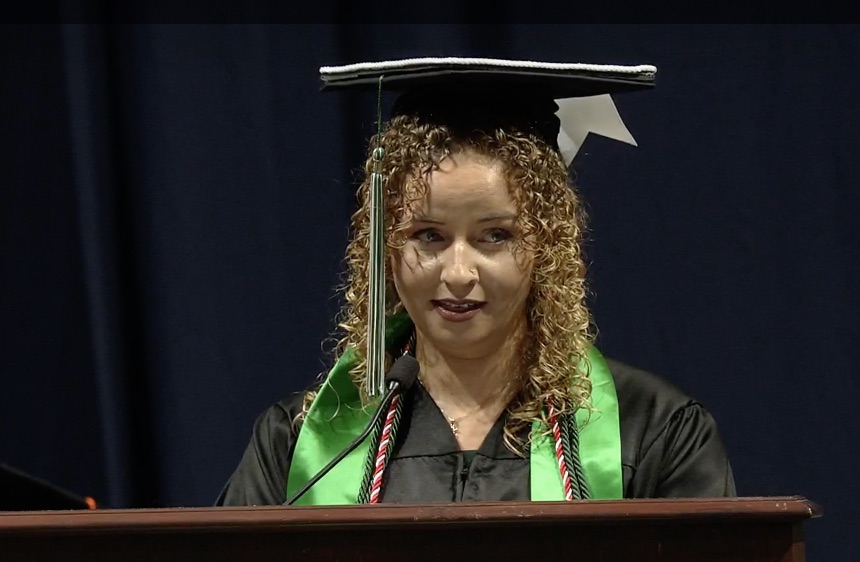 Student speaker Cimarra Pierman, a Nursing graduate, described the doubts and challenges that preceded successful completion of her degree.
"We had too much to offer to let anything stand in our way," she said of herself and other members of the Class of 2022.

"We took care of one another, we adapted, and we persevered– and that's why we're here today," Ms. Pierman said.
William Neyer, '85, recipient of the Distinguished Alumni Award and Mayor of the City of Harrison, provided a video thank you for the recognition he received.
"Cincinnati State was foundational to my success," Mr. Neyer said. "I hope to give back by making Cincinnati State a 'bigger dot on the map' that others will appreciate also."
(Photos from Cintas Center Live Stream)