Faculty excellence awards presented
April 12, 2019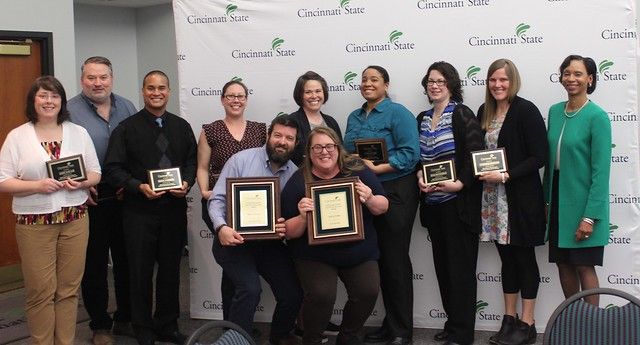 Dr. Monica Posey with 2019 House-Bruckmann Faculty Excellence Awards recipients Mark Tiemeier (Biology) and Laura Drake (Paralegal) (in front) and the other House-Bruckmann Award nominees (back, from left): Janet Schlaak (Math), Mike House (Math), Daniel Anderson (History), Jen Martin (Associate of Arts & Associate of Science), Meredith Effler (English Composition & Literature), Candice Jones (Dietetics), Julie McLaughlin (First Year Experience & Leadership), Stephanie Stafford (Math).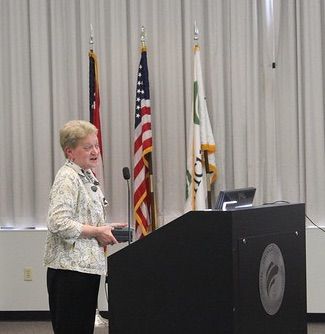 Cincinnati State's annual faculty recognition event took place on Apr. 8, 2019. The ceremony began with introduction of the newly-designated Emeritus Professor Joanne Johnson (photo at right).
Joanne joined the College in 1989 when the Bethesda School of Nursing merged with Cincinnati Technical College.
She served as Program Coordinator for Nursing for 15 years, with responsibilities that included academic advising for Nursing students and oversight of the program's selective admission process.
Joanne served on the Academic Policies & Curriculum Committee and was a member of the original Peer Mentoring Committee that established guidelines for mentoring activities.
She also contributed to numerous other initiatives in the College, the Nursing program, and in professional organizations during almost 30 years of service.
Emeritus Professors are selected through a process of peer nomination and endorsement, and then approval by the Faculty Senate.
President Monica Posey praised Emeritus Professor Johnson for her many years of dedicated service and congratulated the award recipients and nominees for their contributions to the College.