Faculty member received state dietetics award
April 11, 2022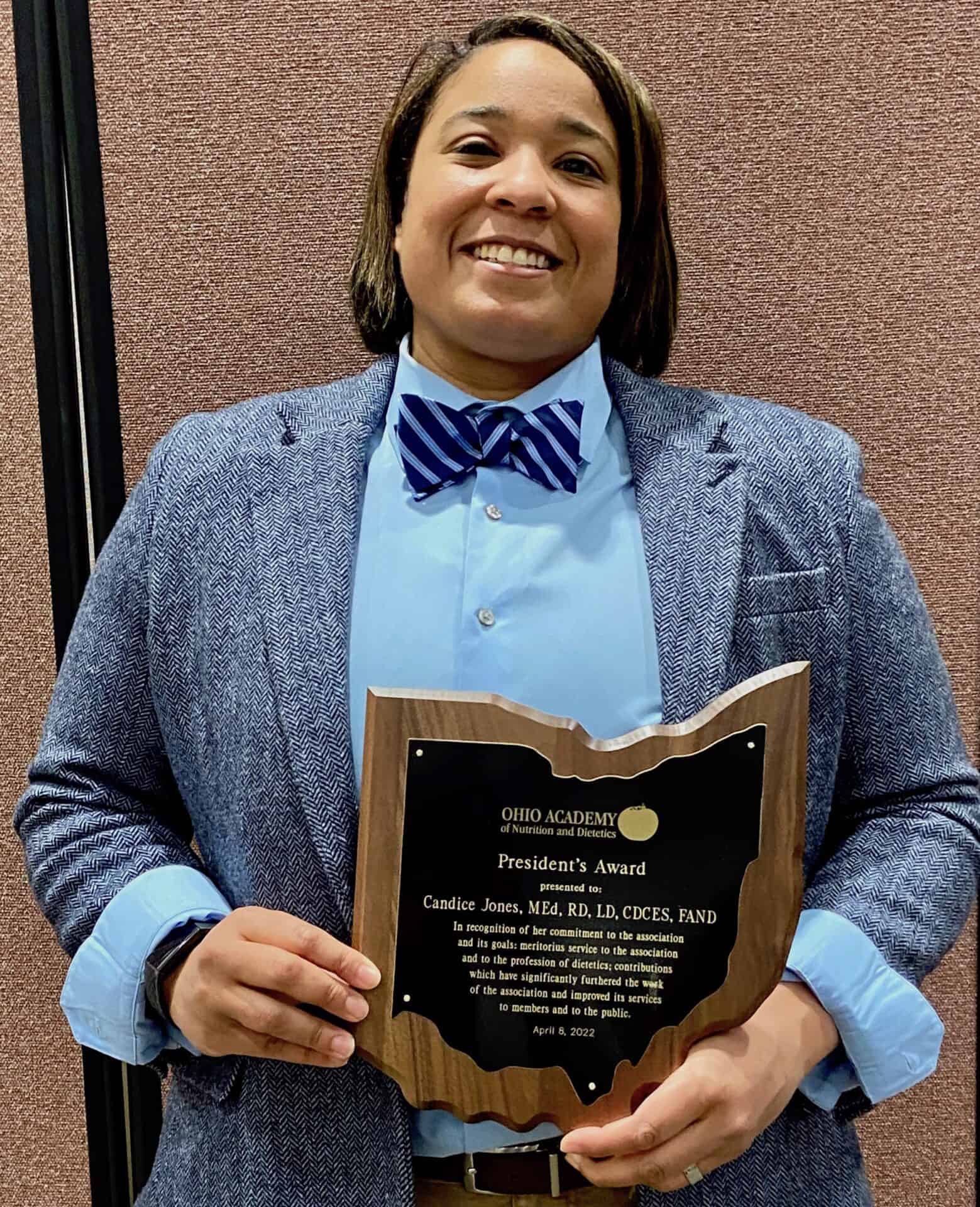 Candice "CJ" Jones, Program Chair for Dietetics and Pre-Nutrition Science, was honored by the Ohio Academy of Nutrition and Dietetics (OAND) as the recipient of the President's Award during the 2022 OAND Conference held on Apr. 8, 2022.
The President's Award recognizes "outstanding and sustained professional leadership and personal contributions" to the dietetics and nutrition field.
In addition to serving as chair for Pre-Nutrition Science, Dietetic Technology, and the Dietary Management Certificate, CJ's contributions and achievements include:
Fellow of the Association of Nutrition and Dietetics
Site Reviewer for the Accreditation Council of Nutrition and Dietetics
Co-Chair of Cincinnati State's Diversity, Equity, and Inclusion Steering Committee
Member of the Advisory Board for the University of Cincinnati's Dietetic undergraduate program and Diversity and Inclusion Board
Member of the Advisory Board for Xavier University's Center for Population Health
Committee Member for the First Lady's Health Initiative Cincinnati
Chair of the OAND Diversity, Equity, and Inclusion Committee
Chair of the Diabetes Educator Association
Invited speaker at professional conferences including the Academy of Nutrition and Dietetics, the Cleveland Clinic, and the Ohio Association of Diabetes Care and Education Specialists
Planning and implementing community events such as health fairs and dinners to promote nutrition and other health topics
CJ said she is "very blessed and honored" to have been selected for a prestigious award that is typically given to someone working in industry, or employed at a university.
In her remarks after accepting the President's Award, CJ shared some of her initial struggles to enter the profession, and her belief that dietetic professionals "… are kind of like the Muppets– a group of individuals that are different colors, shapes, sizes and have their own little quirks."
CJ added, "I want to continue to be an advocate for those who want to go into the profession," and she encouraged those in attendance to "search your inner Muppet and please use your voice in a positive way, because you never know who is listening."
(Photos and event reporting provided by Laura Horn)