Faculty member & students win awards in CNC parts design competition
September 18, 2019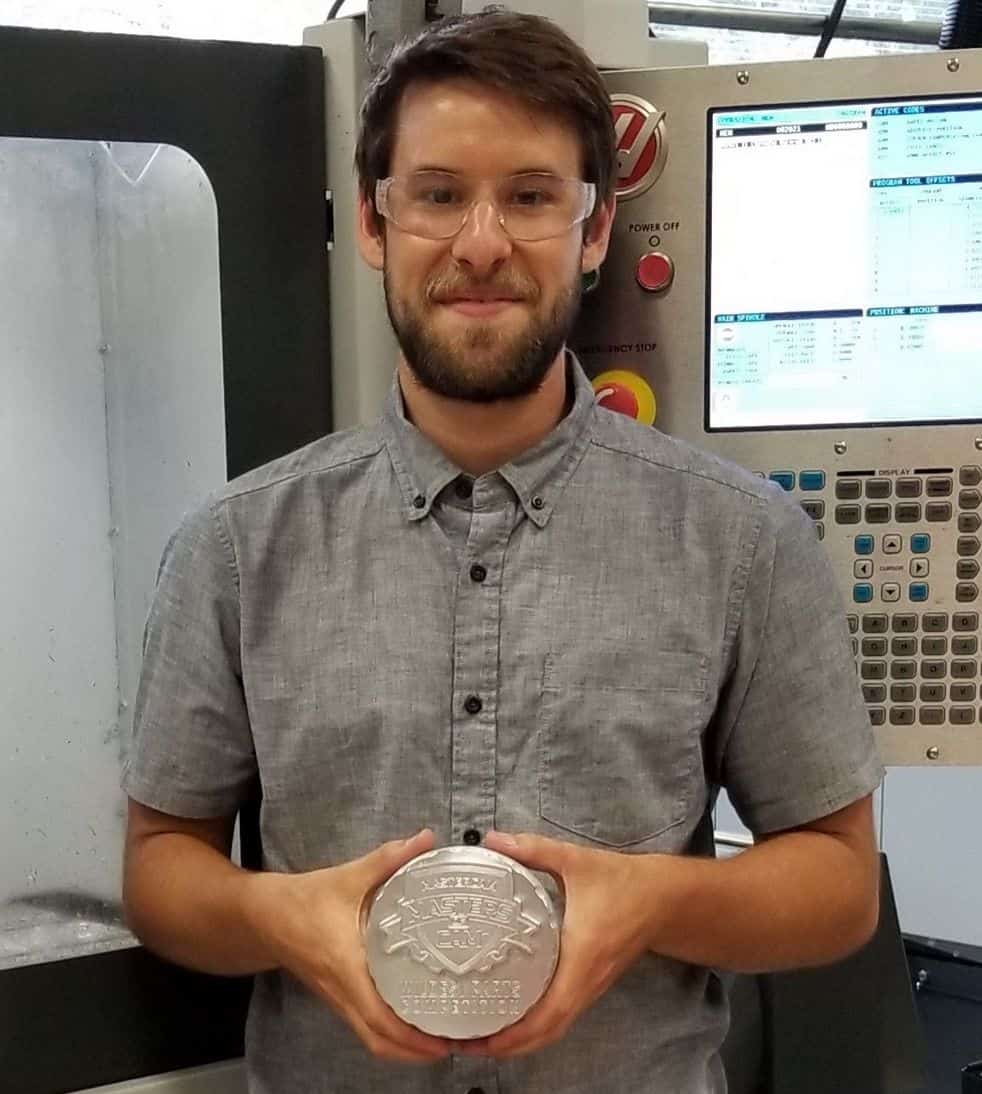 Assignments for the Summer Semester 2019 Mechanical Engineering Technology class MET 112, Manufacturing Processes 2, led to recognition and prizes for the course instructor and students who entered the 2019 international competition "Masters of Cam Wildest Parts."
The competition is sponsored by Mastercam, an industry leader in CAD/CAM technology (computer numerical control / computer aided manufacturing).
Faculty member Zane Decker (above, with his winning entry) earned second place in the Professional Competition for his Logo Puck, which he created to demonstrate 2-D toolpaths to his students.
"This part has no function other than to show off aesthetics and provide a demonstration for students who are new to CAD/CAM software," Zane said.
To see a 2:30 min. video of the Logo Puck design and creation, visit http://mastersofcam.com/Home.aspx?story=XI2-7CyuSgRqDz7eI-s49Q–. (Note: Sometimes the video is slow to load. When you see Zane's photo, you'll need to click "next slide" to start the video.)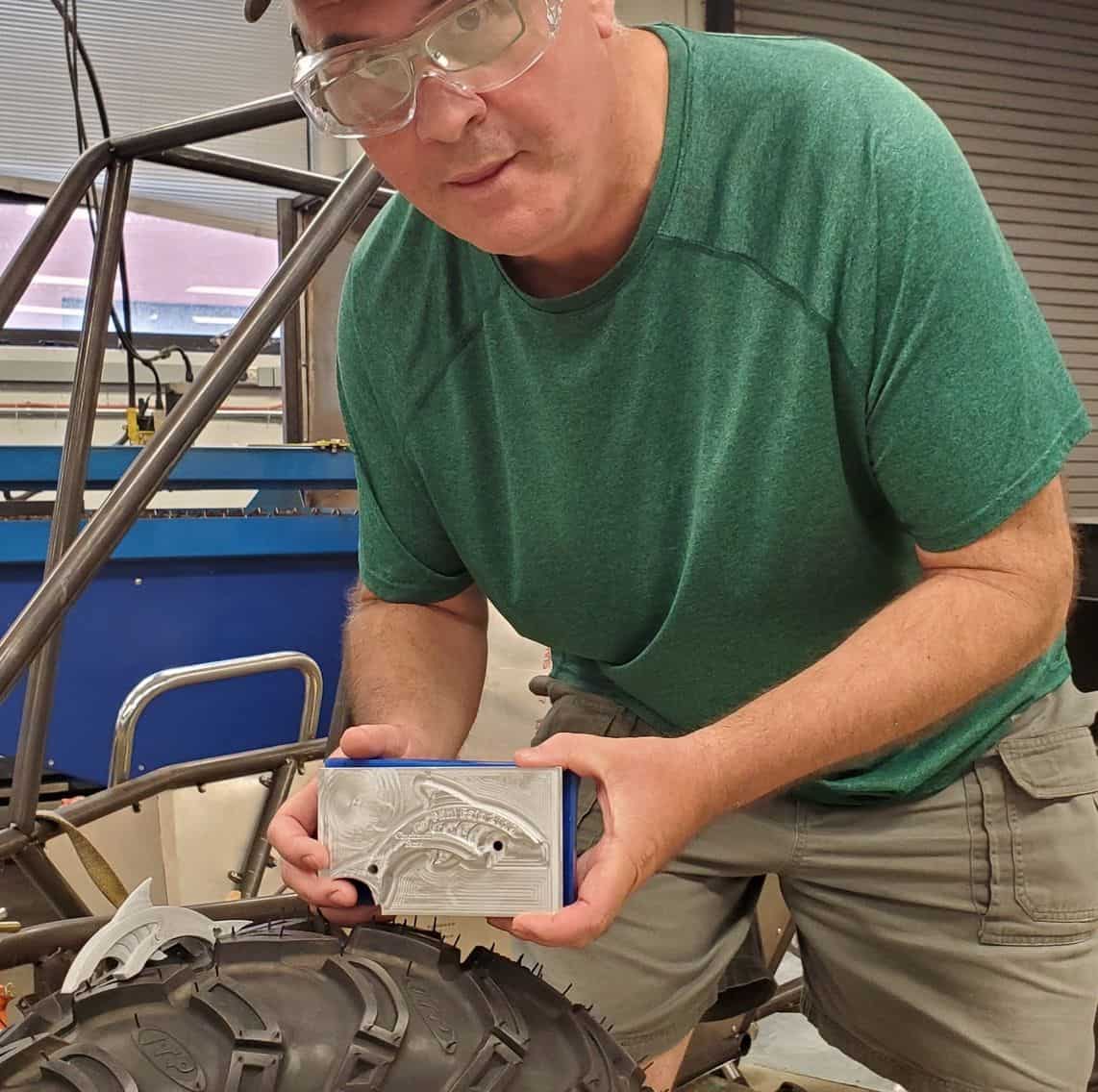 In the Postsecondary Student Team competition, the team of Tyler Dorsey, Kaman Magar, and Chris George (in photo at right) took second place for their Shark Bottle Opener.
According to the team, their entry is "a multi-tool promotional piece that functions as a bottle opener, wine opener, flathead screwdriver, multi-tool drive, wine cutter, and paper cutter."
Their 2 min. video demonstration is available at http://mastersofcam.com/Home.aspx?story=5FrYEhg-WBx98IKMuc-dHA–.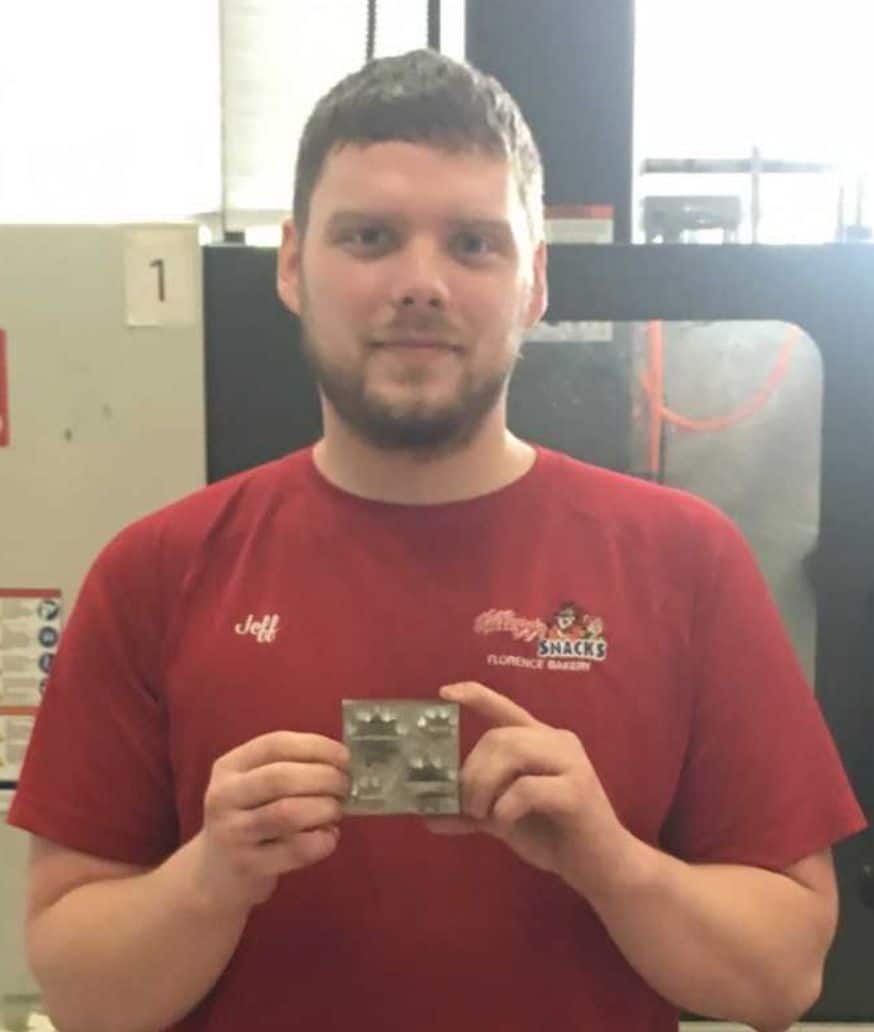 The team of Blake Bishop and Jeff Harper (in photo at left) received 3rd place for their Gears entry.
The team said they created a simple part in order to focus on using the software efficiently and achieving a "clean finish."
Their 3 min. video is available at http://mastersofcam.com/Home.aspx?story=0h2WEuI56j78rJFVMbwFoQ–.
Mastercam announced that the winning entries from the "Wildest Parts" competition will be on display at their booth during the Association for Career and Technical Education CareerTech VISION conference in Anaheim, CA, in Dec. 2019, and at other conferences throughout 2020.