Faculty member's summer pilgrimage: A long walk on the Via Francigena
July 3, 2023
Faculty member Karen Groh (Biology) and her husband, David, spent a month of Summer 2023 walking a portion of the Via Francigena, an ancient Christian pilgrimage route. They started in Lucca, Italy, and walked to Rome, experiencing challenges as well as gratifications on their journey.
The route of the Via Francigena begins in Canterbury, England, continues to Rome, and then goes to Apulia in southern Italy, where pilgrims can board a ship to finish the journey to the Holy Land.
In summer 2022, Karen completed a solo pilgrimage of about 120 miles on the Portuguese Coastal Route of the Camino de Santiago, from Porto, Portugal, to Santiago, Spain.
"I did it for both spiritual and cultural reasons," Karen explained. "I fell in love with the spiritual aspects of long days of walking in silence and solitude, which makes space for prayer and deep reflection."
"I also discovered that walking through small villages and countryside is a wonderful way to connect with the local people and culture," she added. "I think it's a more authentic form of tourism, and my husband was able to join me this summer on another pilgrimage."
Karen said she and her husband spent 28 days in Italy this summer, including two days in Lucca at the beginning and four nights in Rome at the end.
"The full distance of the walk from Lucca to Rome is 240 miles," Karen said. "We walked about 170 miles of it, averaging about 12 miles a day. But I calculate that we walked a total of 300 miles when you include all of the walking we did, including sightseeing, errands, getting food, and more."
"We stayed in hostels and monasteries most of the time, but we spent a few nights in inexpensive rooms or small apartments."
"Because of time constraints, we had planned to cut off part of the route and travel by train, but we ended up cutting off a bit more than we planned because I got sick en route," Karen said. "We lost a few days of walking while I recovered, and for two nights, we scrambled to find lodging and transportation while I was feverish and miserable."
Karen said the trip had other challenges, too.
"During the first week, parts of the trail were terribly muddy and we had to climb steep, slippery hills to climb or go down. Sometimes we struggled to keep our footing and move forward," Karen said.
"We also experienced some dangerous creek crossings. On one of them, my husband slipped on the rocks and ended up lying on a rock top of his backpack, like an upside-down turtle, while I watched in terror from the far shore, unable to help him."
Karen said fatigue sometimes was a problem. "I got stronger as we went on, but at the beginning, I really had to push myself. It took mental strength to deal with 15-mile days of walking up and down steep hills, with a backpack."
Karen pointed out that the trip had many highlights, too.
"The intent for our trip was walking and that was what we did, every day," Karen said. "We spent our days outdoors, walking through olive groves, vineyards, fields of wildflowers, forests, and small villages. We carried all of our belongings in backpacks and used hiking poles."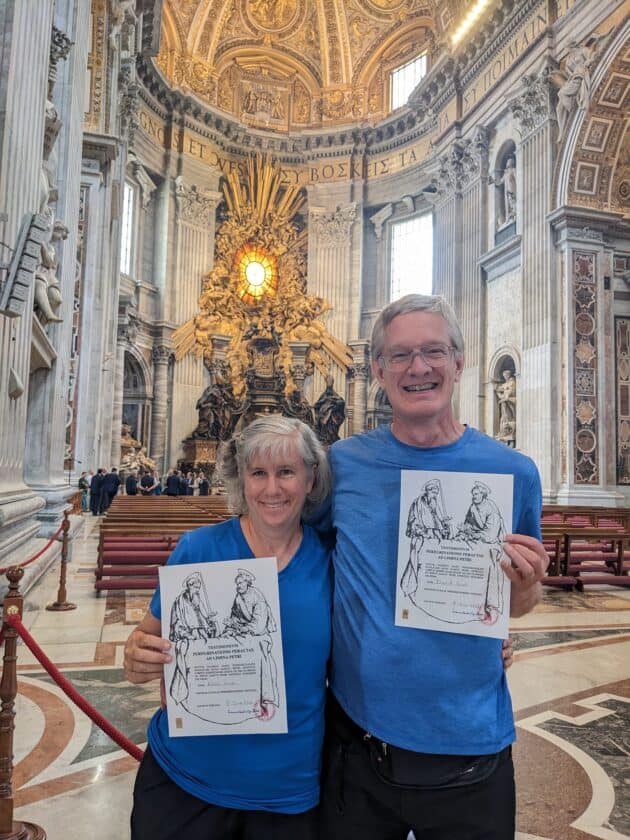 "The walking was my favorite part of the trip," she added. "There was so much beauty to see on the way–the beauty of nature, ancient churches and monasteries, and the narrow, winding streets of the villages."
"We also enjoyed our communal meals at the hostels and monasteries," Karen noted. "We ate meals with people from many different countries and dinner time conversations were a mix of many languages and many topics, ranging from profound to hilarious. We enjoyed hearing views from people from many cultures and backgrounds."
The pilgrimage ended at the piazza in front of St. Peter's Basilica in Rome (Vatican City), where Karen and David each received a Testimonium, a certificate testifying they had walked at least 100 kilometers (62 miles) of the Via Francigena.
Karen said, "My husband and I walked hand in hand through the gate in the walls of the Vatican and entered the piazza together. I cried, and I was I grateful we had achieved the goal we set for ourselves."