Graphic Design instructor created "Star of the Match" award for FC Cincinnati
August 5, 2019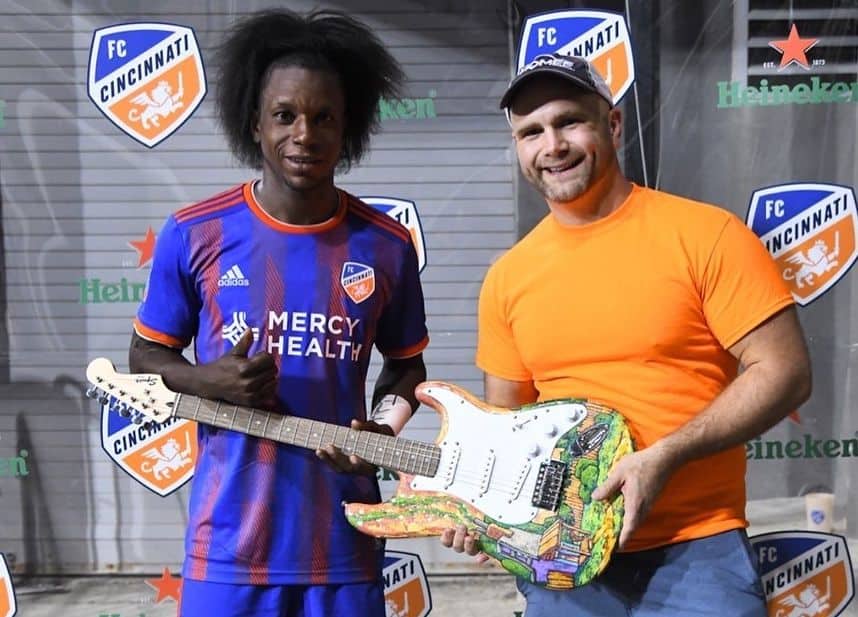 Mike Maydak, an adjunct instructor in Cincinnati State's Graphic Design program, designed, painted, and presented the FC Cincinnati "Star of the Match" award on Saturday, Aug. 3, 2019.
Mike is seen above presenting the award– a one-of-a-kind Fender guitar– to Forward Darren Mattocks.
The award is supported by Heineken, one of the football club's corporate sponsors. A "Star of the Match" is selected after every home game.
This is the second time this season that the award guitar was created by a designer with ties to Cincinnati State.
Greg D'Amico, a former Graphic Design student at Cincinnati State, designed and painted the Fender guitar that was awarded to the FC Cincinnati "Star of the Match" for Apr. 19, 2019, Midfielder Kenny Saief.