Graphic Design student wins local Best of Show and Regional ADDY Awards
March 9, 2020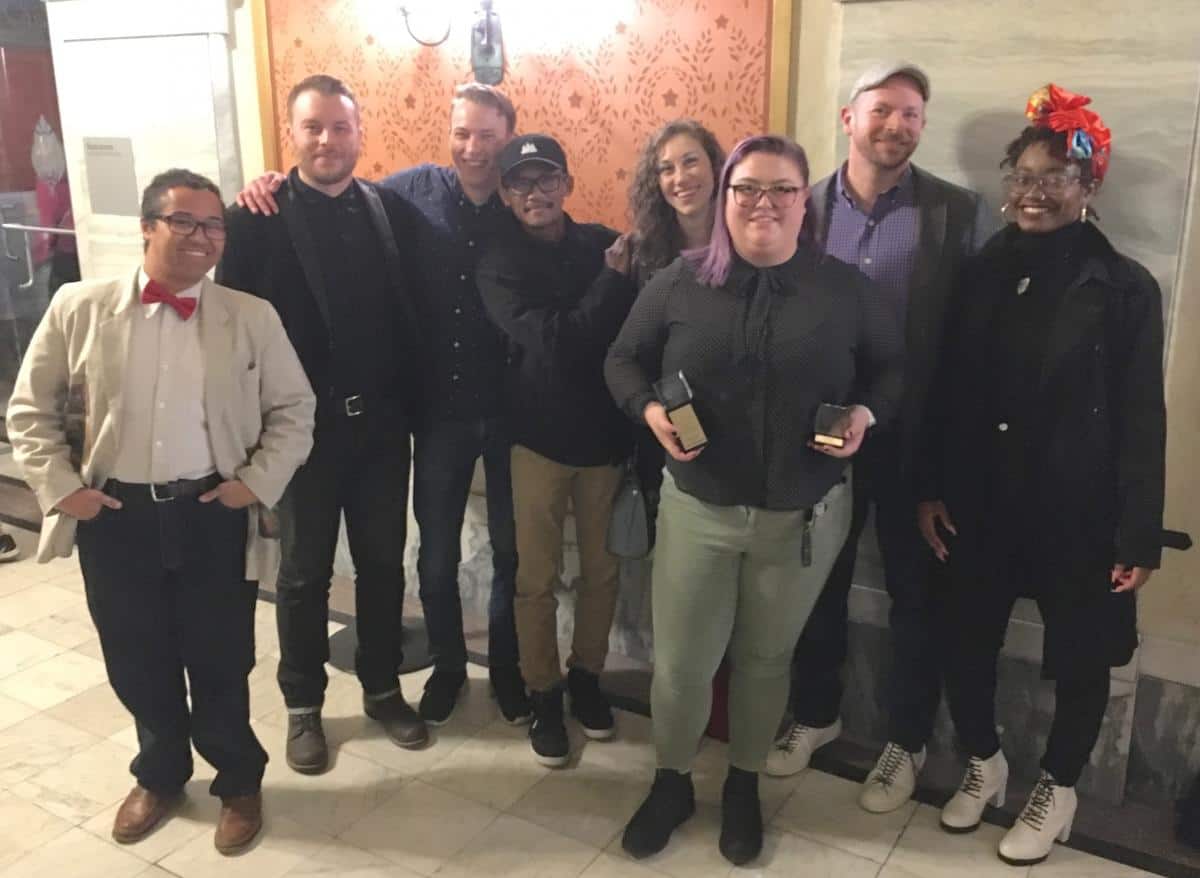 Graphic Design students, alumni, and faculty celebrated at the 2020 Cincinnati ADDY Awards (from left): Abe Luckey, Zack Mullenix, Jesse Willis, Vatthana Long, Adjunct Instructor Emily Gaston, Student Best of Show winner Julia Kennedy, Program Chair Jason Caudill, and Naimah Quinae. See additional photos below.
Cincinnati State Graphic Design students once again dominated the Cincinnati American Advertising Awards (ADDYs), earning the Student Best of Show and other awards at the 2020 awards event on Feb. 21, 2020.
Julia Kennedy won the Student Best of Show award and a Gold award for her "California Wildlife Poster."
 
Julia also won a contest to develop a new brand identity for the Cincinnati chapter of the American Advertising Federation (also known as the Ad Club), the organization that conducts the ADDY competition each year. (See photo below)
 
Aaron Dorsey received a Silver award for "52 Deck of Cards – Sushi Edition"
 
Jessie Reinert won a Silver award for "Urban Pioneers Poster"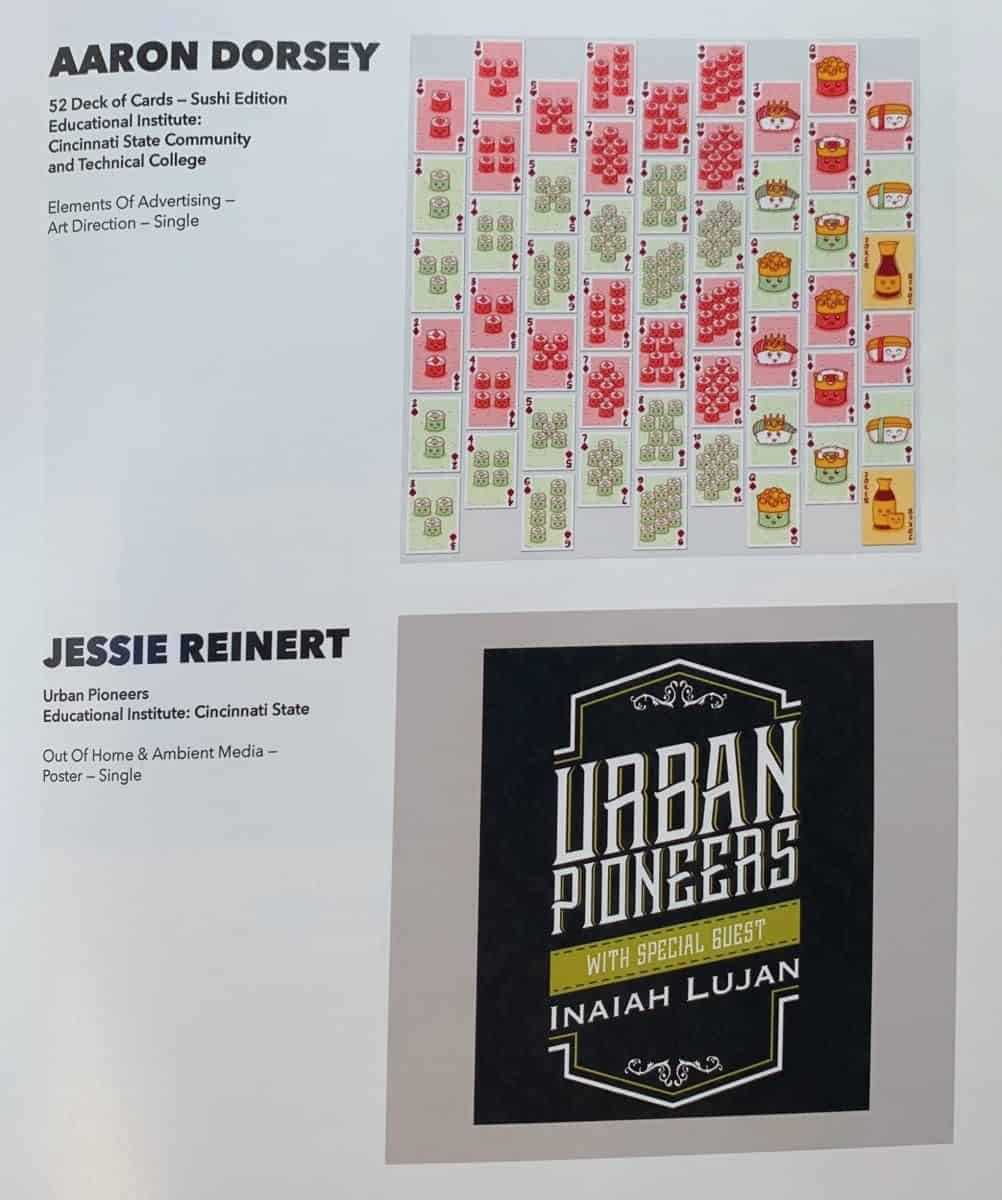 Cincinnati State students received five of the six Student ADDYs presented this year in the local competition.
Update: Julia was notified in late March that she also won a Silver ADDY in the District-level Student competition.
Gold and Silver award-winners from the local student competition were forwarded to the District level, which included entries from students in colleges and universities throughout Ohio, Kentucky, and West Virginia.
In the Cincinnati Professional competition, Chris Joecken, a graduate of CState's Audio/Video Production program, was part of the team that created the Best of Show and Gold award winner: a 6-minute online video for Armitron watches, entered in the category "Branded Content and Entertainment for Online Film, Video & Sound."
Chris was the Colorist on the team for producer Douglas Gautraud, whose crew included specialists in New York and Cincinnati.
Graphic Design Program Chair Jason Caudill said, "We appreciate the continuing support for Cincinnati State students during a time when the Cincinnati Ad Club organization is changing and rebuilding."
"The ADDYs give our students a great opportunity to gain recognition and feedback from a professional organization that applies the highest standards for evaluating their work."
"It's also great to get together at the ADDYs with our alumni who are working in design fields, and give current students a chance to network with potential employers and colleagues," Jason added.
The American Advertising Awards (ADDYs) is one of the advertising industry's largest and most representative competitions, attracting over 40,000 entries every year in local AAF Ad Club competitions. The mission of the American Advertising Awards competition is to recognize and reward the creative spirit of excellence in the art of advertising.
ADDY entries in this year's Cincinnati competition were judged by professionals from Atlanta, Dallas, and Chicago.
ADDY winners from 15 District competitions throughout the U.S. advance to the National ADDY competition, scheduled for June. Cincinnati State Graphic Design students have won National Gold ADDY awards twice: Dallas Ford in 2017 and Alli Bacon-Davis in 2008.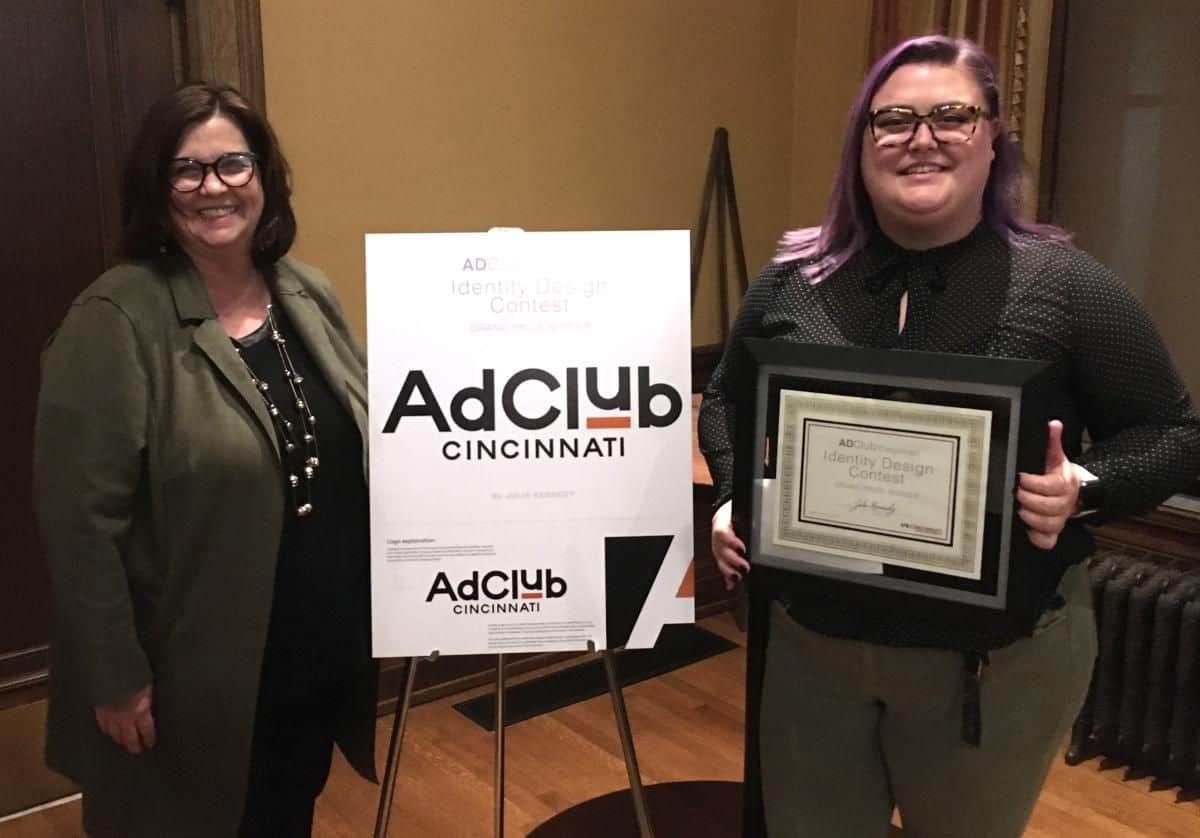 Julia Kennedy (right) is recognized by Cincinnati Ad Club President Charlie Martin for creating the Club's new visual identity materials.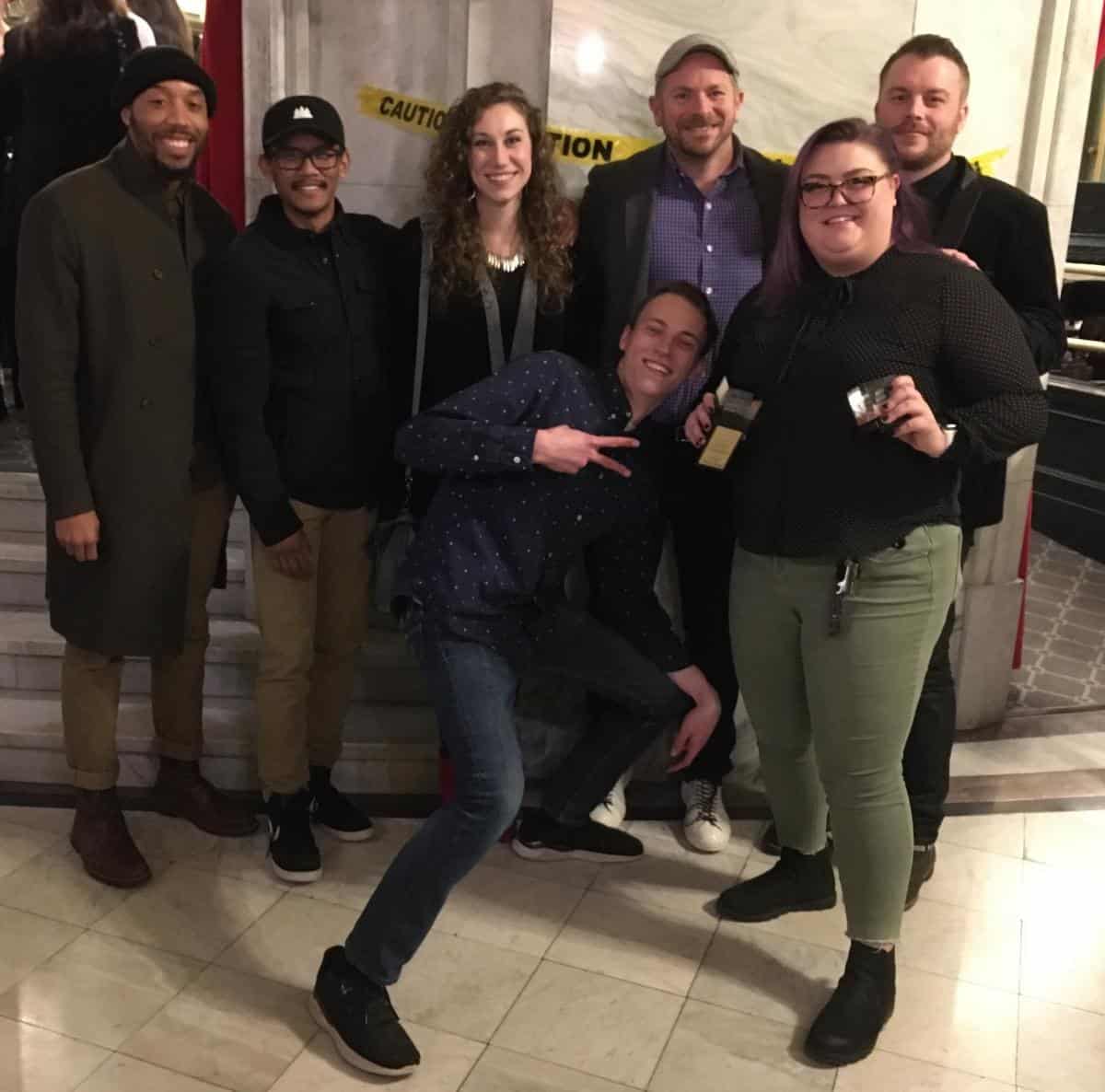 Enjoying the ADDY Awards event (from left): Floyd Grace,"V" Long, Emily Gaston, Jesse Willis, Jason Caudill, Julia Kennedy, and Zack Mullenix.