Hamilton County support for Cincinnati State Nursing programs will help address area nursing shortage
August 25, 2023
Hamilton County Commission President Alicia Reese and Commissioner Denise Driehaus visited Cincinnati State on August 24, 2023, to announce a $1.5 million investment to help address the critical shortage of nurses in the county.
(Photo above: Hamilton County Commissioner Denise Driehaus, Nursing Program Chair Dr. Janice Lockett, Cincinnati State President Dr. Monica Posey, Hamilton County Commission President Alicia Reece, Nursing Student Jappie Kaur)
The grant funds from the County will make it possible to expand the College's associate degree Nursing program that prepares students for Registered Nurse credentialing, and the certificate programs that prepare students for Licensed Practical Nurse and State-Tested Nurse Aide credentials.
The investment also aims to increase the number and percentage of LPN and RN nurses from underrepresented backgrounds in Hamilton County.
Money for the grant came from federal stimulus funds from the The America Rescue Plan Act.
Media coverage of the announcement included an article in the Cincinnati Business Courier (may require subscription to view) and stories that aired multiple times on TV stations WLWT (Ch. 5), WCPO (Ch. 9), WXIX (Ch. 19), and WVXU public radio.
The vacancy rate for full-time registered nurses at regional hospitals is currently almost 14.5%, or about 1,500 nurses, according to data from The Health Collaborative. This is the highest vacancy rate in 20 years and has forced some hospitals to close needed beds.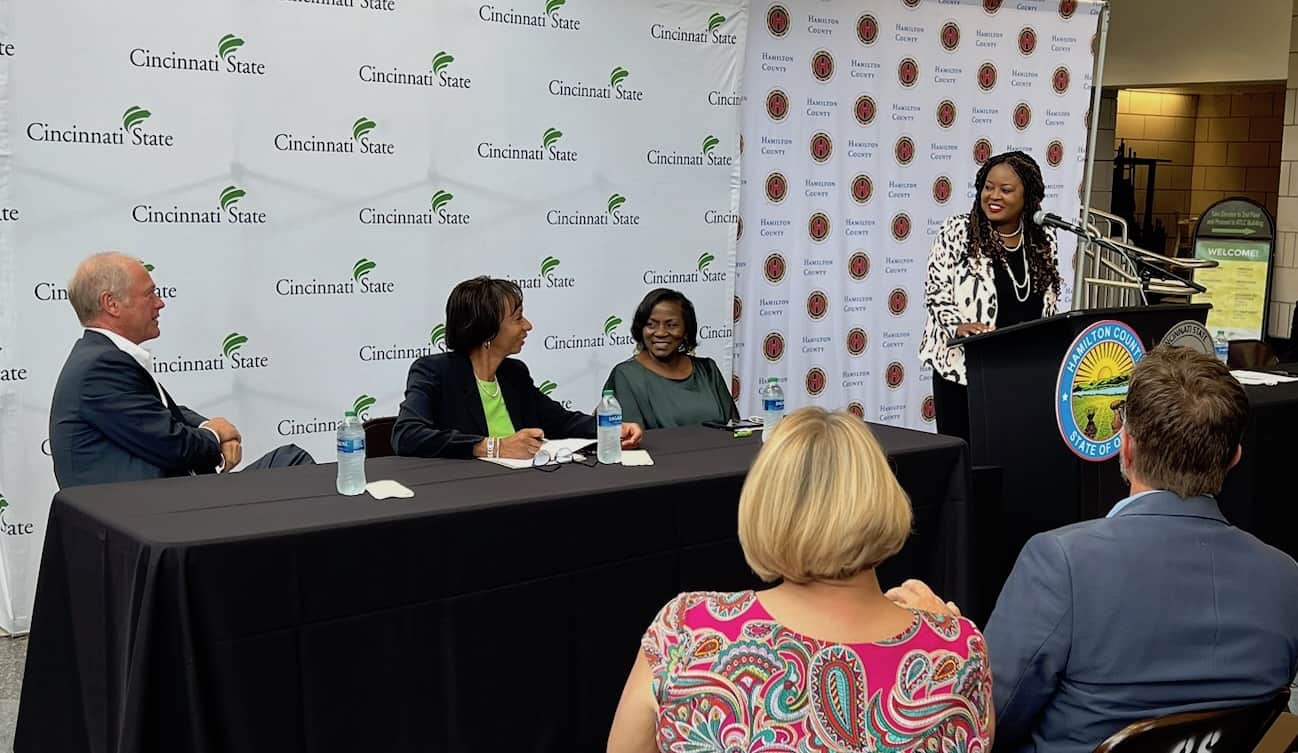 "This investment is a critical step in addressing the nursing shortage in the County," said Hamilton County Commission President Alicia Reece. "The pandemic has made it even more clear that we need more nurses."
"This is a great investment for our community," said Hamilton County Commissioner Denise Driehaus. "It will help to ensure that we have the nurses we need to care for our residents, reduce the burden of the nursing shortage on our area providers, and open more opportunities for those seeking a career in nursing."
"We are proud to support the Cincinnati State nursing program," said Commissioner Stephanie Summerow Dumas prior to the Aug. 24 event. "Providing the funding for top-of-the-line educational facilities, educators, and scholarships helps set students up for success when they enter the workforce."
Cincinnati State is the only college in the region to offer a complete nursing education pathway in one location, from STNA to LPN to RN, and the new RN-to-BSN Bachelor of Science in Nursing option. Graduates consistently achieve among the highest nursing licensure test passing rates of any college or university in the region.
"Our nursing programs have achieved the highest quality for many years, and we are grateful to Hamilton County for making this expansion possible," said Dr. Monica Posey, President of Cincinnati State. "This will create wonderful opportunities for many students while providing more nurses to care for patients in Hamilton County."
The grant funds will be used to:
Build-out and furnish a much-needed LPN skills lab.
Provide one-year start-up salary and benefits for additional instructors for the STNA, LPN, and RN programs.
Offer scholarships to students in the Cincinnati State nursing pathway, with a priority for underrepresented and low-income students.
Provide start-up funding for a Nursing Success Strategies course to further support students.
The project will also invest in partnerships with:
Click to view video of the Hamilton County Commission meeting where the grant was approved. Remarks by Provost Robbin Hoopes, Nursing Program Chair Dr. Janice Lockett, the Commissioners, and others begin about 1 hour and 20 minutes from the start of the video.