Honors student selected for prestigious Chautauqua program says "It changed my life"
August 3, 2022
Cincinnati State Honors student Julie Howard joined other community college students from throughout the U.S. at the prestigious Chautauqua Institution, as part of the "Summer Scholars at Chautauqua" program held July 16-23, 2022.
Chautauqua Institution is a not-for-profit, 750-acre community on Chautauqua Lake in southwestern New York State. The Institution was founded in 1874 to provide "an educational experiment in out-of-school vacation learning." Over 8,000 participants attend a variety of Chautauqua summer programs each year for courses in art, music, dance, theater, writing skills, and a wide range of other topics.
The Summer Scholars at Chautauqua program, sponsored by Community Compact, provides all-expenses-paid opportunities for underserved and underrepresented college students to acquire social capital (defined as "a network of resources, connections, processes, and skills") that enhances the students' ability to effectively pursue their goals.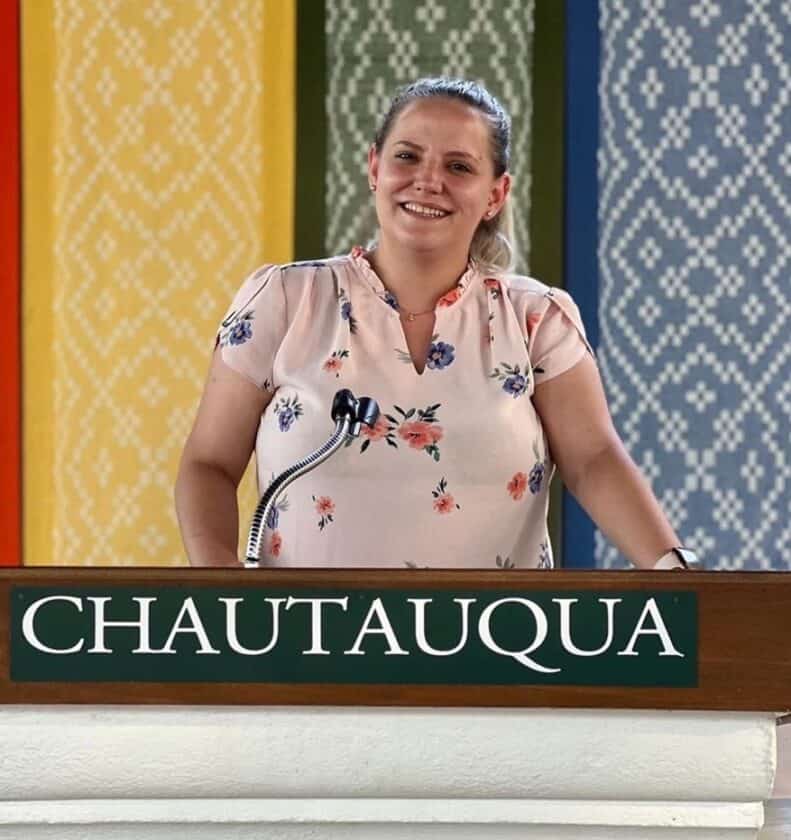 Julie, who is majoring in Human and Social Services, said, "Participating in Summer Scholars at Chautauqua changed my life. The program was equally rigorous and enriching, and my thought processes and preconceived knowledge were challenged and developed in more ways than I could have anticipated."
Julie said her Summer Scholar experience included lectures on topics such as "Can Religion Survive Spirituality," "Patriotic History: Dealing with the Terrible, the Great, and the Complicated Persons in our Past," and "Islam 101." She also took part in social hours, dialogues, opera and dance performances, orchestra concerts, and visits to art galleries.
"The planned activities were notable, but so were the opportunities to be educated by my housemates– other community college students from around the country– who embodied different cultures, backgrounds, and life experiences," Julie said. "I made friendships that will last a lifetime."
"The program put a lot of emphasis on networking and making social capital connections that could benefit program participants both now and in the future," Julie added. "As an example, I met the former President of the Association of American Colleges and Universities, and he offered to help me achieve my dream of attending an Ivy League or 'Seven Sisters' school to pursue my bachelor's degree."
"The Summer Scholars program gave me an entirely new perspective on where I'm going with my education and career," Julie said. "I received support, guidance, and a breadth of education I've never experienced before."
"I hope other Cincinnati State students and faculty have a chance to experience the Chautauqua Institution and all the benefits that the Community Compact organization has to offer," Julie said.
For more information about the Summer Scholars at Chautauqua program, contact Honors Program Chair Dr. Andrea Trapp (andrea.trapp@cincinnatistate.edu).