LSAMP Scholars represented Cincinnati State at conference
March 14, 2022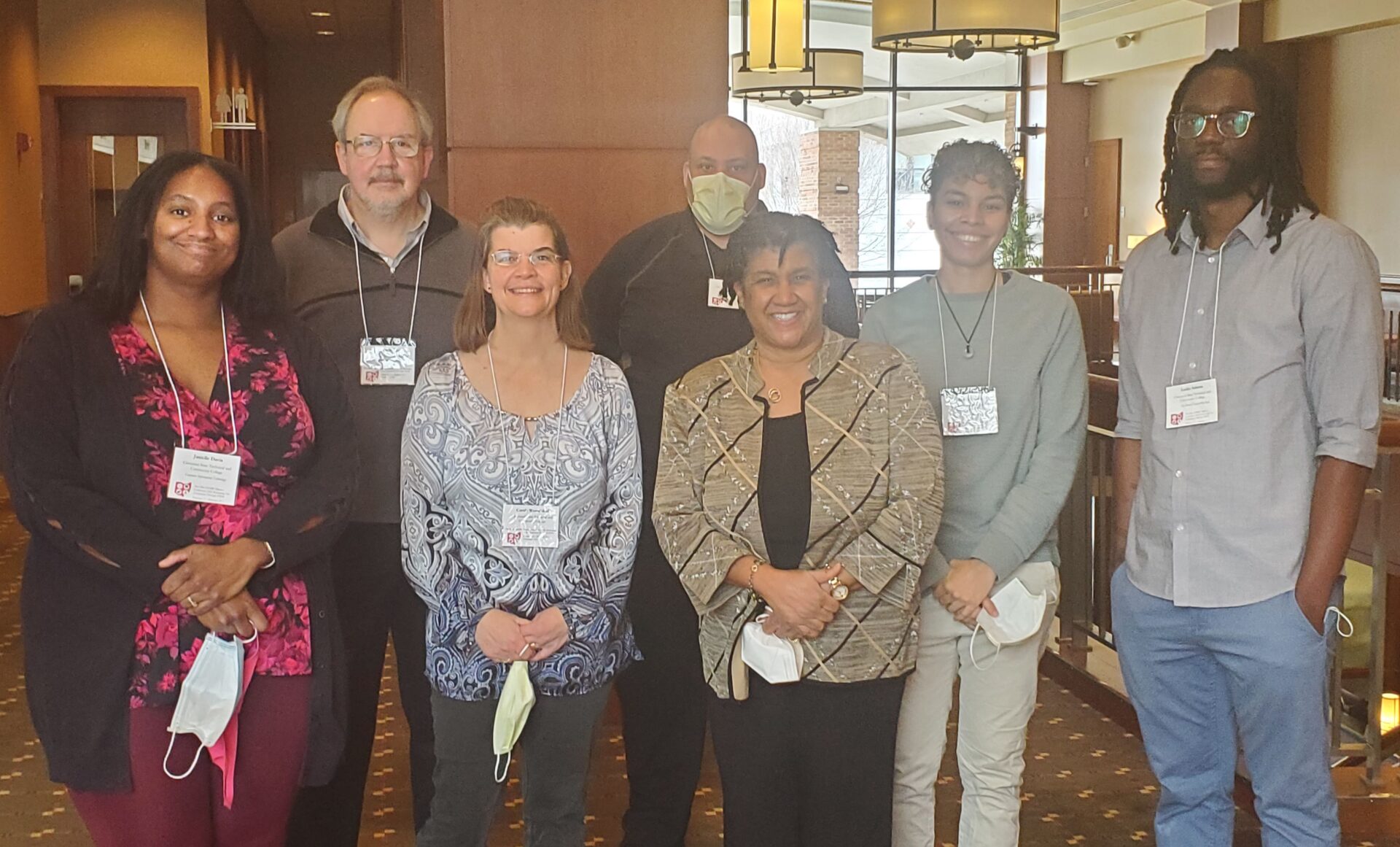 Four Cincinnati State students, along with faculty and staff members, represented the College at the Ohio LSAMP Alliance Conference held in February 2022.
Participants included (from left)
Janielle Davis (Computer Programming and Database Management – Computer Information Systems Major)
Professor Ralph Whaley (Program Chair, Electrical Engineering Technology)
Dr. Carole Womeldorf (Academic Advisor and LSAMP Coordinator, Engineering & Information Technologies)
Michael Ivey (Pre-Engineering)
Kim McMillan (Associate Dean, Engineering & Information Technologies)
Mickela Harris (Pre-Engineering)
Leslie Adams (Mechanical Engineering Technology – Design Major)
Curtis Maples (Senior Electromechanical Development Engineer for Ethicon, Inc., and a Cincinnati State adjunct instructor and Advisory Board member for Electrical Engineering Technology) also attended the conference.
The LSAMP (Louis Stokes Alliances for Minority Participation) program, established in 2013, assists higher education institutions in efforts to significantly increase the number of students in underrepresented minority populations who complete degree programs in science, technology, engineering, and mathematics (STEM) fields.
The program is named for Louis Stokes, a congressman from Cleveland, Ohio, who served for over 30 years in the U.S. House of Representatives.
Currently, the Ohio Alliance includes six universities (Central State, Cleveland State, Miami, Ohio State, Wright State, and UC) and four community colleges (Cincinnati State, Columbus State, Cuyahoga, and Sinclair).
The Alliance also collaborates with industry and community partners to enhance recruitment and retention programs as well as student support activities such as advising, mentoring, tutoring, and opportunities for students to complete internships with stipends.
Dr. Womeldorf said the Alliance conference activities, such as presentations, workshops, and networking, as well as other LSAMP programming "encourage community college students to envision the next step in their education."
During the conference Dr. Womeldorf gave a presentation on "STEM Professional Societies: Support Systems & Growth."
Mr. Maples gave a presentation on "Medical Device Innovation: Engineering in the Pursuit of Better Patient Health."
The student participants said the conference was an enjoyable and important event.
Janelle Davis said, "During the conference I received some valuable and practical information to use in my academic and professional life. The speakers were inspiring and informational, and I enjoyed networking with other students."
Leslie Adams observed, "The conference gave me a different thought process about my career and my goals for myself. I left with the realization that I should always aim high in setting my goals and not hinder myself in achieving the goals I set."
Mikaela Harris said, "I met so many people who made their dreams come true, and I was inspired to do great things, too. The presentations made me feel like anything is possible!"
Michael Ivey added, "I feel grateful to have been included in this opportunity. Being surrounded by innovative thinkers and sharing thoughts with other students and faculty gives me great hope for the future."