Lt. Gov. Husted viewed RAPIDS grant technology in action during visit to Cincinnati State
July 17, 2023
Ohio Lieutenant Governor Jon Husted visited Cincinnati State's Clifton Campus on July 13, 2023, to learn from students and faculty members about the advanced lab equipment the College has purchased with state RAPIDS grant funds, and how students benefit from their hands-on learning while using these tools.
Husted's visit was covered by several local TV stations and the Cincinnati Herald newspaper.
Since 2015, Cincinnati State has been awarded six RAPIDS (Regionally Aligned Priorities in Delivering Skills) grants from the Ohio Department of Higher Education, totaling more than $1.8 million.
The grants have been used to purchase lab equipment for students preparing for careers in advanced manufacturing, robotics, building automation, cyber security, building information modeling, and healthcare.
While on campus, Husted discussed the new $100 million Super RAPIDS program is that is part of the recently-approved state operating budget. The Super RAPIDS program is designed to meet critical workforce needs in growth industries including broadband, cybersecurity, healthcare, transportation, advanced manufacturing, and the trades.
Husted said the Super RAPIDS program will provide funding so Cincinnati State and other institutions of higher education "can purchase the most modern machinery and train young people and adults on that equipment, so they are ready to go."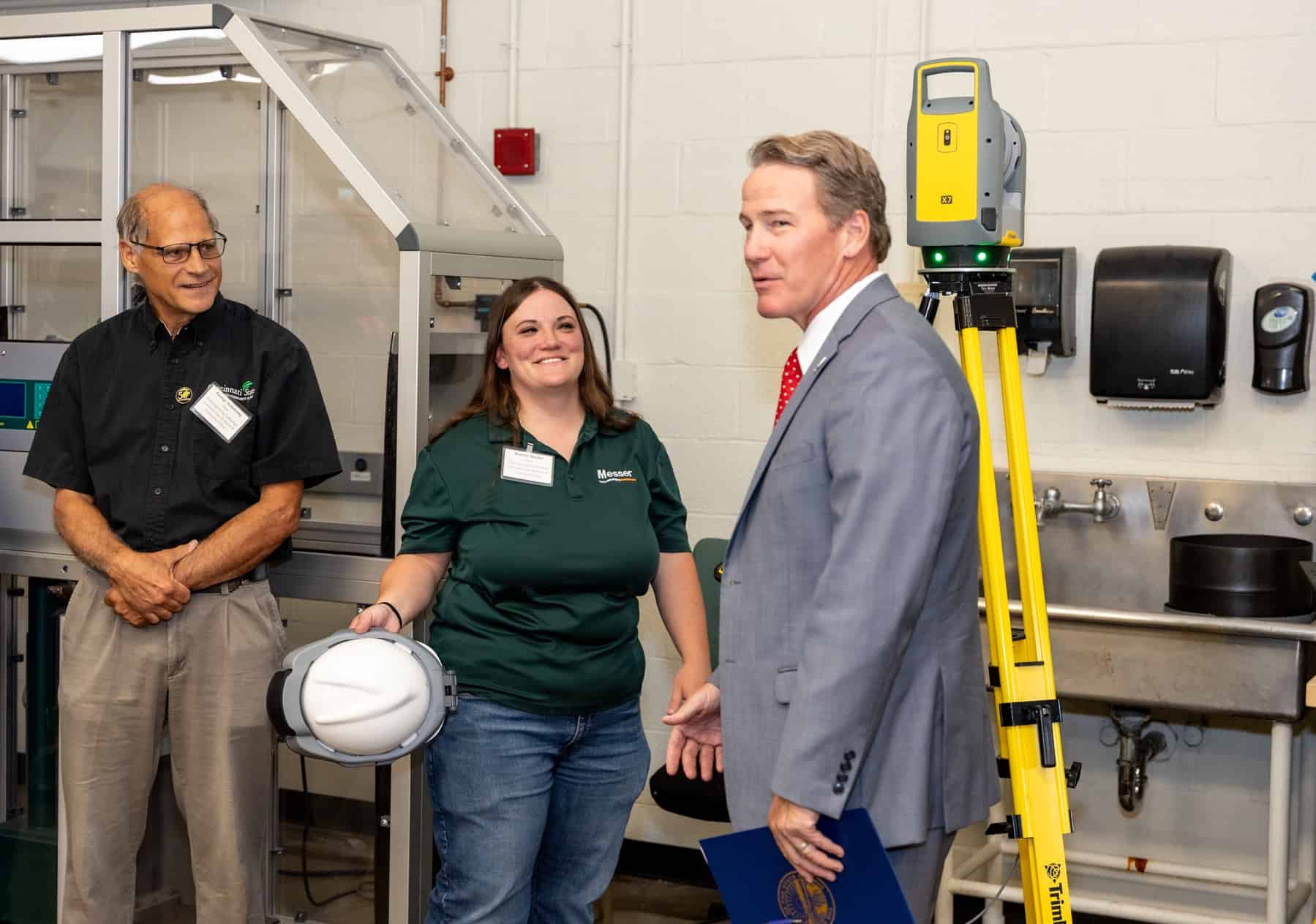 Civil Engineering Technology – Construction Management major Heather Hayden demonstrated a state-of-the-art Trimble Laser Scanning robot that is used for Building Information Modeling (BIM) and she explained to Lt. Gov. Husted how Augmented Reality is used in the construction industry.
George Armstrong, the Civil Engineering Technology Program Chair, said Heather will graduate at the end of Summer Semester and is already a full-time employee with Messer Construction– and their first female lead carpenter. Next month, Heather will start work on a large housing project in North Carolina.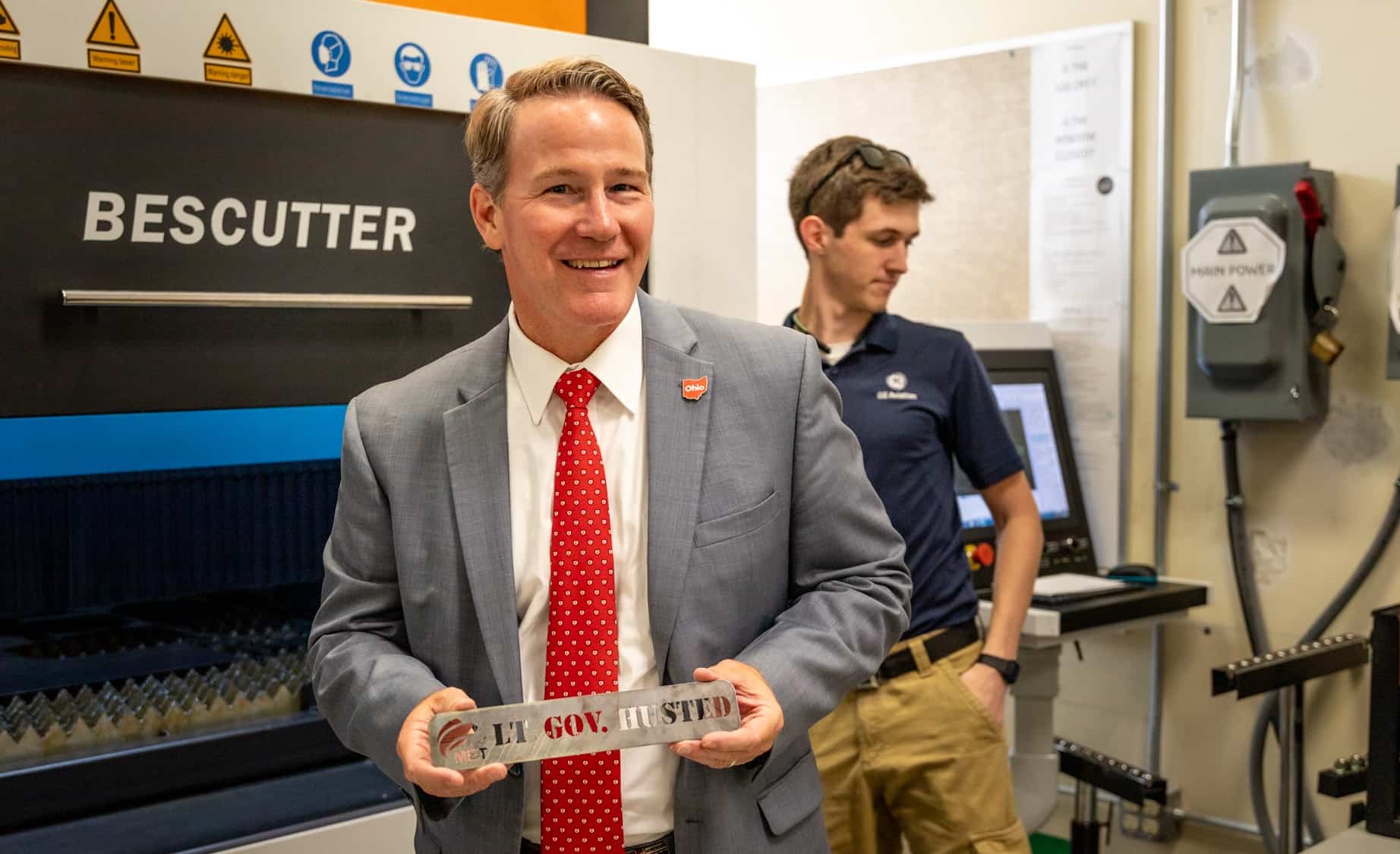 Mechanical Engineering Technology (MET) student Ed Alender created a personal name plate for Lt. Gov. Husted to demonstrate how a fiber laser cutter can be used to quickly make detailed steel parts.
MET instructor Zane Decker said the laser cutter is used extensively by MET students to accurately cut two-dimensional steel parts up to 3/8 of an inch.
Another MET student, Denver Nieman, demonstrated use of a 5-Axis Milling Machine, an advanced tool for manufacturing complex parts.
In the photo, Denver is showing Lt. Gov. Husted some of the parts the MET students designed for their Baja competition vehicle and then manufactured using the 5-Axis machine.
Zane noted, "Using the 5-Axis machine for this complex part required only two setups, compared to five setups that would have been needed on a traditional 3-axis machine."
Zemirah Torrey (photo at top of page), an Electro-Mechanical Engineering Technology (EMET) student, said in the Cincinnati Herald article that she appreciates the opportunity to learn in the College's modern robotics laboratory, which was made possible by RAPIDS grants.
"A lot of people here, they work for everything they have," Zemirah said in the Herald article. "I think it's important to make sure working people have the same opportunities as others."
EMET Program Chair Larry Feist said in the Herald article that graduates of the College's engineering technology programs are highly sought after by employers. Many are earning over $62,000 a year after graduating with an associate's degree.