Mechanical Engineering students met challenges of Baja SAE off-road vehicle competition
June 6, 2022
Four Cincinnati State Mechanical Engineering Technology (MET) students teamed up to compete in the 2022 Baja SAE, held May 12-15, 2022, at Tennessee Tech University in Cookeville, Tennessee.
Nearly 100 student teams from schools throughout the US as well as Canada, Mexico, and India participated in Baja SAE, sponsored by the Society of Automotive Engineers. The event challenges engineering students to design and build an off-road vehicle able to survive the severe punishment of competition on rough terrain.
The student-designed vehicles also were expected to demonstrate qualities needed in a reliable, maintainable, ergonomic, and economic vehicle that could be operated by non-professional weekend off-road enthusiasts.
The Cincinnati State team– MET students Ed Alander, Denver Nieman, Demitri Woyak, and Christian Iaroli (above, with their faculty advisor, Zane Decker, in center)— placed 28th in the 4-hour endurance race. MET faculty member and Baja team advisor Zane Decker described the team finish as an "amazing accomplishment."
The Cincinnati State team also placed 36th in the Sled Pull event, and 58th in the Acceleration event.
You can see a portion of the race (including some glimpses of the College's car, #43) in video provided by Tennessee Tech University.
According to the team, the Cincy State car exceeded expectations early in the race, and was in 14th place when the vehicle suffered its first breakdown– a snapped tie rod (a part that provides steering for the front wheels). The car was towed back to the pits and quickly repaired.
After returning to the race, the car began gaining position again– but the tie rod broke and had to be repaired four more times. Nevertheless, the Cincy State car was still running 4 hours and 17 minutes later, when it rolled across the finish line.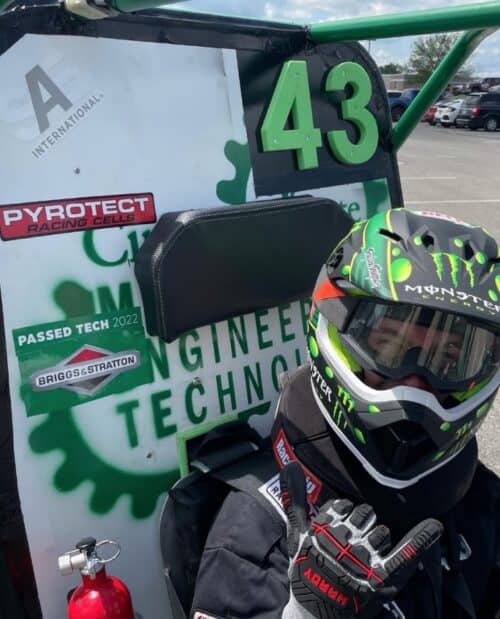 Ed Alander, who was responsible for keeping the vehicle fueled during the race while the other team members took turns driving, said Baja was "a phenomenal event."
"Baja was a great opportunity to make something awesome, and the people we spent the weekend with were kind and generous with their knowledge," Ed added. "Next year is going to be even better!"
Zane Decker said, "Most first-year teams have trouble completing the technical inspection and never even get to race their car, so by passing tech and finishing the race, our team far surpassed the goals we had set for this year."
"These students displayed extraordinary teamwork, professionalism, and enthusiasm, and deserve many congratulations," Zane said.
Next year, Ed, Demitri, and Christian will again head to Baja as part of the MET Capstone design project.
"We are all stoked to see what's next!" Zane said.
(Photos and reporting provided by Zane Decker)