Professional actors brought student scripts to life
December 9, 2022
On December 6, 2022, students in the Audio/Video Production program were treated to the unique experience of hearing words they had written performed by a group of professional actors.
Adjunct instructor Greg Newberry, who led the Fall Semester course TC 298 (Scriptwriting – Screenplay) invited 13 actors to join the class for "table reads" of scripts composed by the students.
A table read is a structured read-through of a screenplay or script by actors who will have speaking parts in a film, TV show, or play. A table read is typically one of the early steps in the production of a film, TV, or theatrical presentation.
Newberry said, "It took a lot of coordination, but I thought the caliber of the student work this semester warranted it."
"As a screenwriter, seeing your words come to life is a profound experience," Newberry continued. "I saw the light go on for the groups of students as they realized a screenplay doesn't exist in a vacuum."
"I think this experience opened up a new world for them," he added.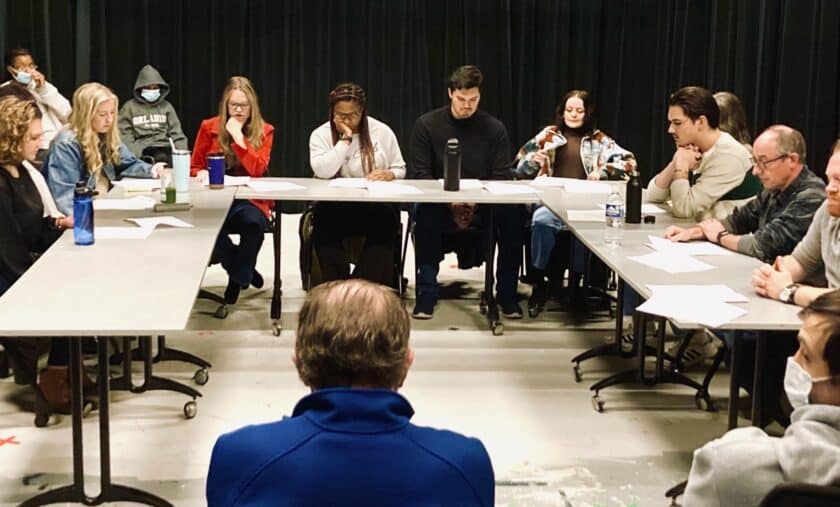 Newberry said the visiting actors were impressed by the student scripts, and commented that "the dialogue was great" and that the "delightfully imaginative" work by the students demonstrated "a group of talented writers."
One of the visiting actors shared: "I was absolutely blown away by all of the immensely talented people that I had the pleasure of working with."
Newberry said the Cincinnati acting studio Audition Room 513 was instrumental in locating actors to help voice the student scripts. "I sent them a list of our needs and they provided cast members in just two days– and they were happy to assist our Cincinnati State students."
The actors who participated in the table read work professionally in Cincinnati theater, film, and commercial production. They included:
Michael Bath
Tracy Bedford
Christy Carson
David Finley
Breonna Gibson
Josh Katawick
Paige Landers
Leslie Marrick
Garret Murphy
Sissy Roberts
Samantha Ruschman
Ralph Townsend
Angela Vance
The student short scripts were:
Abandoned Reckless, by Lauren Hall – A trio of filmmakers tries to stage a viral video and winds up recording their own horrific tragedy.
Dream Quota, by Wesley Carroll – A mysterious stranger informs a young man who dreams of becoming a popular musician that there is a quota on dreams and there are no dreams left for him.
Glitch, by Trace Hazelbaker – A woman spirals into despair when she is the only one who experiences glitches to reality throughout her day such as a moon glow that flickers, her boss talking without sound, and a disappearing co-worker.
Sea Legs, by Ellie Meyers – A teenage girl reaches puberty and blossoms into a mermaid who is forced to leave her home and friends to live in the sea.
Synter, by Tom Barrett – A successful attorney seeks psychiatric help after going on a killing spree dressed as a clown.
Wrecked, by Ashley Miniard – When a drunken young woman stows away on a wealthy young woman's boat, they're forced to overcome their differences when they become shipwrecked.
The Screenplay course will be offered again in Spring Semester 2023.