Student filmmakers are part of the 18th College Movie Festival
March 1, 2023
The College Movie Festival, a Cincinnati-based competition and celebration of college student filmmaking that is now in its 18th year, is back in person for the first time since the pandemic, and Cincinnati State is represented by more than 20 students who have formed three movie-making teams.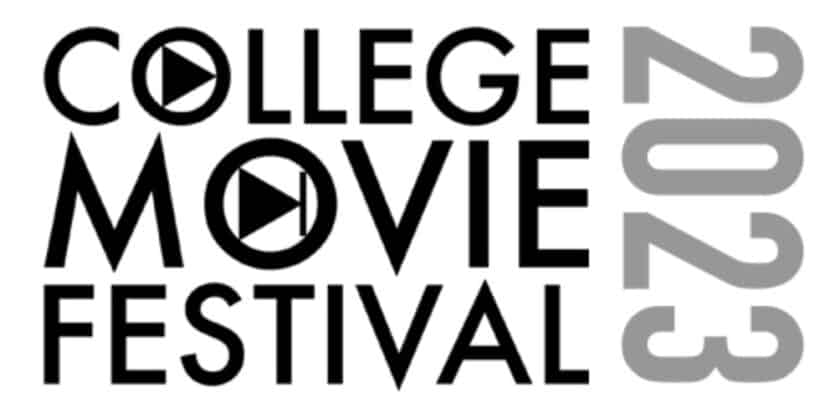 Cincinnati State participants include second-year Audio/Video Production (AVP) majors who are close to graduating as well as a team of first-year students, all of whom are taking the course "Single Camera Production and Lighting" this semester. Even a first-semester AVP student joined a team after hearing about the Festival in her "Introduction to AVP" class.
Dave Killen, Program Chair for Audio/Video Production and one of the founders of the College Movie Festival, said, "All students are welcome to get involved and learn, even those who are just starting out."
AVP Instructor Jeff Winkelman, who joined the full-time faculty this semester, is the faculty representative for the Cincinnati State students.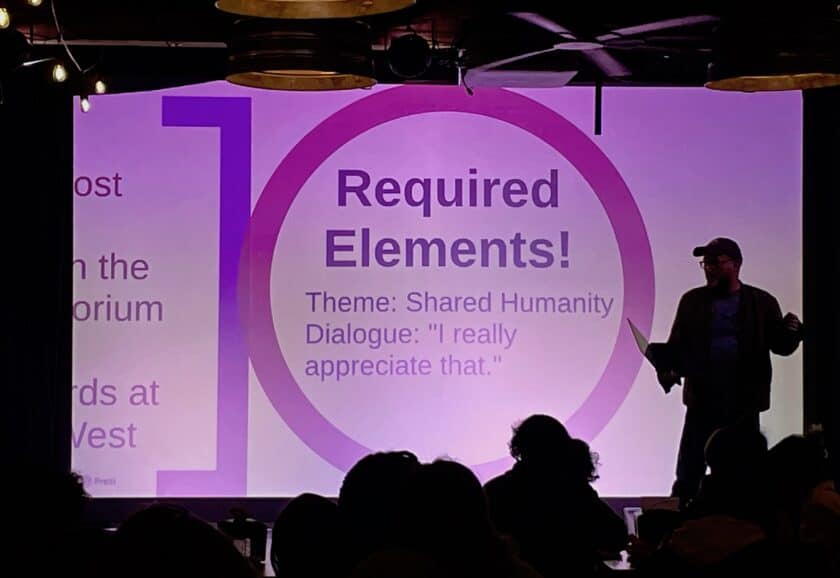 The Festival kicked off on February 25, 2023, at Big Ash Brewing where teams learned the theme for this year's short films, "Shared Humanity," and the line of dialogue that must be included in each script: "I really appreciate that."
Each student team works together to write and produce a movie of 7 minutes or less that contains all of the required elements.
"Rough cut" versions of films were due March 5, and students will receive feedback from industry professionals before turning in their final films on April 2.
Film screenings and the awards presentations will take place Saturday, April 22, 2023, starting at 9:30 a.m. at AMC West Chester theater.
Over 60 students attended the Festival kickoff. Participating schools in addition to Cincinnati State are:
Miami University
Northern Kentucky University
Ohio Media School
University of Cincinnati Clermont
University of Cincinnati Main Campus
Xavier University
College Movie Festival is partnered with OTR International Film Festival– one of the "world's coolest" festivals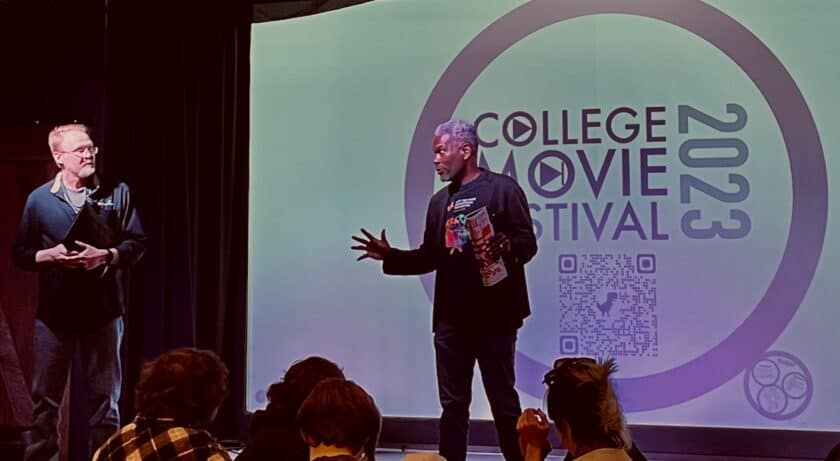 The 2023 College Movie Festival is launching a new partnership with the Over-the-Rhine International Film Festival, which is the nation's first diversity film festival led by people in the disability community. The 2023 festival will take place July 6-8.
The OTR International Film Festival was named by MovieMaker Magazine as one of the "25 Coolest Film Festivals in the World" in 2022. The festival's mission is to share untold stories that celebrate our shared humanity– which is reflected in the College Movie Festival's theme.
Student filmmakers will have intern and volunteer opportunities at the OTR Film Festival, leading to connections with filmmakers, film stars, producers, and leaders in our community.
Also, the film that wins the Judges Choice Award at the College Movie Festival will be screened at the OTR Film Festival and the student team members will receive festival passes.
The Artistic Director of the OTR Film Festival, tt stern-enzi, told student filmmakers at the kickoff, "You are here. You are making films. You're telling stories about this community, in this community…So really embrace what you're doing…and enjoy this entire process. I can't wait to see what comes out of it!"
stern-enzi also noted that disability is not often represented in the film industry and told the student filmmakers, "The idea that you're doing stories working on shared humanity means that hopefully you'll be thinking about that too and finding ways to make sure that disability is included in the conversation."
Other representatives of the OTR Film Festival who attended the College Movie Festival kickoff were Molly Lyons, Chief Development Officer at LADD (Living Arrangements for the Developmentally Disabled) and OTR Film Festival Director, and Jason Harris, LADD Director of Strategic Operations.
Jacqui Killen, Communications Manager, Corporate Responsibility, at 5/3 Bank helped to facilitate the partnership between the two film festivals. A goal of the partnership is to raise awareness of the OTR Film Festival among younger members of the local creative community.
After the kickoff event, Ms. Killen shared, "Soon after the theme was announced, the teams got right to work, sketching out story ideas and putting deep thought into what shared humanity means. I was amazed at some of the conversations I overheard. It gave me hope."