Students monitored water quality on Mill Creek– in canoes!
October 5, 2022
Students in the Cincinnati State Environmental Engineering Technology class EVT 105, "Environmental Sampling," recently toured the Mill Creek by canoe to learn about water sampling techniques and habitat monitoring. The class activity was part of a partnership between the College and ORSANCO/FORE (Foundation for Ohio River Education), the Mill Creek Alliance, and the Mill Creek Yacht Club.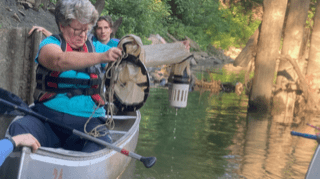 On September 15, 2022, students spent three hours traveling by canoe on Mill Creek. The class focused on performing water sampling techniques that environmental technologists use, studying water chemistry and river life forms (such as macroinvertebrates, plankton, and fish), and building understanding of local history.
Nick Callahan, Environmental Education & Outreach Coordinator for ORSANCO/FORE, said, "This class activity was a great success and a good opportunity to try out a new type of organizational partnership."
Dr. Ann Gunkel, Environmental Engineering Technology Program Chair, thanked Johnny Dwyer of the Mill Creek Alliance and the Mill Creek Yacht Club for providing the canoes and safety instructions for the event.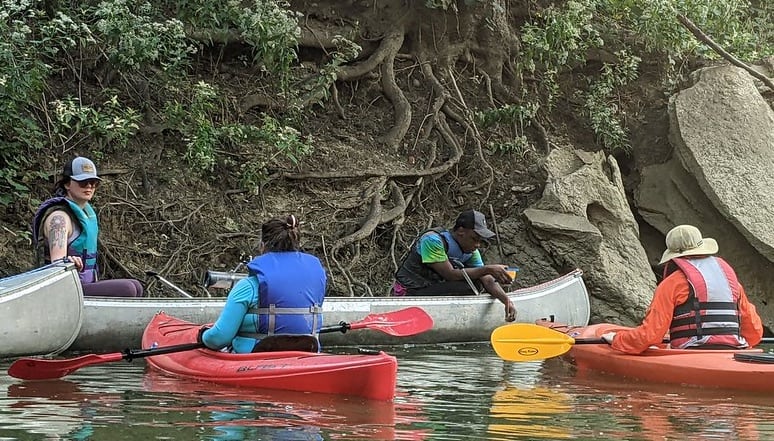 The students met at the Evans Recreation Area to access the Mill Creek. After learning to safely navigate their vehicles, teams of four launched their canoes and paddled around the barrier dam to the confluence of the Ohio River, where they started to collect water samples.
Additional collecting of water samples and samples of plant and animal planktons (microscopic organisms drifting or floating in the water) took place on the return route.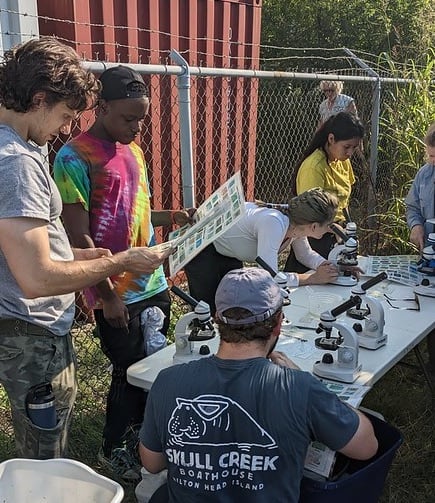 At the land stations, students examined their samples using microscopes, and ORSANCO/FORE representatives provided the students with an in-depth lesson on toxicity and eutrophication– an increase of dense plant life that can cause death of animal life forms, which can be accelerated by human activities such as sewer overflows and agricultural runoffs.
EVT student Anne Munro said, "At first I was very nervous about the canoe trip, but I really loved it. Being able to use the actual equipment to sample the water was great and I learned a lot about the correct way to take a sample, read sampling instruments, and stay balanced in the canoe– which I never thought I could do without going over."
"My favorite part though, was when we paddled out to the confluence with the Ohio River. I couldn't believe how calm the water was, and It was really a lovely and peaceful experience."
(Photos provided by Dr. Ann Gunkel and Johnny Dwyer)