Students won awards in College Movie Festival
May 10, 2019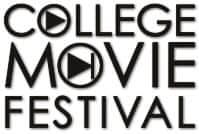 On Saturday, April 20, 2019, standing-room-only crowds convened twice in the Dolby Room at the AMC Theater in West Chester to view the entries in the 14th Annual College Movie Festival.
Dave Killen, Program Chair for Audio/Video Production at Cincinnati State, is one of the co-founders of the Festival, which is a "competition and celebration of student filmmaking in the Greater Cincinnati region."
Thanks to the AMC Theater's donation of screen time, this year students and their friends and family members had the thrill of seeing and hearing student films on a floor-to-ceiling screen with Dolby Atmos sound, resulting in an enhanced video and audio experience.
The 2019 Festival included 29 teams comprised of over 200 students, representing 10 area colleges and universities– the biggest year ever for Festival participation.
Four Cincinnati State teams took part in the 2019 Festival, with over 40 students involved. For the first time, one of the teams representing the College's Audio/Video Production program was an all-female team.
Two Cincinnati State teams won awards:
Team Focal Point won the Audience Choice Award for films in group B. Team members included Eric Sievers, Alex Constante, Michaela Miller, Jacob Finn, Lexi Herbers, Tyler Fox, Jack Miller, Luke Williams, Adam Depew, Dominick Magro, and Adam Lutz.
 
Click to view the winning film on YouTube
 
Team Tension, led by Jamie Gaines, earned the Producer's Award for Excellence in Pre-Production. Team members included Zaka Mohiuddin, Nique Schaeper, Nick McFarland, Jevan Moses, Holden Blevins, Brodie McCauley, Zach Rush, and Nick Foster.
 
Click to view the winning Pre-Production binder
Xavier University won the Judge's Choice and three other awards and the University of Cincinnati took home one award.
In addition to Cincinnati State, schools participating in the 2019 Festival included:
Fairfield CCP
Miami University
Morehead University (KY)
Northern Kentucky University
Ohio Media School
University of Cincinnati – teams represented Blue Ash, Clermont, and Main Campus
Xavier University
Festival activities lasted all semester
The semester-long Festival began on February 17, when student teams gathered at the Wooden Cask in Newport, KY, to sign-in, review the rules and schedule, and receive the mandatory elements.
Each team randomly drew a theme for their movie, such as Loyalty, Tolerance, Family, Friendship, or Survival.
 
All teams had to incorporate three mandatory elements:

A character: Jules McGrath, a clerk
A line of dialogue: "If you think it's so easy, then you try it" 
A prop: flip-flop sandals
Teams then had five days for pre-production, including writing and casting their film, and an additional 10 days to shoot and edit a movie of 7 minutes or less.
On April 3, all student teams were invited to NKU's Griffin Hall for a workshop with 12 local professionals including directors, producers, editors, sound designer, and writers.
The pros pre-screened the student films and offered critique and advice to each team, giving students the opportunity to improve their craft and network with the professionals and other students.
 
Teams then had five more days to refine their films before submitting final cuts on April 12.
Audience members at the April 20 screening voted for their favorite movies in each viewing block and a panel of judges (professionals who were not involved in previous activities) viewed all films and determined recipients of the other awards.
All of the movies in the 2019 Festival can be viewed at collegemoviefestival.com.