Welcome new VP of Administration Steve Morris
August 26, 2022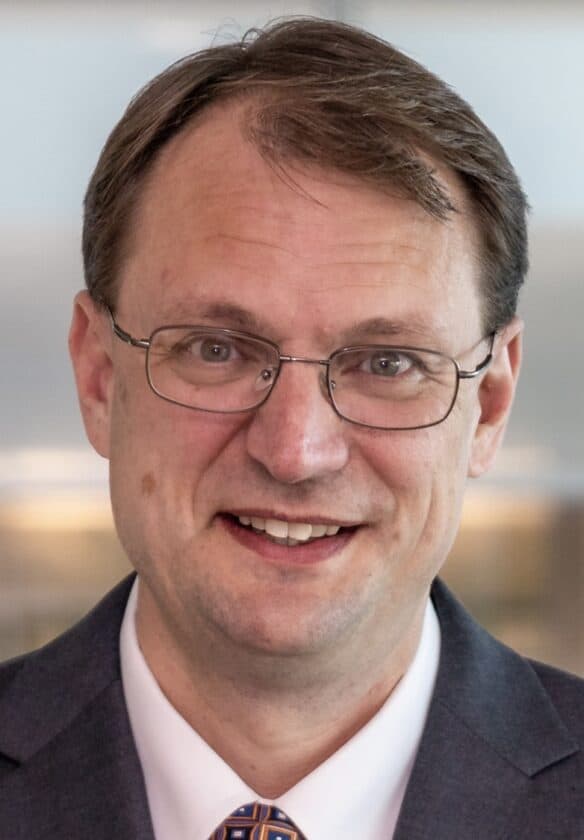 Steven (Steve) J. Morris has joined Cincinnati State as Vice President of Administration.
Morris will provide strategic leadership for human resources, facilities, public safety, information technology, and other areas of the College including the bookstore and airport operations. He is also a member of President Monica Posey's Executive Team.
"I am pleased to welcome Steve to Cincinnati State in the important role of VP of Administration," Dr. Posey said. "His experience—which encompasses facilities and capital project planning, contract and risk management, campus store operations, campus safety and security, food services, and benefits planning—will be a great asset as we all work together to advance the College."
Steve knows first-hand the potential that colleges like Cincinnati State have for launching students on successful career paths.
A native of Rochester, New York, Steve earned an associate degree in Hotel and Restaurant Administration from Paul Smith's College in upper New York State. He also has earned a Bachelor of Science in Business Administration from Union College, a Master of Business Administration from Eastern Kentucky University, and continues to pursue a Ph.D. in Educational Leadership from the University of the Cumberlands.
Steve entered the hospitality industry after earning his associate degree and quickly rose to become the general manager of the Marriott Cumberland Inn Hotel, Museum, and Conference Center in Williamsburg, Kentucky.
As a Marriott General Manager, Steve initially ran the hotel for Marriott's client and owner of the facility, University of the Cumberlands. When Marriott divested from each of its small conference hotels nationwide in 1999, the University of the Cumberlands asked Morris to lead the facility as a university-operated enterprise.
In 2003, he transitioned into higher education when the university asked him to become its vice president of business services.
After serving in that role for 12 years, and prior to joining Cincinnati State, he served four years as vice president for administration and finance for Blackburn College in Carlinville, Illinois, and then two years as vice president of business and financial services for Union College in Barbourville, Kentucky.
"I'm excited about being part of Cincinnati State," Steve said. "I'm a big believer in helping students develop professional skills while still in school, and also, as my personal journey shows, in lifelong learning."
He added: "I've always found hospitality management and higher education administration to be very similar endeavors, in that I enjoy providing service to others, including students and their families as our external customers, and our faculty and staff as our internal customers."
(Article by Richard Curtis, Cincinnati State Media Coordinator)