Aviation Maintenance program receives two jet engines from GE Aerospace
January 6, 2023
Christmas came early for Aviation Maintenance Technology (AMT) students at Cincinnati State's Harrison Campus, when a flatbed semi truck arrived in late December 2022 carrying two jet engines donated by GE Aerospace.
Each of the donated CF34-10E turbofan engines can deliver up to 20,000 pounds of thrust. They are part of GE's family of CF34 commercial jet engines and power the Embraer 190/195 and Lineage 1000 aircraft.
"We are fortunate to have GE Aerospace in Greater Cincinnati," said Cincinnati State President Monica Posey, "This generous gift will not only benefit our aviation maintenance program, but also the regional aviation maintenance industry through our graduates."
Cristina Seda-Hoelle, General Manager, Regional and Business Aviation for GE Aerospace, said, "We have a mission to inspire the next generation of aviation professionals who will shape the future of flight. We are proud to support Cincinnati State and their aviation students with this CF34 engine donation."
"This is a wonderful opportunity for our students to learn on a modern turbofan engine that is in service today," said Jeff Wright, Program Chair for Aviation Maintenance Technology.
The new engines will provide students with hands-on experience in engine disassembly, and working with fuel, oil, ignition, and electrical systems.
The Aviation Maintenance Technology program has about 160 students who are seeking an associate degree or a certificate.
Demand for FAA-certified Aviation Maintenance Technicians is soaring in Greater Cincinnati, mainly due to the expansive growth in the air cargo industry near the Cincinnati/Northern Kentucky International Airport (CVG), where Amazon is completing a $1.5 billion air cargo hub and where DHL and others operate major distribution facilities.
Evendale-based GE Aerospace is a world-leading provider of jet engines, and the anchor of Southwest Ohio's aerospace industry that includes hundreds of suppliers. The company has hired many co-op students and graduates of the Aviation Maintenance Technology program.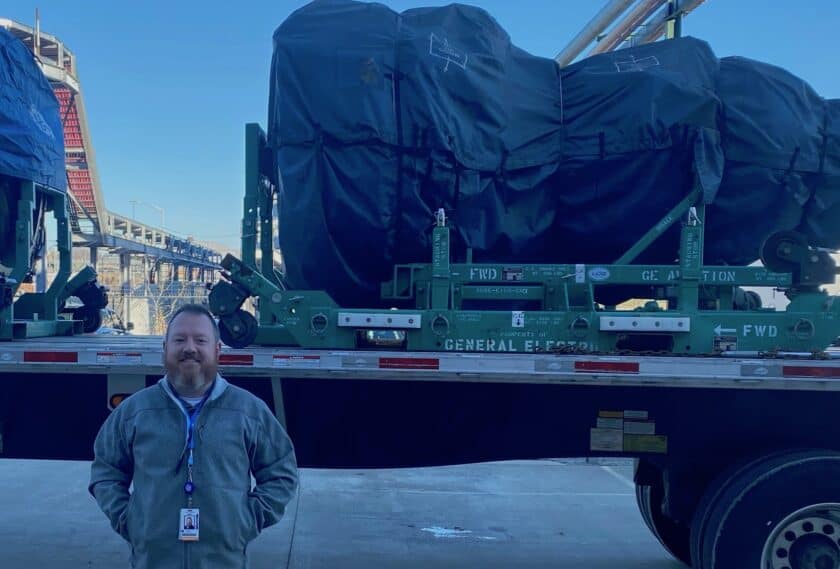 One of those graduates is Carl Leugers, subsection manager for development engine test for GE Aerospace. Leugers is part of a team at GE led by Operations Manager James Figgins that was instrumental in making the engine donation possible.
"I'm grateful to have the opportunity to help give something back to the school that got me into the industry," said Leugers, who graduated in 2002. "Cincinnati State has been a great pipeline for GE. This partnership continues to solidify the relationship for the benefit of jet engine development, testing, production, and servicing."
The announcement of the jet engine donation was covered in the Cincinnati Enquirer, the Cincinnati Business Courier, and on several local TV stations.