Aviation Program is "wheels up" at Harrison Campus
June 10, 2020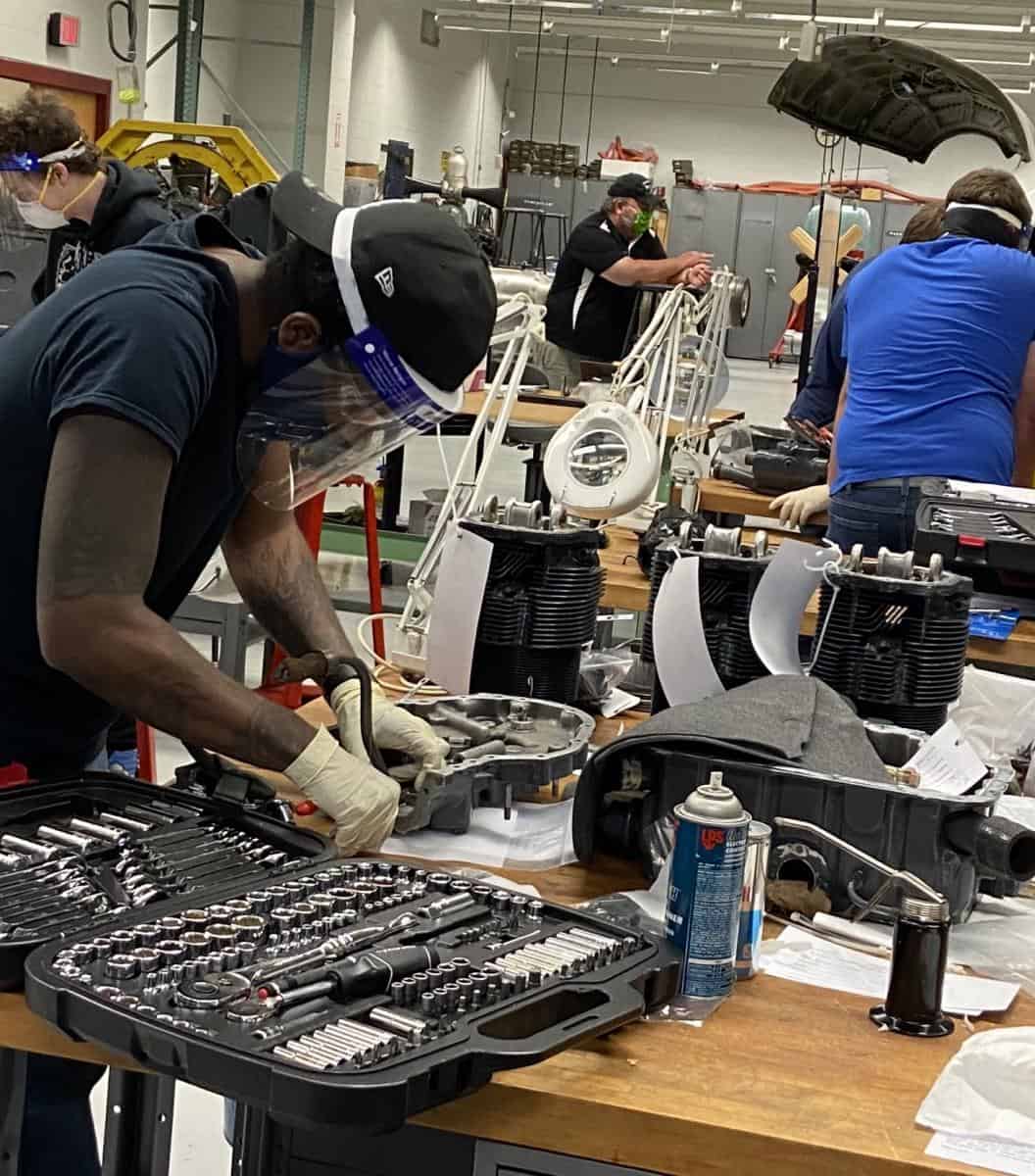 After two-plus months of only online courses due to COVID-19, in-person lab classes for Cincinnati State's FAA-certified Aviation Maintenance Technology (AMT) program resumed on May 18, 2020, at Harrison Campus.
"We did extensive planning to ensure we're following CDC, state, and industry guidelines for safety related to COVID-19," said Jeff Wright, AMT program chair.
"We're looking forward to welcoming new students for Fall semester," Jeff added. "This is a great career with excellent job prospects in our region."
While the number of passenger flights at the Cincinnati-Northern Kentucky International Airport (CVG) is currently down due to the COVID-19 pandemic, CVG is seeing a surge in cargo flights.
CVG is now the 8th largest cargo airport in North America, and will likely move up on that list after Amazon completes phase one of its massive, $1.5 billion Amazon Air Facility at CVG in 2021.
To keep their fleets of cargo planes running safely and on time, Amazon, DHL, and other shippers at CVG need skilled mechanics with the ability to service, repair, and overhaul aircraft engines, airframes, and other systems.
"The Amazon Air Facility will be a huge opportunity for our students," Jeff said. "Plus, we expect passenger traffic to recover as well."
Aviation Maintenance in-person lab classes started on May 18 so Spring and Summer Semester students can complete hands-on learning and assessments required by the FAA (Federal Aviation Administration) for certification as Airframe and/or Powerplant Mechanics.
For in-person lab sessions, students are required to have temperature checks when entering the building. Limits on the number of students in each lab  ensure appropriate social distancing, and students must wear cloth face masks plus plastic face shields.
"We are building in new safety protocols not only to protect students, instructors, and staff during lab classes, but also to prepare our students to be successful and safe as they enter the 'new normal' for their profession," said Provost Robbin Hoopes.
Fall Semester 2020 AMT offerings will include a mix of online and in-person courses.
The College also will host a Virtual Career Fair for Aviation Maintenance students in October, with more than 20 participating employers from the aviation industry.
(Article and photo provided by Richard Curtis, Interim Media/Communications Coordinator, Cincinnati State)