Brewing Science students & faculty helped create Norwegian-style "A Better Burden" beer
January 11, 2023
Cincinnati State Brewing Science students and faculty members took part in a "collaboration brew" in November, working with local companies Narrow Path Brewing and Nine Giant Brewing, and incorporating traditional practices like "screaming to keep the trolls away," as seen in the photo above.
The CState team helped produce a beer called "A Better Burden"– a reference to a traditional Norwegian brewing prayer. The beer is an Americanized version of a Norwegian farmhouse beer.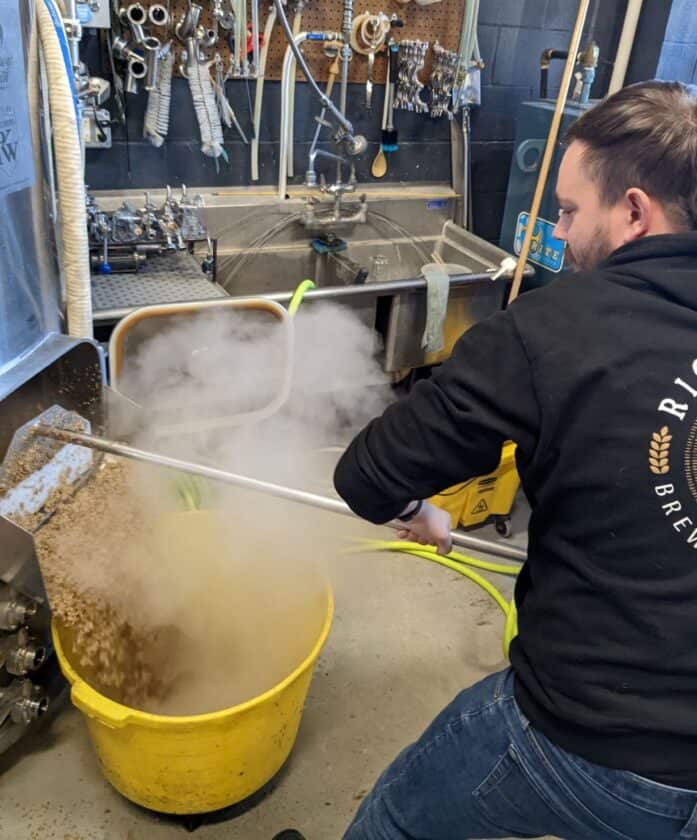 A Better Burden is now on tap at the Nine Giant Fermentorium (6111 Ridge Avenue in Cincinnati) and at Narrow Path's taproom (106 N Karl Brown Way, Loveland, OH).
Brewing Science Program Chair Caleb Ochs-Naderer said the brewing took place Nov. 22, 2022 at Narrow Path.
Brewing Science students who assisted included Ryan Frost and Mike Stelljes. Adjunct instructors Brad Brooks and Eric Palmer also participated in the brewing.
Narrow Path provided fresh-cut cedar boughs used to add flavor and aroma to the brewing water.
Nine Giant brought traditional Norwegian malt and smoked malt from an Indiana-based malt company.
Ochs-Naderer provided the yeast for the beer, which was given to him by a farmhouse brewer during a trip to Norway in 2019.
Caleb said Norwegian brewing lore dictates that when pitching the yeast into the beer, the brewer must scream to keep the trolls away.