Cincinnati State interpreter interpreted for Gov. DeWine's interpreter
May 7, 2020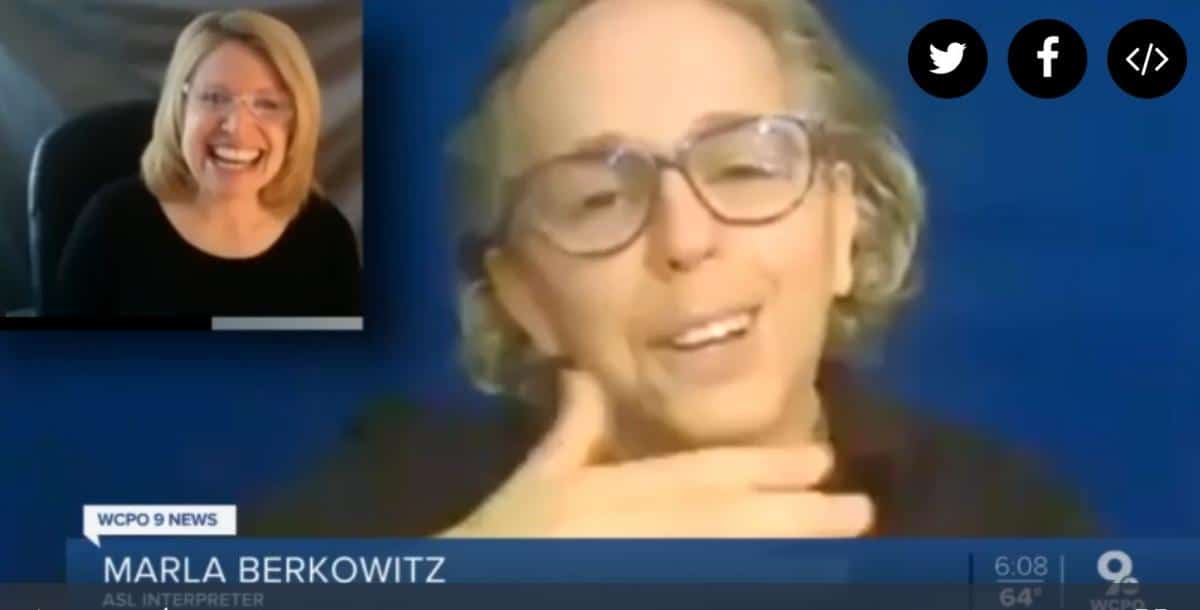 Dawn Caudill (upper left in screen shot above), program chair for Cincinnati State's Interpreter Training associate's degree program (ITP), was the on-screen interpreter for a story on Channel 9 (WCPO-TV) about Marla Berkowitz, the sign language interpreter for daily news conferences held by Ohio Gov. Mike DeWine.
The Channel 9 story was broadcast on May 7, 2020, during the 6 p.m. news.
Dawn is seen interpreting throughout the story, and she also voices the interview WCPO reporter Courtney Francisco conducted with Ms. Berkowitz, who is deaf.
To view the story, click this link: https://www.wcpo.com/news/state/state-ohio/as-fame-grows-marla-berkowitz-dewines-sign-language-interpreter-spreads-her-own-message
Ms. Berkowitz, who is a professor at Ohio State, said the governor's office reached out to her at the same time that her frustration was growing because of ineffective closed-captioning during the governor's press conferences.
Providing sign language interpreting allows members of the Deaf community full access to the critical information that is shared during the governor's briefings.
"We really need to focus on that equity for all people," signed Ms. Berkowitz. "It's time now to move forward and improve."
Dawn told Channel 9, "I do see many people in our community that are really wanting to learn sign language."
The WCPO story also noted that Cincinnati State offers free sign language classes for the community.
Dawn said working on her portions of the story was an all-day project, in addition to time spent preparing questions prior to the interview with Ms. Berkowitz.
"Everyone was great to work with," Dawn said. "And right after the story aired, I started getting emails asking about our free community classes this summer."
Dawn said the Summer community sign language classes will be conducted through Zoom.
For more information, contact Dawn (dawn.caudill@cincinnatistate.edu).
(Screen capture image from WCPO.com)