Cincinnati State students & grad won ADDY awards
April 22, 2021
Cincinnati State Graphic Design students, along with a graduate of the Graphic Design program, again excelled in the Cincinnati American Advertising Awards (ADDYs) for 2021, earning the Student Best of Show and several other awards presented during a virtual event on March 11, 2021.
Cincinnati State students and graduates won 4 of the 6 student awards presented this year.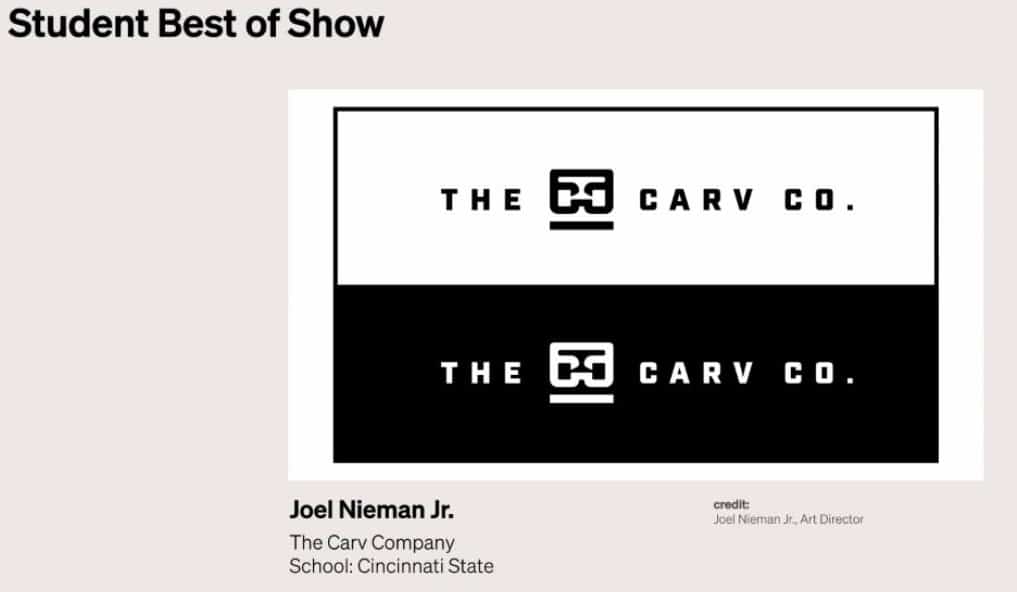 Joel Nieman, Jr. received the Student Best of Show award and a Gold award in an Integrated Brand Identity Campaign for "The Carv Company" (above). The materials were created as a project for Professor Jason Caudill's class "Brand Identity Development."
Joe Gibson received a Gold award for Point of Purchase for "Rubber Soul Promotional Infographic" (below). The infographic was a project in Professor Joel Knueven's class "Applied 2D Graphics."
Jasper Foster received a Silver award in Packaging for "Foster X Beardsley Playing Cards" (below). The cards were a project in Professor Caudill's class "Beginning 2D Graphics: Vector."

In addition, Jasper's work earned a Silver award at the District ADDY competition in April, and will move on to the National ADDY competition. National award winners will be recognized at a virtual event in June.

Kyle Brinker, a 2011 Cincinnati State graduate who recently completed his Bachelor of Fine Arts degree at Northern Kentucky University, received the Student Judges' Choice award and a Gold award in Logo Design for "Boothby's Minigolf & Scotch" (below).
To see more glimpses of the award-winning student projects you can view the awards ceremony on YouTube. The Student Awards begin about 22 minutes into the video.
All Gold and Silver award winners from the local student competition were forwarded to the District level, which included entries from students in accredited colleges and universities throughout Ohio, Kentucky, and West Virginia.
ADDY winners from 15 District competitions throughout the U.S. advanced to the National ADDY competition. Winners will be announced in June.

Cincinnati State Graphic Design students have won National Gold ADDY awards three times: Julia Kennedy in 2020, Dallas Ford in 2017 and Alli Bacon-Davis in 2008.
Graphic Design Program Chair Jason Caudill said, "In addition to the opportunity to win awards, the ADDY competition gives our students valuable feedback from an important professional organization."
"Receiving an ADDY award means the student has met the highest standards for evaluating their work," Jason added.
The American Advertising Awards (ADDYs) is one of the advertising industry's largest and most representative competitions, attracting over 40,000 entries every year in local AAF Ad Club competitions. The mission of the American Advertising Awards competition is to recognize and reward the creative spirit of excellence in the art of advertising.
Entries in this year's Cincinnati competition were judged by advertising and design professionals from New York City and Chicago.