Cincy State students honored by ELL Foundation
March 22, 2021
Cincinnati State graduate Aya Hijji was honored as the 2021 "College Student of the Year" by the English Language Learning (ELL) Foundation of Cincinnati during a Recognition Brunch conducted virtually on March 20, 2021.
Aya, who moved to the US from Palestine, graduated from Cincinnati State in 2020 and is now enrolled at Northern Kentucky University, working on a bachelor's degree in organizational leadership with a focus on human resources.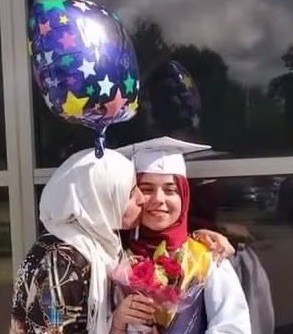 CState student Alicar Darouich (Syria), majoring in Biological Sciences and seen at right with a proud family member, received the 2021 Andrea Cheng Scholarship.
This award was created four years ago in memory of Cincinnati State professor Andrea Cheng and her work on behalf of English Language Learners.
In addition, other Cincinnati State students who received ELL scholarships are:
Bouchra Belcadi (Morocco) – Early Childhood Education
Patricia Cimalamunga (Republic of Congo) – Biological Sciences
Komlan M. Gbedjeha (Togo) – Computer Network Engineering Technology
Roberto Zepeda (El Salvador) – Computer Network Engineering Technology
Mohamed Habbaoui (Morocco) – CCP student and a senior at Hughes HS
You can watch the entire recognition event online. The awards presentations begin about 36 minutes into the video.
Cincinnati State's President, Dr. Monica Posey, gave welcoming remarks at the Recognition celebration.
Dr. Posey introduced Midwest Culinary Institute Chef Andrew Vogel, who guided participants through preparations for a brunch menu, using recipes sent to attendees prior to the virtual event.
The ELL Foundation was founded in 2006. The non-profit group focuses on helping English Learning students (whose native language or home language is not English) in the Cincinnati and Northern Kentucky area to become successful in their academic lives, while also fostering their cultural identities.
Cincinnati State professor (retired) Rosa Maria Moreno, the Vice President of the ELL Foundation Board of Directors, said scholarships were awarded this year to 21 college students attending six local institutions: Cincinnati State, the University of Cincinnati (and UC Blue Ash), Mount St. Joseph University, Northern Kentucky University, and Xavier University.
Scholarships also were awarded to 15 graduating seniors from 7 area high schools.
(Photos provided by Rosa Maria Moreno)