Condolences to the family of Dr. O'dell Owens, Cincinnati State's fifth President
November 25, 2022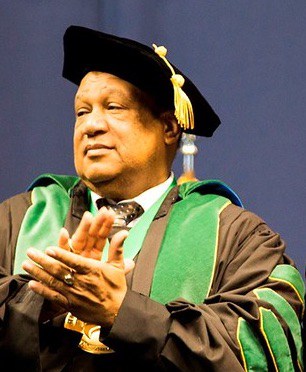 Dr. O'dell M. Owens, the fifth President of Cincinnati State, died November 23, 2022. Dr. Owens served as President of the College from 2010 to 2015.
During his presidency, Cincinnati State enrollment reached a record of more than 11,400 students, the College expanded articulation agreements with the University of Cincinnati and Northern Kentucky University, and the Middletown Campus was opened. The College also transitioned from a five-term academic calendar to the semester system during Dr. Owens' time as president.
Cincinnati State President Monica Posey said, "We mourn the loss, but celebrate the life and legacy of our former President, Dr. O'dell Owens. His commitment to Greater Cincinnati and especially to the work of helping families in need was phenomenal."
President Posey continued, "Dr. Owens truly believed in the power of education to transform lives. We most appreciate his passion for our students and his efforts to elevate the mission of Cincinnati State Technical and Community College during his tenure as President."
A public visitation and wake for Dr. Owens will take place Friday, Dec. 2, from 10 a.m. until noon at Corinthian Baptist Church, 1920 Tennessee Ave, Cincinnati, Ohio 45237.
A private memorial service at the church will follow, from noon to 2 p.m.
A public celebration of Dr. Owens' life will be held at a later date.
Dr. Owens was an advocate for health care and education throughout his life, and in 2020 he was recognized by the Cincinnati USA Regional Chamber as a Great Living Cincinnatian.
Dr. Owens served as President and CEO of the health education nonprofit Interact for Health from 2016 until his retirement in March 2021.
He was elected to two terms as Hamilton County Coroner (2004 and 2008) and later served as Cincinnati's Interim Health Commissioner.
A native of Cincinnati, Dr. Owens graduated from Woodward High School before earning a medical degree and a master's degree in public health from Yale University. He completed a fellowship in reproductive endocrinology at Harvard Medical School and then returned to Cincinnati and established an in vitro fertilization program at the University of Cincinnati Medical Center. He achieved Cincinnati's first successful conception and delivery as well as the first pregnancy from a frozen embryo.
Dr. Owens served on the board for several organizations, including U.S. Bank, Cincinnati Preschool Promise, the Cincinnati Firefighter Association, ArtsWave, the Greater Cincinnati/Northern Kentucky International Airport, and the National Underground Railroad Freedom Center. For 10 years, he was the chair of the annual CET Action Auction to support Cincinnati public television.
(Information from Cincinnati State Archives, the Cincinnati Enquirer, and WLWT-TV)