Environmental Club fall projects helped to beautify and support the community
December 2, 2022
During Fall Semester 2022, members of the Cincinnati State Environmental Club carried out two volunteer projects to assist in beautification and environmental improvement efforts in Greater Cincinnati.
On October 6, 2022, the Environmental Sampling class (EVT 105) led by Dr. Ann Gunkel, Program Chair for Environmental Engineering Technologies, along with several members of the Environmental Club, volunteered for habitat restoration tasks at the Freedom Tree Grove on the Mill Creek Greenway Trail on Ludlow Ave.
Students started at 8 a.m., broke into groups, and spent 3 hours removing invasive plants and transporting cut debris into compostable areas.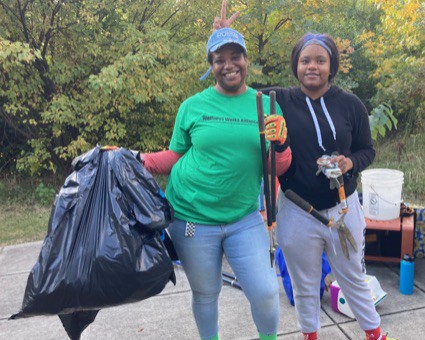 Professor Gunkel said this urban park was started in 2005 as a partnership of the Mill Creek Alliance, the National Underground Railroad Freedom Center, Paul Hemmer, Sand Run Nursery, and the city of Cincinnati. The goal was to develop a trail along the Mill Creek that followed the route of the Civil War-era underground railway, and to plant fruit-bearing trees that could provide nutritious food for those who walk the trail.
Initially, students from Dater and Loveland high schools helped plant 150 trees. By 2012 the Freedom Tree Grove "food forest" was mapped out and several other groves with native fruit-bearing trees (apple trees) were installed.
The Mill Creek Greenway Trail is one of several restoration projects focused on rehabilitating the area's natural habitat. Professor Gunkel said these rehabilitation efforts have dramatically improved the creek's water quality and welcomed back wildlife like catfish, muskrats, beavers, and water birds. Trail advocates hope that one day the trail will follow 53 miles of Mill Creek and its tributaries.
Professor Gunkel said the Environmental program plans to continue partnering with the Mill Creek Alliance in the future to help restore and maintain the food forest at the Greenway Trail location.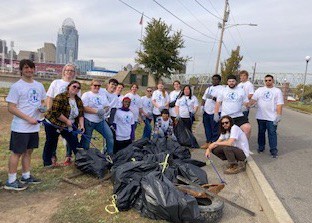 On October 24, 2022, members of the Environmental Club and students in EVS 110 (Environmental Science: Conservation and Cleanup) assisted with the annual Ohio River Sweep Cleanup event sponsored by the Ohio River Valley Water Sanitation Commission (ORSANCO).
The Cincinnati State volunteers were based at General James Taylor Park in Newport, Kentucky, a location where the Ohio River and the Licking River converge. Many of the Environmental students were familiar with Taylor Park as a ideal spot to conduct water sampling and testing, with test data later submitted to the River Watchers website and used as part of ORSANCO's watershed monitoring program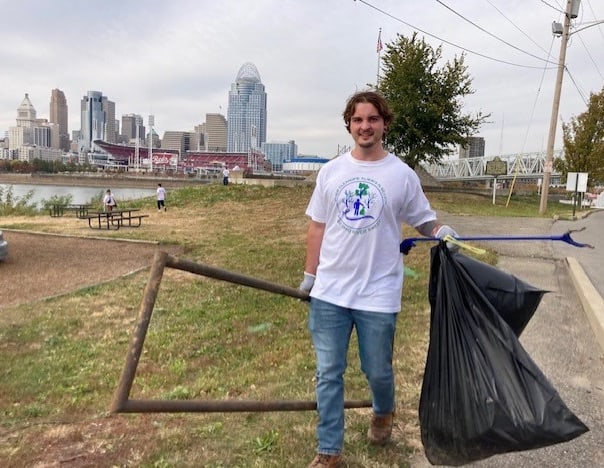 On the cleanup day, students geared up to tackle the trash problem with event t-shirts and cleanup supplies provided by the River Sweep team. Over the course of 2 hours, the volunteers collected about 10 bags of trash as well as a few tires, a metal swing gate, a large section of carpet, and half of a television.