Land Surveying team is 4th in national competition
April 6, 2022
The Land Surveying team from Cincinnati State placed 4th out of 12 teams in the National Society of Professional Land Surveyors (NSPS) National Student Surveying Competition held March 30 to April 1, 2022, in Arlington, Virginia.
Greg Bryant (senior), Ellen Swallow (sophomore), and Matt Marsh (freshman) competed for two days in surveying events held at several locations in Washington, D.C.
Greg said, "It was the opportunity of a lifetime to get to walk in the footsteps of the original surveyors."
Land Surveying Program Chair Dr. Carol Morman accompanied the student team.
The first competition was an 8-hour scavenger hunt for monuments in Washington, D.C. and Arlington.

Some were familiar locations like the Washington Monument but destinations also included original corner stones and other NGS (National Geodetic Survey) benchmarks around the area.

The oldest corner stone found by the Cincinnati State team was one set in 1792.

For one event, teams learned to use surveying instruments from the 1800s to measure angles and distances.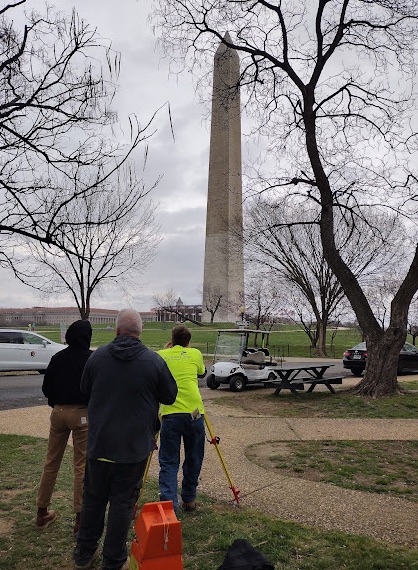 For another event (right) teams computed coordinate locations for a point using the tip of the Washington Monument as a backsight for their calculations.

In addition to competition, students heard a presentation by David Doyle, the former Chief Geodetic Surveyor for the National Geodetic Survey, and networked with other students and professionals from around the U.S.
Funding for the trip was made possible by several regional surveying companies: Weihe Engineers (on behalf of Norm Hiselman), Paul Primavera & Associates (on behalf of Jason M. Copperwaite), Diamondback Land Surveying (on behalf of Trent Keenan), and On The Mark Land Surveying (on behalf of Nolan Mark).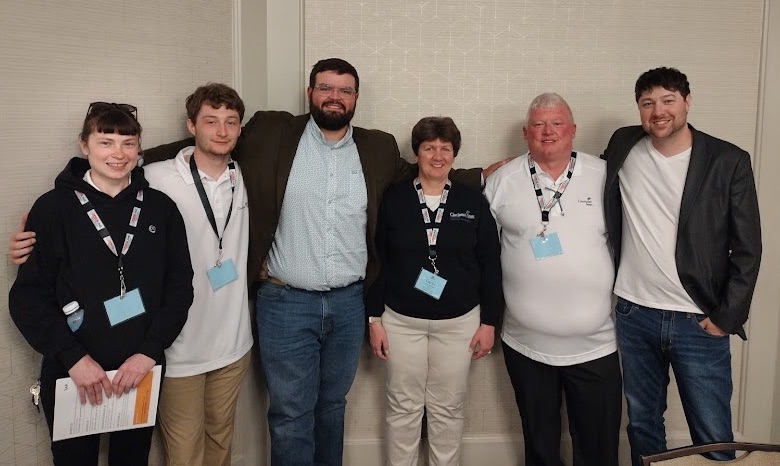 (Photos and reporting provided by Carol Morman)