Pres. Posey presented National Community College Award to Sen. Rob Portman
February 15, 2019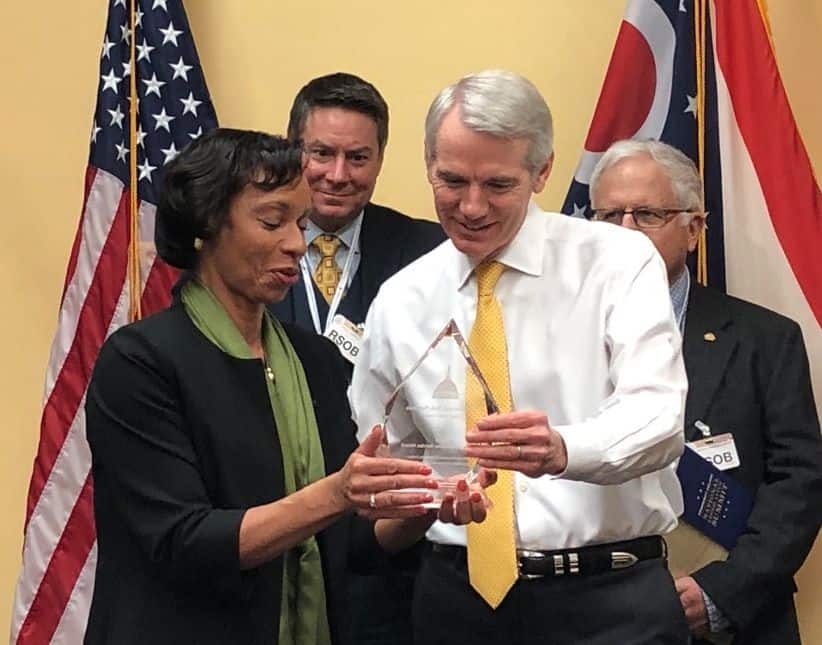 President Monica Posey presented the Community College National Education Service Award to Ohio Senator Rob Portman, during the Community College National Legislative Summit held Feb. 11-13, 2019, in Washington, D.C.
The Legislative Summit is sponsored by the Association of Community College Trustees (ACCT) in collaboration with the American Association of Community Colleges (AACC).
The National Education Service Award is presented annually by the ACCT to "honor a national leader who has made extraordinary contributions to national public policies and resources that support education, training, and post-secondary learning."
Senator Portman received the award, along with Senator Tim Kaine (Virginia), for bipartisan efforts to expand the Pell Grant program to include short-term training programs.
According to the ACCT, the bill led by Senators Portman and Kaine, known as the Jumpstart Our Businesses by Supporting Students Act (JOBS Act) "would be tremendously beneficial to our colleges and students by providing access to Pell Grants for certain short-term programs that are presently excluded from receiving grant aid."
The ACCT also stated, "These shorter-term programs can provide opportunity for students to quickly attain credentials and enter into well-paying jobs, [however] current lack of access to financial aid remains a significant barrier for many students interested in pursing short-term credentials."
In addition, the ACCT noted that "Senators Portman and Kaine have recognized the need for additional assistance for students in these programs and remain committed to advancing the JOBS Act during the upcoming 116th Congress."
Senators Kaine and Portman are co-chairs of the Senate Career and Technical Education Caucus, and have worked to call attention to career and technical education as a proven method for promoting economic growth and ensuring that students have the skills needed to succeed.