CState CareerLink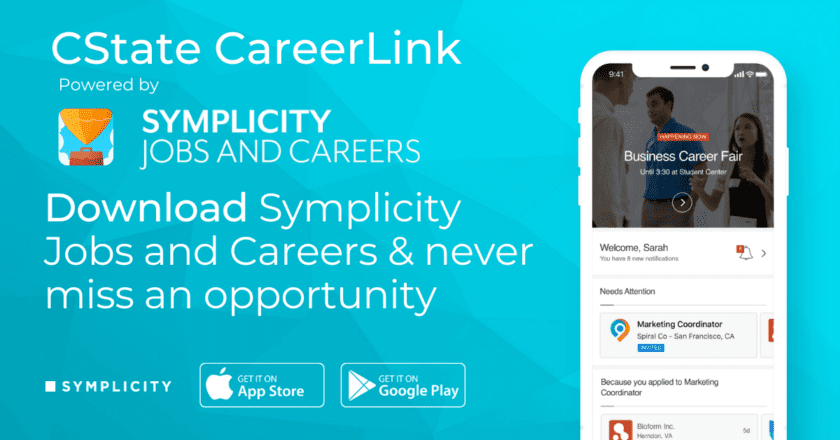 CState CareerLink (CSCL) is Cincinnati State's Career Services Management (CSM) system for Cooperative Education and the Career Center. CState CareerLink allows students to search for jobs, complete the paperwork required for cooperative education/internships, and gain information about upcoming events in the area.
Student Access to CState CareerLink
Employer Access to CState CareerLink
Alumni are in the system for one year after their graduation date. Access can be reactivated by calling the Career Center.  
Getting Started for Students
All currently enrolled students and recent graduates have access to CState CareerLink.  Your PROFILE has been started for you.
Username:  Your username is your full SurgeMail email address
Password:  Your password is the same as your password for SurgeMail/MyCState/Blackboard
If you forget your password, it must be reset through MyCState. Please contact the ITS Helpdesk at (513) 569-1234 (option 1) for assistance.
Start By Completing General Information about your job search.
What types of jobs you are looking for?
Where would you like to work?
Which industries are you interested in?
Which groups do you identify with? (optional)
Where have you worked?
Update Your Account Information
Please review the following areas in your account information and complete anything that is missing.
Personal Information
Academic Information
Also review:
Emails & Notifications
Social Media
Privacy Settings
Click Save Changes at the bottom of each page to save your updates to the system.
Some of this information comes from Cincinnati State's ERP system Colleague.  Changes to this preloaded information such as address and phone number must be changed through Self-Service in your MyCState/Blackboard account or check with the Registrar's office.
You MUST complete all fields marked with a red asterisk ( * )
No need to do anything with the Public Profile.
There is no need to do anything with the Public Profile.  This is a similar feature to LinkedIn, and we do not use this currently.
How Jobs Are Defined In the System
A key item is the Applicant Type in the Student's Academic Profile.
In this area, you will select your Applicant Type.  Please only select one category.  This can be changed as you progress during your time at Cincinnati State and to reflect your job search needs at the time.
General Jobs (PT/FT/Temp) – this category is for students looking for general employment that is not dependent on degree completion. (To have your resume approved – please work with the Career Center.)
Co-op/Internship – this category is for students working with their Co-op Coordinator to secure employment to fulfill their Cooperative Education experience/requirement. (To have your resume approved – please work with your Co-op Coordinator.)
Upcoming Graduate/Alumni – this category is for students who will be graduating in the coming 3-6 months or have recently completed their degree. (To have your resume approved – please work with the Career Center.)
Students Seeking Cooperative Education/Internships
Students must meet some basic requirements in order to participate in the co-op program. These prerequisites vary depending on your degree or major, for more information, please visit the Co-op webpage.
Eligible students will need to complete a Co-op Application.  This is found in the following area.
Go to the icon on the top right of the page (may be your initials)
Click on the icon for a pull down menu
Select My Experiential Learning and Complete the Co-op/Internship Application
 Once completed hit Submit Application
See the Quick Start Guide for further details and screenshots.
Resumes must be approved in the system.
(The system allows you to upload one resume.)
Go to My Documents to submit a resume. Click the Add New button.
Label the document and upload it to the system.

Example of a best practice in labeling your resume.

First initial of first name
Full last name
Type of Document
Date
Sample: KTurnerResumeFA23
Your resume will go into a Pending status for review.
Applicant Types with Cooperative Education/Internships must work with their Co-op Coordinator for review and approval
Applicant Types with General Jobs (PT/FT/Temp)or Upcoming Graduate/Alumni will work with the Career Center for review and approval.
Once it has been reviewed (usually within 2-5 business days but this may differ by Co-op Coordinator and Career Center), you will be contacted by your Cincinnati State/Surge email that your resume is either APPROVED or NEEDS REVISIONS.
The Main Page allows to see an overview of the system:
General Announcements
Jobs
Upcoming Events
Jobs that may be of interest based on major
Latest Jobs
Jobs can be searched by:
Keywords
Location
Position Type
Industry
Job Function
Or, with other filters
We are encouraging employers to use Job Function over majors to give a broader range of applicants.
Applying to Jobs
Click on the position
You will typically see the job description
Additional job details
Apply button
(Employers have the option of letting you send an approved resume directly to them or they give you details on how they want you to apply)
If A Job Says "Not Qualified"
You are able to see the reason why
Click on the position and click on the link that says "Learn Why"
Employers typically post this information, not us.  If you are running into issues check with your Co-op Coordinator for Co-op/Internship related issues or the Career Center for other applicant types.
CState CareerLink also allows you to see and register for career related events such as employer information sessions, co-op orientations, Career Center events and more.  We encourage you to sign up for the Career Center's weekly newsletter to stay informed.
"Scammers advertise jobs the same way legitimate employers do — online (in ads, job sites, and social media), in newspapers, and sometimes on TV and radio. They promise you a job, but they want your money and personal information."
Federal Trade Commission
For more details, click here.
The Cincinnati State Career Center acts only as a referral service and makes no particular recommendation regarding employers. The Cincinnati State Career Center is not responsible for safety, wages, working conditions or other aspects of off-campus employment. Due to the volume of jobs received by this office, we are unable to research the integrity of each organization or person that lists a job with us. Therefore, you are urged to undertake this responsibility yourself. This website also contains links to other websites not under the control of the College or the Career Center, and we are not responsible for the contents of any linked site. If you have any questions regarding this information, please contact our office at (513) 569-4242 or by email at careercenter@cincinnatistate.edu. For information to help you avoid fraudulent job postings and emails, check out our page on Avoiding Job Scams.
Click below to access the CSCL – Quick Start Guides
Click here for the CState CareerLink Quick Start Guide for Students
Coming soon at CState CareerLink guide for Employers