Many think career planning happens after graduation. Not so! It's a process that should begin early in one's education. It ensures that you are selecting the correct program of study and are preparing to be employable after graduation.
Schedule time with a member of the Career Center staff for further assistance.
Self-assessment is foundational to career exploration and is a primary step in the development of a plan to a career. Through self-assessment, you can learn and identify personality traits, abilities, interests, values, and experiences and how these lead to careers. 
Career Coach allows individuals to discover majors and in-demand careers and education based on their interests.  This online tool provides current, local data on employment opportunities, wages, and education and training required for a variety of careers. 
Begin your exploration here with the career assessment: https://cincinnatistate.emsicc.com/  We encourage you to do the 60 question assessment. 
After you take the assessment, schedule an appointment with a member of the Career Center staff for further discussion and clarification of your discoveries. 
YouScience is a career aptitude assessment for students.  It includes a series of "brain games" that students complete.  Results will indicate your aptitude and will allow you to research good-fit careers based on your aptitude and/or interests.  It's a unique new tool that we are using to help students discover their strengths and plan for their future career! 
To request a YouScience Account, please email careercenter@cincinnatistate.edu including your first name, last name, and email address.
After you take the assessment, schedule an appointment with a member of the Career Center staff for further discussion and clarification of your discoveries. 
Career Exploration helps you identify work fields, jobs, and majors.  The Career Center encourages you to research occupations, majors, skills, wage and salary, work environment, and meeting people who are doing what you think you want to do. 
Career decision making can be tough and frustrating.  Here are some resources that can be used to help in the process.  We encourage you to work with Career Center staff for coaching and assistance.  You're not alone!
Decision-Making Resources
Key aspects of Career Decision Making
Define the decisions and priorities.
Use career assessments as a tool, not the ultimate decision-maker.
Investigate and research options both through websites and talking to people.
Think about the things you are unsure of – how is your research answering these questions?
What is the demand for the career, what does the work look like, who are the companies hiring?
What skills and qualifications do they look for in these careers?
Consider all options.
How to Make Tough Career Decisions 
The 80,000 Hours site walks you through the process of making a career decision.  Includes information on clarifying a decision, research options, and creating a plan.
This article by Mind Tools helps you create a framework and process for analysing the career decision making process.
A career plan is your road map for the future.  You know the end in mind for your career.  Now how do you get there?
The plan should include:
Understanding the skills, education, and experience needed to succeed in the career.
It should also include goal-setting.
Articles to assist:
If experiential education is not part of your academic program, consider ways to incorporate opportunities such as community service, joining student organizations, or professional associations to build on your experiences.
Most Cincinnati State degree programs require experiential education through co-op, internship, or clinical education. Talk to your Co-op Coordinator, Program Chair, or Academic Advisor to learn more. For more information visit our Cooperative Education Page.
Networking is a vital part of your job search and career. Developing relationships and connections within your network allow you more opportunities to advance your career.
Marketing yourself is a key aspect of the job search. It's presenting your best self to potential employers. Showing that you have the technical skills and soft skills that an employer is seeking in their potential new hire.
Job Search Tools
Schedule an Appointment for Assistance
The Career Center is available for one-on-one assistance.  We encourage you to schedule an appointment with us either via Starfish or by calling 513-569-4242.
Key Aspects of a Resume
Purpose:  A resume is a document that introduces your skills and qualifications to potential employers.  The goal is to get an interview.
Think like an employer – what relevant skills and abilities do you have that the employer is seeking?
Types of Resumes 

Chronological – presents your education and work experience in a straightforward, reverse chronological order (most recent first). If the majority of your work experience is related to your stated job objective, this style can be effective.
Functional – A functional resume differs from a chronological resume by concentrating on your skills that relate to your stated objective rather than on the jobs you have had. A functional resume is particularly effective if your work experience has not been closely related to your job objective, if you are changing careers or if you are seeking a promotion. In this format, you elaborate on the skills necessary to perform the desired job and how you have demonstrated those same skills in a different type of job.
Combination – Sometimes a combination format will adequately suit a jobseeker's needs. This can, for example, help to highlight both a chronological employment history while simultaneously highlighting some outstanding skills and achievements.

Key Elements of a Resume include and are dependent upon the focus of your job search:

Personal Contact Information (Name, E-mail, Phone)
Objective or Professional Summary
Education
Work and Related Experience
Awards and Honors
Activities
Skills
Guides and Samples
Employment references are individuals who can talk about your work experience, work habits, character, and skills.
This is a separate document from your resume and cover letter and should be formatted in a similar style to those documents.
Before you add an individual's name and contact information to this document ask permission.

Confirm they are willing to be a reference.
Update them on your job search and remind them of your skills and accomplishments.

The typical format for the reference is

Name
Title
Employer
Phone
Email
Information on their connection to you
For a sample, please click here.
A job interview is a meeting between the potential employer and an applicant in which questions will be asked regarding qualifications to determine if you match the needs of the organization.
Employer Goals:  Determine if you are a good match for the position and if you will be a good employee.
Applicant Goals:  Ability to display skills and talents that would be useful to the prospective employer.  It is also a time for you to determine if this organization is a good match for you professionally and personally.
PHASES OF AN INTERVIEW
Introduction
Questions and Answers
Your Questions
Closing
Practice Interviewing
Interview Preparation Guides
Interviews are where you put your best foot forward and impressions are made about you as a candidate.
Dressing appropriately for an interview shows that you are serious about the job.  Employers have expectations about how you prepare for an interview and that includes appearance. From their perspective, are they going to be more impressed with an individual in a suit or an individual in jeans?
The basic rule is to dress one step more professionally than what you would wear on the job.
Definitions of Professional Dress and Business Casual:
Business Professional

Masculine

: conservative and tailored suit, tie in a muted color, polished shoes and well-groomed facial hair

Feminine

: conservative and tailored suit (either with slacks or skirt), closed-toe shoes, subtle jewelry, make-up and accessories

All

: suit should be a neutral color. Consider a professional briefcase or purse. Shine up shoes.

Business Casual

Masculine: slacks, collared shirt and/or tie
Feminine: slacks or skirt, collared shirt or professional dress
All: avoid jeans, shorts, tennis shoes, or flip-flops
Tips for Professional Dress:
The Best Outfits for a Job Interview – The Balance Careers
Resources:
Dress for Success (Interviewing Attire for Women)

Contact the Career Center or Co-op Coordinator for a referral.
New address beginning June 2021 – 4623 Wesley Avenue, Suite H, Norwood, Ohio
Job Search Assistance For Individuals With Disabilities
Opportunities for Ohioans with Disabilities (OOD) 
Referrals available through the Career Center staff
Job placement assistance for Ohioans with disabilities
Can provide on the job employment support
Can assist with providing additional job training
Other Resources
Negotiation is a process between the employer and identified candidate for employment on the terms of employment.
Areas that can be potentially negotiated include but are not limited to salary, vacation time, flexible work schedule, ability to work from home, tuition reimbursement, professional training, and development.
Resources on negotiation:
Employment Scams – Beware
Safety Tips for Your Online Job Search (WARNING SIGNS OF FRAUDULENT JOB POSTINGS)
CState CareerLink and other online job systems make it easier for you to find positions. Unfortunately, the same technology makes it easier for scammers to create fraudulent positions to take advantage of you. While the Career Center tries to screen employers and the positions posted to CState CareerLink, it is imperative that you, as a job seeker, exercise common sense and caution. Read position descriptions carefully!
If a position or job offer seems too good to be true, if you feel uncomfortable with some of the information requested, or if something just doesn't seem right – proceed with extreme caution. Even if the original position description seems valid, if you receive follow-up e-mails, phone calls, or job offers that make you feel uncomfortable, you need to proceed cautiously.
IF YOU ENCOUNTER SUSPICIOUS POSTINGS IN CState CareerLink or via your Cincinnati State email, report your experience to the Career Center at careercenter@cincinnatistate.edu or 513- 569-4242. You also can visit The Internet Crime Complaint Center.
Articles:
CState CareerLink is an online system that connects Cincinnati State students and graduates to employment opportunities.
Student Access to CState CareerLink  
Alumni are in the system for one year after their graduation date. Access can be reactivated by calling the Career Center.  
How Jobs Are Defined in the System
General Jobs (PT/FT/Temp) – this category is for students looking for general employment that is not dependent on degree completion. (To have your resume approved – please work with the Career Center.)
Co-op/Internship – this category is for students working with their Co-op Coordinator to secure employment to fulfill their Cooperative Education experience/requirement. (To have your resume approved – please work with your Co-op Coordinator.)
Upcoming Graduate/Alumni – this category is for students who will be graduating in the coming 3-6 months or have recently completed their degree. (To have your resume approved – please work with the Career Center.)
How To Access CState CareerLink
Resumes must be approved in the system.
Co-op Students must receive approval in the system from their Co-op Coordinator.
Students seeking other positions such as part-time, temporary, or full-time positions must work with the Career Center for approval.
Federal Work-Study Opportunities.
OhioMeansJobs.com is Ohio's free, online career counseling center that connects businesses to job seekers and provides career services to all Ohioans.
Kentucky Career Center is the area's leading workforce development network, specializing in connecting employers with qualified workforce talent and job seekers with career opportunities.
A new web portal that allows individuals to access new opportunities due to the pandemic.
The Northern Kentucky Chamber of Commerce site is a robust jobs board that connects those who are seeking exciting new employment opportunities with open positions within our network of Chamber member business organizations.
Career Center Staff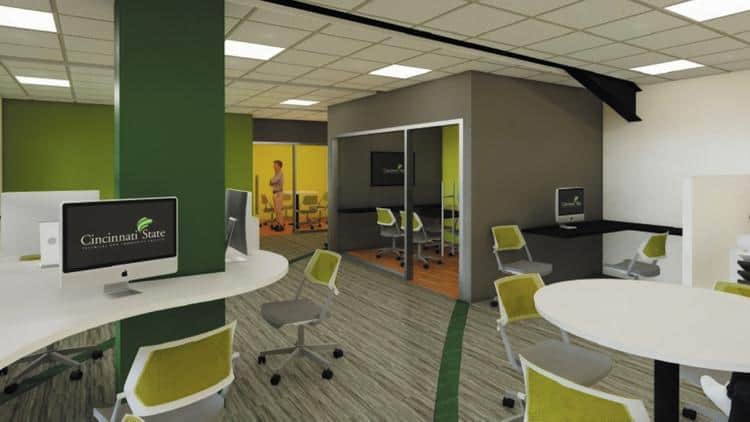 Career Center Staff