Charter Day Program: Sept. 19, 2019
September 19, 2019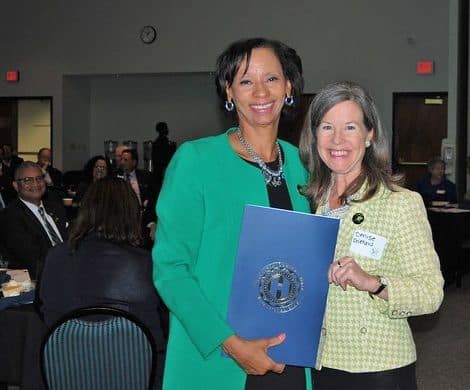 During the Charter Day luncheon program in the Conference Center, Hamilton County Commission President Denise Driehaus presented to Dr. Monica Posey a proclamation declaring Sep. 19, 2019, as "Cincinnati State Day" in Hamilton County.
Commissioner Driehaus said Cincinnati State has given the community "a lifetime of legacies that benefit all."
Board of Trustees Chair (and College alumnus) Mark Walton is seen seated at left in the photo.
Another highlight of the program was the "rededication" of Cincinnati State's Charter from the Ohio Board of Regents (now the Ohio Department of Higher Education).
ODHE Senior Vice Chancellor Gary Cates (far right in photo) called Dr. Posey and Chief of Advancement Elliott Ruther to the podium for the rededication ceremony.
On this day 50 years ago, the College–then known as Cincinnati Technical Institute–received its Charter from the Ohio Board of Regents. The College's official start included 650 students who were enrolled in a small number of technical degree programs.
The Charter Day luncheon was sponsored by the Cincinnati State Foundation. Event participants included representatives of national, state, and local government, former College Trustees, Foundation Board members, alumni, donors, and current College faculty and staff members.
Chief of Advancement Elliott Ruther announced that Congressman Steve Chabot congratulated Cincinnati State on its 50th Anniversary in remarks made in Congress (viewable here). Rep. Chabot also said he would be sending to the College a U.S. flag flown over the White House on Sep. 19.
 
Dr. Posey shared greetings from Ohio Gov. Mike DeWine, who said, "Cincinnati State is an outstanding value to the region now, and will continue to be in the future."
Foundation Board officer John McClure welcomed guests and said that a goal for Cincinnati State's future is to "become well known, and no longer be the community's 'hidden gem.'"
Mr. McClure also said that the College's endowment funds have grown to $9 million in the past several years.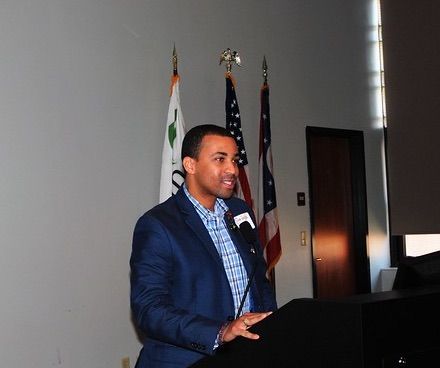 Rep. Sedrick Denson (left), who represents the 33rd District in the Ohio House of Representatives, noted that Cincinnati State plays a critical role in workforce development, which is a critical need for the State.
In addition, Rep. Denson told the story of his cousin who attended the College, where he "gained dignity, and is now a success" in making a meaningful life for himself and his family.
Ken Stoll (right), who was valedictorian of the College's first graduating class, and later served as a faculty member and academic administrator, spoke on behalf of all of the College's founders, including those who established the original Cincinnati Cooperative School of Technology in 1966.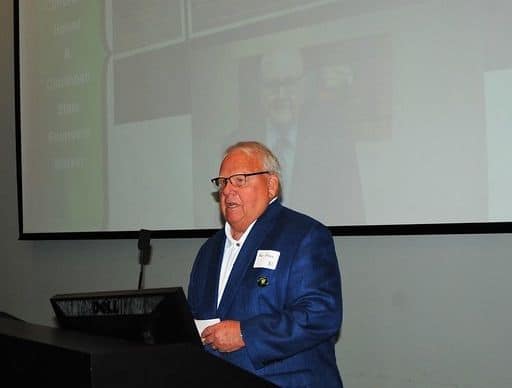 The slide behind Ken in the photo recognizes Cliff House, the College's first President.
Other founders who were in attendance are seen in the photo at the bottom of this article.
Ken observed that although the School of Technology opened in 1966 with 116 students in four programs, by the time the Charter was awarded in 1969, the College had grown to more than 600 students.
 
Ken said concerns about funding were a constant worry in his early days as a faculty member, and he recalled attending a meeting where employees were told to "use less colored chalk" because of the expense.
 
Ken stated that the College's greatest achievement, both 50 years ago and today, is "making great success stories out of ordinary kids."
The culmination of the program was Dr. Posey's description of the Economic Impact Study commissioned by the Cincinnati State Foundation, and conducted by EMSI (EconomicModeling.com), a leading national provider of labor market data.
The EMSI study concluded that Cincinnati State adds tremendous value to our region — $657 million annually. That is the equivalent of more than 10,000 jobs supported by Cincinnati State.
Cincinnati State's economic impact comes from three basic sources:
As an employer and purchaser of goods and services, Cincinnati State adds about $75 million in added income to the region, the equivalent of supporting 1,383 jobs.
 
Spending by students who either move to this region or stay here to attend Cincinnati State amounts to more than $10 million.
 
The greatest economic impact Cincinnati State has on the region is our alumni. The knowledge and skills they acquire at Cincinnati State allow them to receive higher earnings and increase the productivity of the businesses that employ them. It amounts to $572 million per year.
 
Part of the great impact of Cincinnati State's alumni is that 85 percent of our graduates stay in this region after they complete college– a rate that is significantly higher than any other major college in the region, including 4-year colleges and universities.
Click to download the 9-page Executive Summary of the Economic Impact Study, or the 2-page Fact Sheet with study highlights. Both documents also are available on the 50th Anniversary page of the College website.
Wrapping up the program, Dr. Posey urged all present to "celebrate with us today, and all through the year."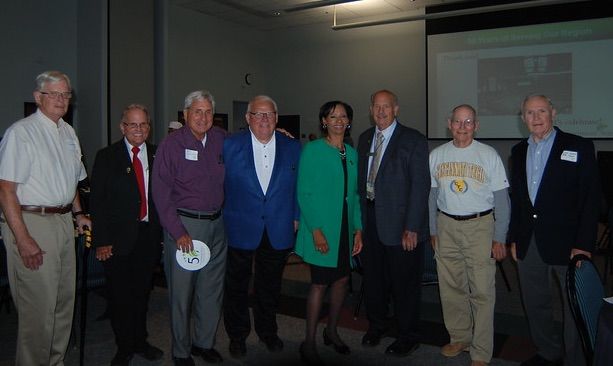 College founders who celebrated at Charter Day on Sep. 19 included faculty and staff members (from left) Ed Swearingen, Rob Speckert, Paul Callahan, Ken Stoll, Dr. Monica Posey, Tim Nolan, Tom Stark, and Gary Graff.
(Photos provided by Jackie Norton, Cincinnati State Director of Marketing)