Cincinnati State filmmakers dominated the awards at Fright Film competition
December 2, 2019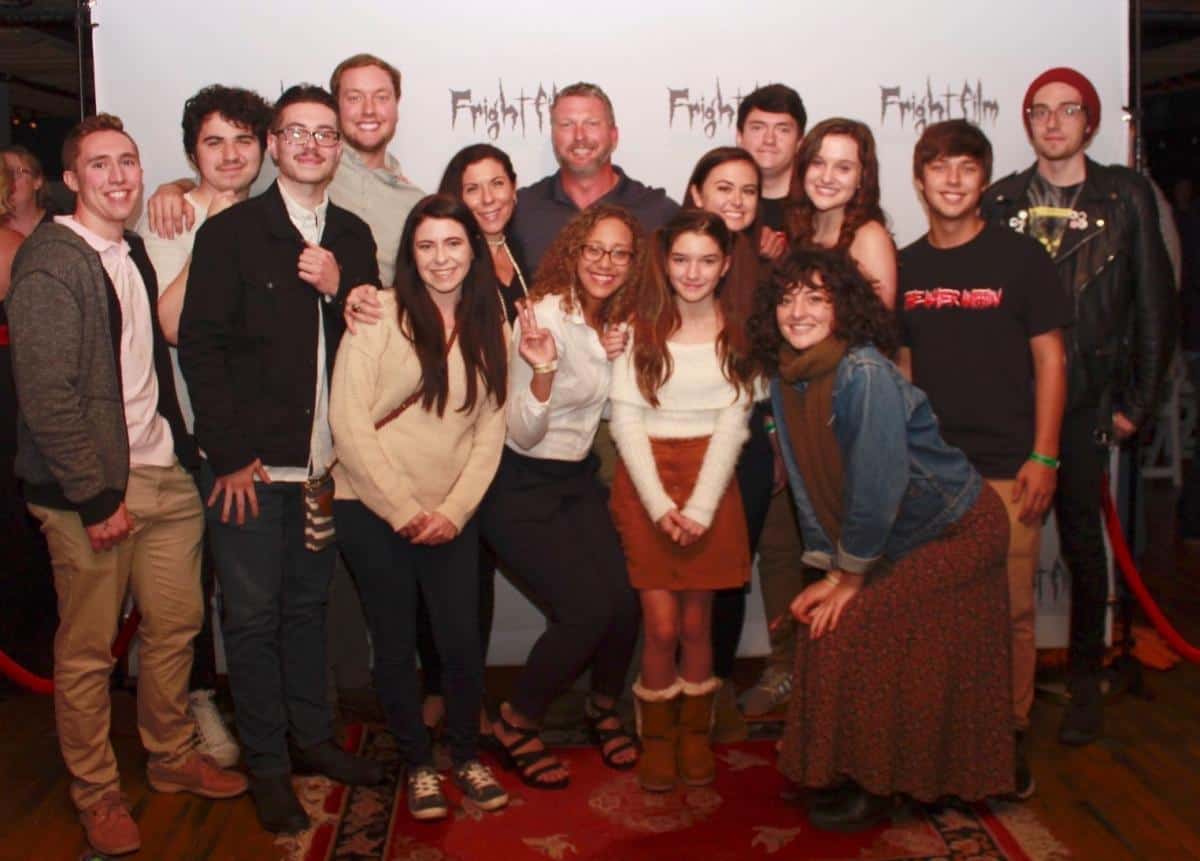 Cincinnati State movie-makers dominated the inaugural "Fright Film" competition held in fall 2019, winning the Best Picture award, two Audience Favorite awards, and numerous other awards and nominations.
The winning movie, "The Water Within," was a Cincinnati State Audio/Video Production (AVP) student effort. The team, seen in the photo above, used the team name Focal Point Productions.
One of the other two nominees for Best Picture, "My Murderer, Me," was produced by Audio/Video Production Professor Christian Appleby along with a Cincinnati State student crew, under the team name B-Positive.
The two Cincinnati State movies also won the two Audience Favorite awards voted on by the large crowd that attended the movie premiere and awards event on Oct. 27, 2019.
Overall, 7 of the 12 judges' awards went to Cincinnati State movies, and the College captured 15 of 36 possible award nominations– plus the two audience-selected awards.
Audio/Video Production Program Chair Dave Killen said, "I am incredibly proud of our students and graduates who took this movie-making opportunity head on, and made something memorable."
Professor Killen said many of the participating students also were involved in producing an Audience Choice-winning film at this year's College Movie Festival. That achievement earned the students free entry into the new Fright Film competition.
Professor Appleby said about 20 Cincinnati State students and graduates took part in the competition, on four different teams. Some University of Cincinnati students participated in Fright Film, but not as many as the Cincinnati State entrants.
Local media personality Michael Flannery announced award recipients following the premiere of the 12 films that entered the competition. The event took place at the Woodward Theater in Over-the-Rhine.
Entrants in the Fright Film competition met the challenge of writing, producing, and editing a horror film of 13 minutes or less and completing all work within a two-month timespan, from Aug. 13 to Oct. 13.
Nineteen industry professionals served as judges in 12 categories, and audience members voted on their favorites after viewing the films.
In addition to Best Picture and Audience Favorite awards, student-produced film "The Water Within"– which can be viewed online at https://vimeo.com/user104264952– won awards for:
Directing – Michaela Miller (AVP student)
Sound Design – Jack Miller (AVP graduate)
Cinematography – Adam S. Depew (AVP student)
Original Music – Shawn Boosveld (AVP student)
Actress – Brielle Fitzgerald
Supporting Actress – Calloway Denton
Other award nominees for "The Water Within" were:
Make-up & Wardrobe – Rae'ven Cheyenne Reed (AVP student)
Editing – Jack Miller (AVP graduate)
Faculty-produced movie "My Murderer, Me" gained award nominations for Christian Appleby for Directing and Cinematography.
In addition, Paul Morris won the Actor award and Christian Nicholson was nominated for the Screenplay award for "My Murderer, Me."
The winner of the Supporting Actor award, for the movie "Darkness Awakens," was Scott Fox, father of a Cincinnati State student team member.
Other Cincinnati State students who earned award nominations, for Sound Design, were Jesse Merlin Williams, for the movie "Darkness Awakens," and Silas Sheperd and Raphael Boyce, for the movie "Precognition."
The Fright Film competition was founded and organized by three local media professionals and educators: Jim Timmerman, Jeff Winkelman, and Bill Anderson.
(Photo and poster provided by Lexi Herbers)