CState co-op students joined P&G SuccessWay program
June 3, 2019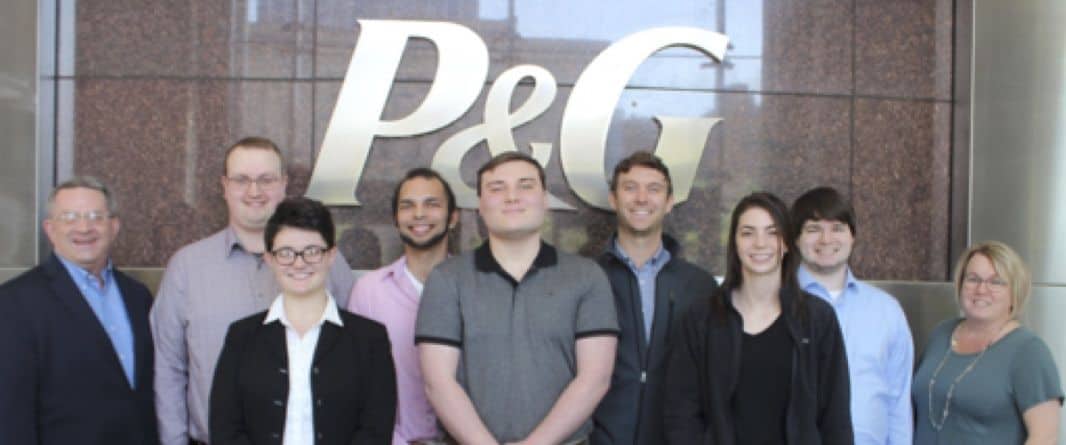 This summer, eight co-op students from the Business Technologies Division (seen in photos above and below) are working at Procter & Gamble as part of the company's SuccessWay Co-op Program, a challenging and highly competitive process for selecting students for co-op assignments.
Business Technologies Division (BTD) Co-op Coordinator Adam Waits said this is the largest group of Cincinnati State co-op students selected to work at P&G during the same semester.
Adam said P&G recruited a total of 17 students for the SuccessWay Co-op Program this summer, with more students from Cincinnati State than any other institution.
"Cincinnati State is the only two-year college where P&G recruits co-op students," Adam said.
Adam said the students received help preparing for the P&G co-op selection process, which includes rigorous online assessment as well as a series of live interviews. 
Adam, along with Career Center Director Kelly Harper, offered information sessions during Spring semester on "How to Apply to P&G." More than 50 students from the Business Division, Humanities & Sciences, and the Center for Innovative Technologies attended the information sessions.
 
In addition, P&G employees led in-class mock interviews for Cincinnati State students. Michelle Talbert, a Senior Sourcing Specialist with P&G's North American Talent Supply Team, coordinated the P&G support efforts.
Adam said Ms. Talbert reported that Cincinnati State's students represented themselves and the College quite well throughout the interview and hiring processes.
All eight of the CState co-op students are working in downtown Cincinnati at the P&G Central Offices building, in the Synchronized Planning Solutions (SPS) Center.
The students are pictured above, along with Adam Waits on the far left and Michelle Talbert on the far right. They include (from left):
Donald Pings (Pre-Business Administration, working in Oral Care)
Lexi Bettner (Pre-Business Administration, working in Demand Planning)
Adrian Harris (Accounting, working in Feminine Care.)
Jacob Bentle (Supply Chain Management, working in Shave Care)
Yougnay (Yugi) Samatha (Business Management, working in Demand Planning)
Kathryn Banks (Pre-Business Administration, working in Fabric Care)
Damien Phillips (Pre-Business Administration, working in Baby Care)
Andrew Blossom is in the inset photo below (Pre-Business Administration, working in Fabric Care)
Lexi and Yugi's work in Demand Planning includes creating sales and production forecasts.
The other six students all serve in Site Integrated Planning roles. They develop production schedules for P&G manufacturing facilities throughout North America and work with global vendors to ensure proper levels of materials required for production.
P&G requires two consecutive semesters of full-time co-op work, so the current students will continue their assignments during Fall Semester 2019.
Adam said P&G will recruit in Fall 2019 for co-op placements that will begin in Spring 2020. The schedule of Information Sessions will be available on the Cincinnati State Co-op Facebook page: www.facebook.com/cincystatecoop.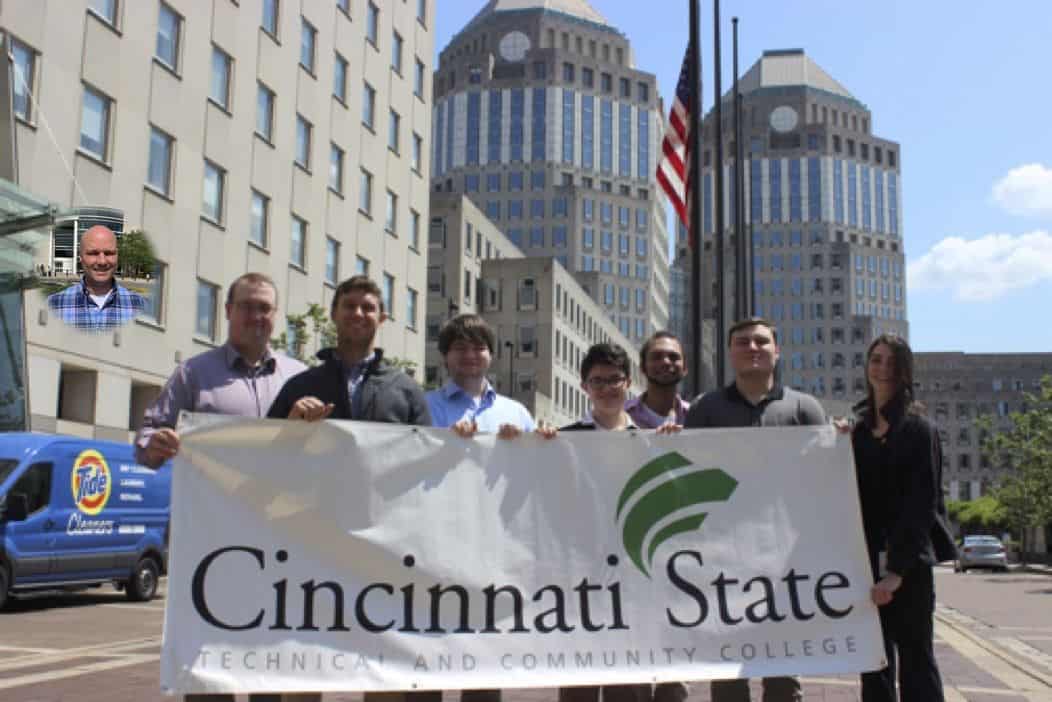 Co-op students at P&G World Headquarters (from left): Donald Pings, Yougnay Samatha, Damien Phillips, Lexi Bettner, Adrian Harris, Jacob Bentle, Kathryn Banks. Inset Picture (upper left): Andrew Blossom.