ENGAGE program welcomed high school counselors to CState
January 9, 2019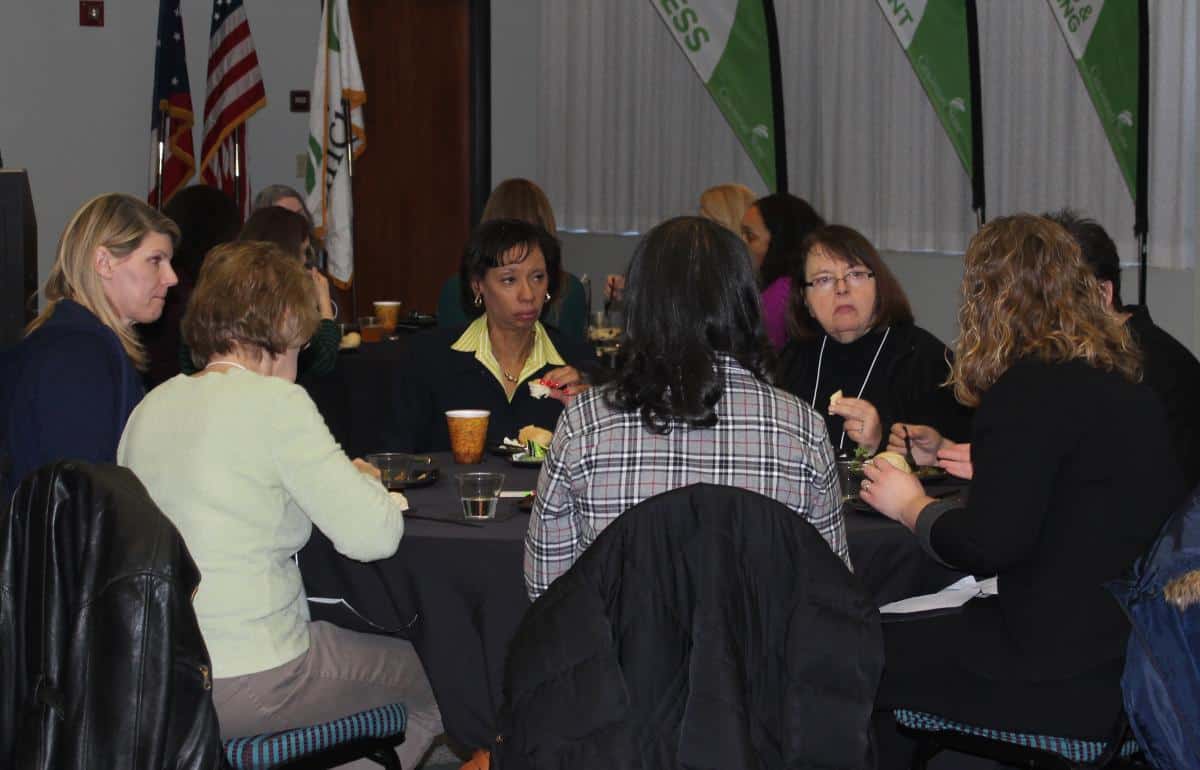 On Friday, Jan. 4, 2019, over 30 counselors from more than 20 different area high schools and organizations learned about Ohio higher education initiatives, and about Cincinnati State, during a day-long ENGAGE | Counselors event.
ENGAGE | Counselors is one of three annual ENGAGE events that bring high school students, teachers, counselors, and others to the Clifton Campus to gain first-hand knowledge and deeper understanding about the College's academic programs and support services.
During lunch, counselors helped generate data for the College's Strategic Plan. College President Dr. Monica Posey (in photo above) asked the counselors for input on two questions:
What will students of the future need from Cincinnati State to succeed?
 
Do you have a vision of how Cincinnati State can be the college of choice with students, including those who typically only consider 4-year institutions?
ENGAGE breakout sessions offered a variety of topics:
You're Not Alone: Strategies to help students deal with contemporary anxieties – John Wagner
 
Planning Non-Traditional College Admissions (panel discussion) – Andrew Coggins, Jr., Univ. of Cincinnati; Sharron Colon, Wilmington College; Tammy Larkins, Cincinnati State; Amy Wolf, Mt. St. Joseph Univ.
 
The Changing Face of Apprenticeship through Higer Education (panel discussion) – Hope Arthur, Health Careers Collaborative; Terry Benedict, Ohio Tech Prep SW Region; Larry Feist, Cincinnati State; Rita Graf, SW Ohio Tech Prep Coordinator; Rick Pridemore, School Improvement Consultant; Patrick Reardon, CPM State Administrator
 
Tech Tools for Career Counseling – Kristina Ropos, State Support Team Consultant
 
Breaking Down Language Barriers for English as Second Language Students (panel discussion) – Ruben Contresas, VP, Hispanic Chamber Cincinnati; Megan Iverson, Refugee Connect; Rosa Maria Moreno, Cincinnati State; Maggie Oliveira, Cincinnati State