Resource-FULLNESS – What resources are available
May 16, 2022
Resources that are ingredients for success.
Cincinnati State has always prided itself on helping students take command of their college career and their future. From the start, Cincinnati State wants to help students understand they may never again have so many impressive resources easily accessible all in one place – SO TAKE ADVANTAGE OF THEM!
Students enter college with their goals for educational success and their future after graduation, but many miss out on the abundant available resources already in place to support their mission. From teaching effective studying skills to examining the educational, emotional, physical and mental well-being of students, each resource provides an excellent opportunity for students to make the most of their time at Cincinnati State.
For students aiming for success in and after college, utilizing the resources available becomes a vital part of their routine and Cincinnati State offers a wide variety of resources and programs students can start utilizing from the very beginning.
Students should feel free to learn everything they can by exploring the rich resources readily available on campus and online for FREE!
Career Service Success
Preparing for a career is the main reason students attend college. Students must check out and take advantage of everything offered at the Cincinnati State's Career Services Center.
The Career Center is designed to assist prospective and current students with employment exploration, gain targeted job-search and networking skills, as well as help with referrals to employers located locally and around the world.
The department's main aim is to find students a job after graduation that leads to success in their career as well as their personal life. Cincinnati State prides itself on recognizing the importance of examining the student as a whole.
The Career Center assists using methods such as assessment tests to analyze students' specific skills and interests. The diverse programs help students examine the variety of careers available and attainable through properly directed course pathways.
From choosing the right major to fine-tuning a resume directed at a specific role, the center offers numerous opportunities for students to take command of their career. Students learn how to broaden their compatibility for occupation opportunities now and how to target success in fields' openings in the future.
As of Spring 2022, a brand new SOCHE Student Success Workshop Portal is open to all students and parents. Through StudentLingo, members have access to a series of 50 online success workshops designed to support students' learning, personal growth, and health and wellness journeys. Topics include time and stress management, study skills, and how to take exams online.
Throughout the year, the center holds a variety of career fairs, employer information sessions, networking events, and workshops in-person as well as online webinars. Students are encouraged to reply and register for events through CState CareerLink.
The Career Services Center is located at ATLC 215. The office can be reached directly by telephone at 513-569-4242 or through email at careercenter@cincinnatistate.edu.
Cooperative Education Opportunities
For over fifty years, Cooperative Education has been an integral part of the Cincinnati State curriculum.
The college offers opportunities that extend classroom learning into the workplace through real-world job experience and career building before graduation. Experiential Education is incredibly vital to entering today's workforce after earning a competitive collegiate degree.
As the first two-year college in the United States to create a mandatory co-op program, Cincinnati State boasts relationships with over 500 employers across the nation.
"Cincinnati State allows you to choose your career path in the beginning without wasting thousands of dollars per semester," said Andrew Cates, Cincinnati State alumni.
Co-op means gaining a paycheck as students learnthrough credible work experiences. Many engagements and internships during college lead to lasting job offers.
Each employer ensures a tailored 15-week work assignment that guarantees students acquire authentic and meaningful experiences in their desired field.
Students gain on-the-job training, apply course learning in a modern setting, clarify career choices, make connections with potential employers and coworkers while earning a paycheck to help offset educational costs.
The Co-op Orientation dates for the 2022 Summer Semester are online June 7th at 5:00 p.m. as well as on the Clifton Campus June 16 at 12:00 p.m. The last virtual orientation session will be held on June 22 at 5:00 p.m. Students are advised to register through CState CareerLink under the Events Tab.
More information on Cooperative Education registration, prerequisites, and placement can be found online at cincinnatistate.edu/cooperative-education-students.
Co-op coordinators are located in each of the four divisions.
• Business Division
Main 330 | 513-569-1620
• Engineering and Information Technologies
Main 210 | 513-569-1743
• Health and Public Safety
Health Professions Building 312 | 513-569-1670
• Humanities and Sciences
Main 232 | 513-569-1700
Read more about the coop program at Cincinnati State at our previous blog from November: https://www.cincinnatistate.edu/news/co-op-internships-and-clinicals-at-cincy-state/
Transfer Pathways
Cincinnati State offers many degree programs that serve as stepping stones for students to make the transition to a four-year college or university. The Transfer Center provides all the information students need to know about making the transition from associate degree studies to a bachelor's degree.
Students can plan to start here, discover what they are passionate about and interested in for their career, and work to earn an associate's degree with credits towards a bachelor's or other higher degree program. At Cincinnati State we call it our 2 plus 2 program, take your first two years at Cincinnati State and then move on.
At the Transfer Center, students can explore all the Transfer Pathways with advisors to line up the correct core courses with an equivalent degree program in the future at a four-year institution. Additionally, students can meet with representatives from other universities in the area and learn about partner institutions.
Currently, Cincinnati State has officially approved articulation agreements to help students make the smooth transition with colleges such as Bowling Green State University, Northern Kentucky University, Miami University, Mount St. Joseph University, Ohio University, Wright State University, Wilmington College, University of Cincinnati (UC Pathways), and many other institutions.
The Transfer Center also provides assistance with transfer scholarships and tuition reimbursement.
Students can find the Transfer Center at ATLC 221. To reach the center by phone, please contact 513-569-1884. The center's hours of operation can be found at cincinnatistate.edu/transfer-center.
Tutoring
Students will find some classes are a breeze while others feel more like an impossible puzzle.
Instead of scuffling with a calculus concept or falling behind in a class, students are encouraged to visit the Tutoring Center. Through the combined efforts of faculty, staff, and peer tutors, the center works as an important resource to support and improve student learning and success.
Any student enrolled at Cincinnati State is offered free tutoring assistance from the very start. Students can meet with tutors online or in-person depending on the help and setting they seek. Peer and faculty tutors are committed to helping each individual achieve academic success.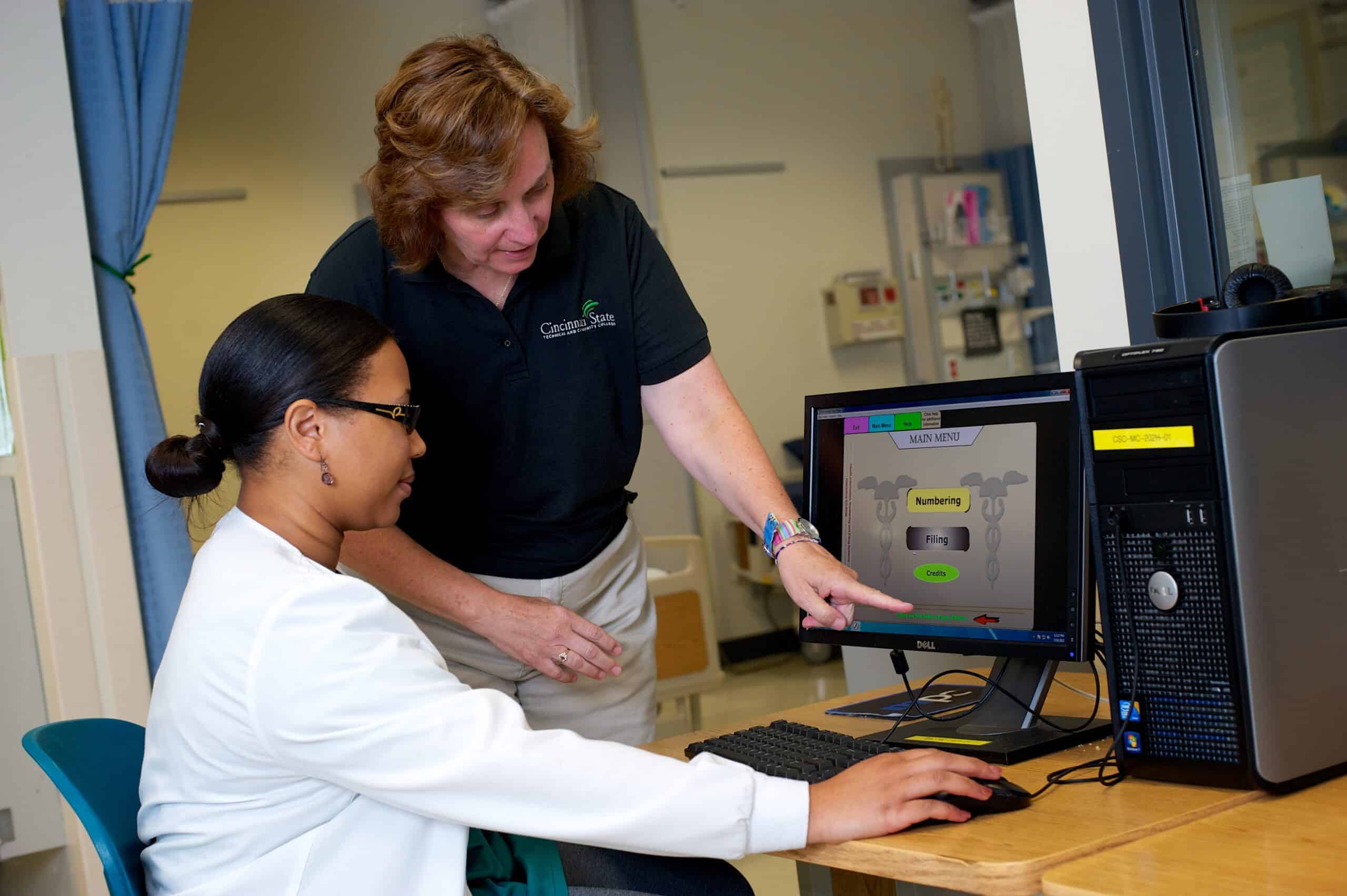 No matter what major or career path, students will be required to write. Tutors at the Writing Center can assist with everything from proofreading research papers and creating an outline to surviving writer's block without too much stress.
The Math Center zeroes in on mathematics, physics, and chemistry with the guidance of credentialed STEM instructors.
The Math and Writing Centers provide appointments throughout the week with qualified, experienced instructors familiar with the fields and coursework. Although walk-in services are available, students can set up a regular schedule with their tutors through the Starfish kiosk on students' MyCState account. Tutoring is offered from Week 2 to Week 14 of each semester.
The Tutoring Center is located in the Main Building Room 261. For more information, please call 513-569-1614 or visit cincinnatistate.edu/tutoring.
Family Support
Additionally, Cincinnati State strives to support and ensure success for college students who are also parents. Established in 1987, the William L. Mallory Center provides quality care for students' children while they pursue their educational goals. The Mallory Center also allows for students pursuing an Early Childhood Education associate's degree to gain experience through the learning lab.
For parents going back to school, this childcare resource is invaluable. Utilizing the developmental constructivist theory, the program supports infants 6-weeks-old through five-years-old by teaching them through play how to make sense of the world with active engagement. Cincinnati State aims to take some of the parental stress off students' backs to enable them to achieve an effective school and life balance.
The Mallory Center is located on the 4th floor of the Main Building. For more information or to join the waitlist, please call 513-569-1504 or visit cincinnatistate.edu/william-l-mallory-early-learning-center.
Savvy students should make sure to take advantage of the many, FREE resources and programs Cincinnati State offers. Through all of these various programs and resources that are in place, Cincinnati State strives to help every student succeed.