Women in Construction Week Profile: Norma Alvarez
March 11, 2022
National Women in Construction Week presented me the perfect opportunity to share Cincinnati State's impact on my journey into construction. One could say that Cincinnati State helped construct the foundation for my success. Only through the opportunities, experiences and relationships that the college enabled me to build could I have achieved my current status as Senior Project Engineer. I firmly believe that my education and training enabled me to advance to this height only two short years right out of school.
Although I originally intended to graduate from the notable nursing program at Cincinnati State, a chance meeting with an Army National Guard recruiter on campus changed my entire trajectory. After multiple conversations, I joined the Army National Guard, which opened-up my world in ways I did not expect, and to passions, I did not know I possessed. During my stint with the Guard, I was charged with building barracks, barricades and bomb shelters and really enjoyed seeing something go from plans to permanent structure. The more I built, the more my passion grew, and because of that drive, I earned my certification as a 12w carpentry and masonry specialist.
After returning from my time overseas with the Guard, I had a new path for my future. Cincinnati State helped me to construct a track that allowed me to find a new method for building up my country, my community, and me.
The comprehensive curriculum and accomplished instructors with reallife industry experience attracted me to the Civil Engineering Technology – Construction Management (CETCO) major at Cincinnati State. The program prepared me to succeed across every facet of the construction process. Through practice and study, I became proficient in the process of initial design all the way through the building's final construction. In addition to learning the "nuts and bolts" of construction, I have also learned how to successfully meet deadlines, control cost, and achieve goals.
Outside the classroom, Cincinnati State also instilled in me the necessity of networking. I learned the importance of fostering relationships and finding methods to connect with those in my field inside and outside of the classroom. I worked with many fellow students and instructors during my co-ops which strengthened my skills and bonds within the industry. In my experience, I learned that sometimes students in your class turn into not only coworkers, but they also can become some of your closest companions and potentially your greatest assets.
During my time at Cincinnati State, my instructors made sure I received constructive feedback from day one, in each and every course. In the construction industry, a seemingly miniscule mistake can make for a catastrophic disaster. From my first computer integrated course until my capstone, the vital lesson that "the devil is in the details" was continuously drilled into me. Every instructor at Cincinnati State made sure I graduated with the core skills and key insights I needed to succeed in construction. Now I am confident across residential, commercial, and industrial construction.
Due to the skillset I achieved and applied during my co-op with TriVersity Construction Group, I was hired fulltime in advance my 2019 graduation. TriVersity is one of the largest commercial construction companies in the Ohio, Indiana and Kentucky, tri-state region and I was thrilled to co-op with them and even more thrilled to join them permanently.
Cincinnati State taught me that even if my path literally deviates from the campus grounds to across the world in the army, their impressive programs will always be there to help students lay a foundation for their future. My college guided me to success in a field that is male-dominated and allowed me to see such a career path in construction is viable as a female. I believe it is invaluable to salute such steps for women and diversity in construction during this week of celebration.
As the nation's largest industry in terms of employment, the construction sector continues to need more qualified and diverse graduates. Since women only make up about ten percent of the construction workforce, I think we need all the women we can get entering the field. Cincinnati State's current and brand new programs continue to aid students in building a foundation for success in the field of construction.
Starting as a student, I have worked my way up to a Senior Project Engineer entrusted to oversee multimillion-dollar projects. The opportunity to utilize all that I have learned has established me as a woman leader in construction and it has been exhilarating – Thank you Cincinnati State Technical and Community College.
---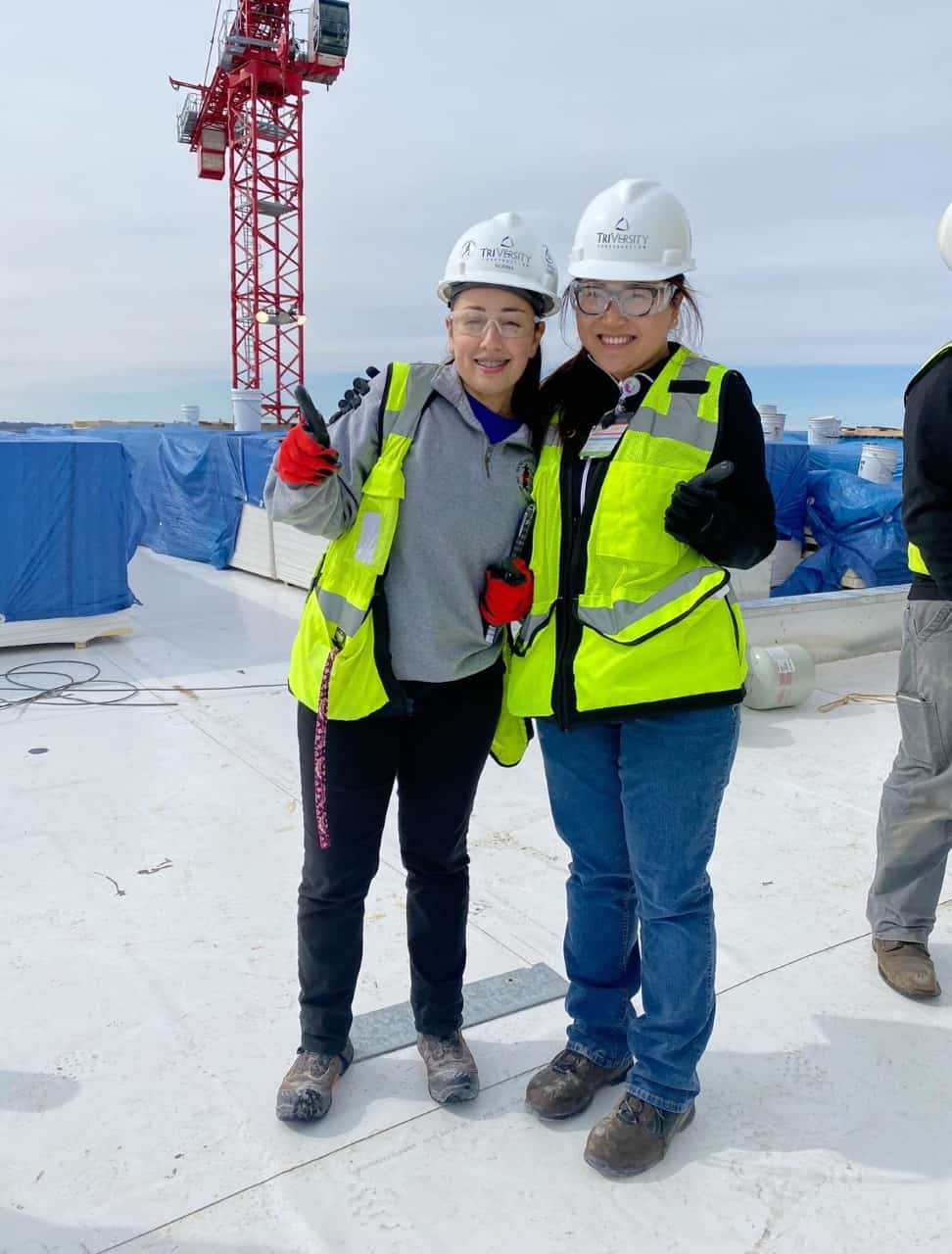 Cincinnati State Technical and Community College – Construction Builds:
One of the newest additions to our construction-focused curriculum is a Bachelor in Land Surveying. This is one of the very first four-year bachelor programs at the college. The program initiated out of conversations with our construction related co-op partners and was identified as an immediate necessity for the industry's success. Fulfilling this degree path would provide a much-needed conduit of credentialed land surveyors.
According to Carol L. Morman, EdD, PE, PS, Program Chair, Professor – Land Surveying, "Construction companies have to first know where to build and this new program can provide the skilled surveyors to map out the exact locations, provide the needed dimensions and get the project off to a great start."
This degree provides a new opportunity of success and advancement for students interested in work as professional surveyors.
With this new program, students earn a Bachelor of Applied Science degree and meet the educational requirements for surveyors in Ohio, Indiana, and Kentucky. The degree encompasses the fundamental principles of civil engineering, construction, and site design along with the skills to utilize the latest land surveying equipment and computer software in the industry.
Graduates gain the skills needed to establish their own company as well as work for a larger firm as a land surveying technician, professional land surveyor, or survey director. Students are prepared to take the National Council of Examiners for Engineering and Surveying (NCEES) exams and enter the workforce upon graduation.
---
For even more details on the success of Norma Alvarez,
2019 Graduate of Cincinnati State Technical and Community College
Here is Our Q&A:
Q: What did you study at Cincinnati State?
A: Construction Management
Q: Why did you choose Cincinnati State?
A: My main interest was the nursing program after graduating from high school. However, things changed for me after I met one of our recruiters on campus; I ended up joining the Army National Guard. I became a 12W (carpenter), and that is when I discovered a passion for construction I never knew I had. After a heck of a mission overseas, I knew where I wanted to be and made the move to switch programs.
Q: Did you continue your education somewhere else after graduation?
A: I have continued my education at Northern Kentucky University.
Q: What was your favorite spot on campus?
A: Johnnie Mae Berry Library and Bakery Hill were certainly my favorite spots on campus. One-dollar coffee before class was a win every morning followed by study time in the library.
Q: What was your favorite part of your experience at Cincinnati State?
A: I had a group of very knowledgeable and skilled instructors making my learning fun and very realistic. I felt challenged as well as supported by their way of incorporating industry experience with engaging learning techniques.
Q: Was there a specific class or faculty member that had an impact on you/your career?
A: I would have to say Elias Feghali, who taught my computer aided design (CAD) class. In the early weeks of this course, we drew our blueprints by hand before working our way to the software. I took so much pride in my work. I never realized how much I enjoyed this art form. The smallest mistake was marked with red by our professor. In fact, this taught me my first crucial construction lesson; it is very important to always pay attention to every small detail. The most minimal mistake in the construction industry could be catastrophic. Such lessons and feedback throughout the Civil Engineering Technology- Construction Management program truly drilled into me key components of the industry I sought to take on in a way I will never forgetand utilize every day at my job.
Q: How do you use what you learned at Cincinnati State in your work today?
A: Currently, I am a Senior Project Engineer with a local general contractor, TriVersity Construction Group. I was hired during my second Co-Op and last semester, which allowed me to graduate and dive right into my career! This is where I applied my knowledge from my time at Cincinnati State and Co-Op opportunities to the best of my abilities to see where the future takes me. In only two years, I was promoted to Senior Project Engineer. I was trusted with managing two major projects, a 2.5-million-dollar clinic and a local park in Over-The-Rhine at half a million dollars. Additionally, I was lucky enough to be part of the Bethany House project in Bond Hill as a project Engineer at 18 million dollars, which is expected to be completed this August 2022.
Q: If you could give your younger self one piece of advice for your time at Cincinnati State, what would it be?
A: I would advise all students to network as much as possible. There are so many resources on campus that go unused. Students should seek to get involved in a program. Cincinnati State offers a wide variety and there seems to be options for everyone to utilize for a better future. Networking and seeking out resources can help students in many different ways, such as tutoring for a class or even tutoring other students themselves.
Q: When you think back on your time at Cincinnati State, what are you most proud of?
A: I must say the relationships I built with students and instructors are what I am most proud of when I look back. Many of the instructors I worked with closely in class have been in my field for many years and remain to this day. I became good friends with a classmate, who also happens to have become my great friend and coworker as a Project Engineer at my current company. Like I said before, Cincinnati State provides an excellent environment for networking and finding direct support within your field that lasts beyond graduation.
Q: What is one misconception you think people have about studying at Cincinnati State?
A: I think people misunderstand the college experience that Cincinnati State provides based only on the size. They do not think there is a big university feeling, but they are wrong. You will certainly find students and even instructors with similar interests and hobbies, who might even become your colleagues or lifelong companions. You can join sororities and other programs just for fun there too. You don't have to go to a big university to find fun as well as opportunities for growth in your field. Cincinnati State provides an inclusive big school feel to students with big aspirations at a much more affordable price.