New apprenticeship program helps hospital employees become Medical Assistants
May 17, 2021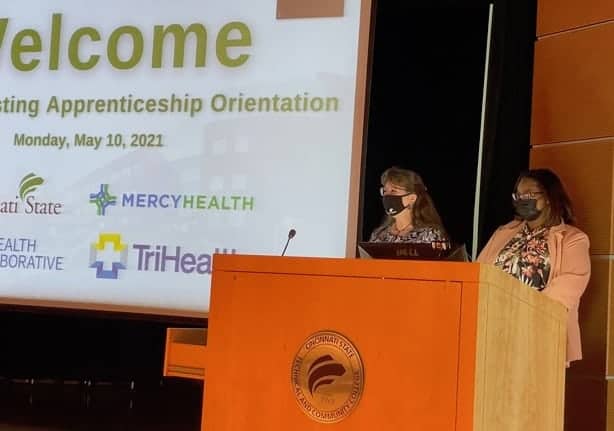 A new Medical Assisting Apprenticeship program held a kick-off event on May 10, 2021, at Cincinnati State's Clifton Campus.
The new program is a collaborative effort that includes Cincinnati State's Workforce Development Center (WDC), the Health & Public Safety Division, The Health Collaborative of Greater Cincinnati, Mercy Health, and Tri-Health.
During the 27-week apprenticeship program, non-medical personnel who are already employed at area hospitals will gain 2,000 hours of knowledge and skills training so they can qualify to move into assignments as Medical Assistants.
The 11 students in the inaugural class are current employees at TriHealth and Mercy Health. 
The apprentices will report to the Medical Assisting lab on Clifton Campus every Friday and spend the day (8 a.m. to 4 p.m.) for lab activities. They will also complete online classes, and on Monday through Thursday, they will work in their hospital assignments, including significant apprentice hours at physician practices within their organizations.
LaShawn Lancaster (above right), who spent several years with Children's Hosptial, is the WDC Apprenticeship Coordinator/Instructor.
Faculty member Patricia Christos (above left), Director of Cincinnati State's Medical Assisting Certificate program, helped prepare for the implementation of the new apprenticeship program.
Speakers at the kick-off event included Craig Brammer, CEO of The Health Collaborative, and Cincinnati State President Monica Posey.
Mercy Health was represented by Courtney Seitz, RN, MSN, Mercy Health Physicians Chief Operating Officer. Tri-Health representatives were Lynda Garcia, Senior Director of Organizational Effectiveness, and Colleen Kuderer, Manager of Clinical Education.
(Photo provided by Amy Waldbillig)