Kate's Catering on Campus
October 5, 2021
I graduated from the Midwest Culinary Institute at Cincinnati State in 2014 and went on to open Kate's Catering and Personal Chef Services in 2015. We are a completely custom caterer who gets to know the needs and expectations of our clients in order to best serve them. We take each challenge head on and strive to exceed all our clients expectations. We just celebrated our 6th birthday, and although we do something different everyday by means of accommodating client requests, I feel that we are becoming more and more established and experienced in providing for all of our clients' needs.
The Midwest Culinary Institute was the best program in the area for studying the culinary arts, and I was very attracted by the fantastic instructor chefs and opportunities to be better prepared to enter the culinary workforce. Food was always a passion of mine and I was fascinated in learning how to make it a successful career. I loved the diverse variety of course work and interesting challenges presented in each lab. I was considered an adult learner since I graduated with my Bachelors of Business Administration from the University of Kentucky prior to attending Cincinnati State for my culinary education.
The faculty is top-notch and really cares about your success and your future career goals. They are often the ones you can go to for employment advice or industry-specific information. I participated in the Chaines de Rotisseurs competitions and trained one-on-one with my culinary instructors in preparation for the competition which taught me so much. It was clear that the instructors were dedicated to my success and were committed to putting in extra time to ensure I represented the college well, which paid off in the end as I was the local champion in 2013.
The class schedules also make balancing your school demands and your work or lifestyle demands possible.
The students that I went through the program with often became the students that I experienced co-op with at Funky's Catering, as well as the students that I frequently network and collaborate with in the workforce now.
Advice I would give to new students is you will get out of your education what you put into it. Don't be afraid to ask questions, get to know your instructors and your other students, and have a critical eye towards how the skills you are learning now will apply in the workforce.
I am currently an adjunct instructor for the Midwest Culinary Institute. I love being able to provide the same quality care and consideration that I was shown to my current students. It is really rewarding to see them take each skill and perfect it throughout the semester.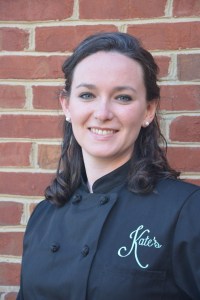 Alumni Spotlight Q&A
Q: What did you study at Cincinnati State?
A: Culinary Arts at the Midwest Culinary Institute.

Q: Why did you choose Cincinnati State?
A: After earning my Bachelors degree at the University of Kentucky in Business Administration, I was drawn to Cincinnati State for its fantastic faculty, top notch facility, and challenging curriculum that I felt would really prepare me for the industry.
Q: Did you continue your education somewhere else after graduation?
A: No.
Q: What was your favorite spot on campus?
A: I was particularly fond of the butchery labs in Garde Manger – though chilly, it was fascinating to be able to butcher the animals into usable cuts for service. I also spent many hours in the Overlook Cafeteria doing homework in between classes and work.
Q: What was your favorite part of your experience at Cincinnati State?
A: I was especially grateful for the access to top-notch educators with a plethora of industry experience they were willing to share with students. This first-hand look into the vast options the food industry had to offer really opened my eyes to the opportunities provided by my education.
Q: Was there a specific class or faculty member that had an impact on you/your career?
A: My favorite class was Capstone – the last class we needed to pass prior to graduating. Not only was this class where you tested for your CC (Certified Culinarian) designation, but it was also the class that required you to draw on your entire education to be successful. It was the most challenging as well as the most rewarding class to do well in.
Q: How do you use what you learned at Cincinnati State in your work today?
A: Of course, the foundational skills I learned throughout the culinary program I use daily (knife skills, mother sauces, etc.) Outside of technique, MCI really taught me how to interact with other food professionals, how to carry myself in the kitchen, and how to treat this industry with respect. These are all things that I now require of my own employees.

Q: If you could give your younger self one piece of advice for your time at Cincinnati State, what would it be?
A: You get out of your education what you put into your education, so the harder you work now to network, excel in class, and balance work and life challenges, the more successful you will be in the industry.

Q: When you think back on your time at Cincinnati State, what are you most proud of?
A: I competed in the Chaines de Rotisseur competition during both years of my education, and one year I advanced to represent the Cincinnati region at the region competition. I was proud to have the opportunity to represent our college and what we are able to achieve, as well as to have had the opportunity to train one-on-one additionally with faculty in preparation for the advanced competition.

Q: What is one misconception you think people have about studying at Cincinnati State?
A: I think people assume that working and going to school at the same time is impossible. Cincinnati State makes it easy with flexible class schedules, comprehensive course counseling, and co-op opportunities that work with your school schedule.