Co-Op Expo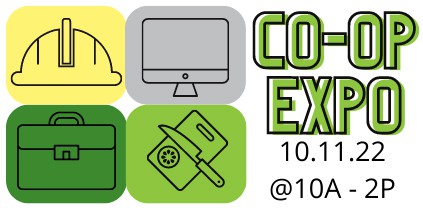 Event Details
Co-op Expo (In-Person)
Date: Tuesday, October 11, 2022
Time: 10:00am – 2:00pm
Location: Clifton Campus, Conference Center (Main Building 342)
Student Information
Who Should Attend?
Students in all majors who are seeking co-op/internship opportunities for Spring, Summer, or Fall Semester of 2023. If you're not sure if you'll be ready to co-op in 2023, talk to your Program Chair/Academic Advisor, and connect with your Co-op Coordinator. For a full list of majors and the associated Co-op Coordinators, click here!
Why Attend?
Meet some of the employers that offer co-op and internship opportunities for Cincinnati State students! Many employers will be recruiting for Spring 2023 Co-ops/Interns!
Check out CState CareerLink for the most up to date listing of employers attending – information is available in the "Events" tab.
How to RSVP
Current students can register to attend via CState CareerLink. This link will also have the most up-to-date list of employers attending and employment postings.
To access CState CareerLink, please enter your username and password.
Your username is your SurgeMail email address (including @cincinnatistate.edu).
Your password is the same as your password for SurgeMail/MyCState/Blackboard
(Note: when you change your password in MyCState/Blackboard/SurgeMail, it will not change your password for CareerLink).
Career Fair Tips
Research who is attending the fair – Review company information in CState CareerLink.
Prepare ahead of time by identifying:

Who do you want to make contact with?
What do you need to know about the organization before you approach their table?

Make sure your resume is ready! Bring multiple copies of your resume on good quality resume paper. If you need help getting a resume together, reach out to The Career Center or your Co-op Coordinator.
Take the event seriously. You only have one chance to make a first impression.
Dress appropriately, make eye contact, and smile!
You don't need to wear a business suit, but whatever you wear must be clean, professional, and pressed.

The Cincinnati State Career Closet is a donation-based program that allows students to build their professional wardrobe at no cost.

Students who are preparing for a job interview, attending a job fair, or even giving a class presentation that requires professional attire are welcome to "shop" at the Career Closet.
The Career Closet is in the Main Building on Clifton Campus, on the Lower Level near the Fitness Center. Students who need access to the Career Closet during Summer Semester should talk to a Co-op Coordinator in their academic division or seek help from the Career Services Center in ATLC 215.

Wednesday, October 5th – Women can pre-register for Dress For Success Cincinnati – Styling Event
Be prepared for a brief interview!

You should be able to give a 2- to 3-minute introduction of yourself as a potential candidate that highlights the benefits you can offer the organization.
Make sure you have some questions ready for the employers.
Avoid poor communication habits, such as fidgeting, rocking, chewing gum, etc.

Before you leave the table, get the recruiter's name and contact information.
After the Co-op Expo, make sure you follow up! You've just made a connection with a recruiter – what will you do with that connection? Consider following them on LinkedIn!
Write a thank-you letter (send it as an email, a LinkedIn message, or a hand-written letter in the mail). In the letter, thank the recruiter for their time, restate your interest and qualifications for the position, reiterate your interest in a second interview, and make a promise to follow-up the letter with a phone call (and then make sure you make that phone call). Enclose another copy of your resume with the letter.
Other Resources to help you prepare: 10 Tips For Success At Job Fairs (Work It Daily)
Employer Information
General Information About the Co-Op Experience
The purpose of this event is to:
Promote employment and mentorship opportunities for our forthcoming Cooperative Education (aka Co-op) Students!
Help to educate and expose our forthcoming graduates to local companies and their hiring needs!
Most of the students attending will be interested in participating in a co-op/internship at some point in 2023, and will have already completed the majority of their technical courses at Cincinnati State. Students from all majors will be in attendance.
Click here for a full list of Cincinnati State Degree Programs and the associated Co-op Coordinators.
This event is for invited guests.
Space is limited and the cost to attend is $50 (Payment will be submitted via CState CareerLink)
Lunch will be provided.
How To Register To Attend
Space is limited. Click here to register on CState CareerLink. Note that you will be asked to create an account. With this CState CareerLink account, you will also be able to post a variety of career opportunities for our network of current students and alumni. Click here for more information about our Co-op Program, being a Cooperative Education Employer, and getting started in CState CareerLink.
COVID-19 and Cincinnati State
COVID-19 – We are committed to following all recommended health and safety guidelines for our Co-op Expo. These measures are subject to change as needed.
For more information about Cincinnati State's COVID-19 protocols, please visit: https://www.cincinnatistate.edu/covid-19/
Those who are experiencing COVID-19 symptoms should not attend the event.
Tips for Career Fair Success at Cincinnati State
Career Fairs help your organization build connections to students on Cincinnati State's campus.
Things to consider as you prepare for the fair:
Plan your displays, tablecloth, giveaways, handouts, business cards, nametags, etc.
Make sure your jobs are posted in CState CareerLink and your company profile is updated.
If possible, have information at your table about hiring needs & opportunities.
Be prepared to ask questions of candidates and be prepared to answer candidate questions about your hiring process, company culture, needs, etc.